Published by Cécile D., Elodie D. · Photos by My B. · Published on 6 April 2022 at 11h46
Lucky ones can enjoy a three-day long weekend, as Easter Monday - on April 18, 2022 - is a holiday. If you are looking for outing ideas to enjoy on Monday, you are at the right place: museums and monuments are open on this day off.
It is one of the rare holidays of this year that does not land on Sunday: another reason to make the most of it! Easter Monday gifts us a three-day weekend, namely an extra day that usual so we can make the most of all outings available in Paris.
Yes, but this is a holiday, will some public places be open? The answer is yes: many museums and monuments are open on Monday April 18, 2022. Do not think twice and discover these museums and exhibitions for a glorious Monday.
Careful though, the museums known as musées de la Ville de Paris (Musée d'Art Moderne, Catacombes, Musée Carnavalet, Petit Palais, Musée Cognacq Jay, Palais Galliera, Musée Cernuschi, Musée Zadkine...) are closed!
Monuments, gardens and Châteaux open on April 18, 2022:




Eiffel Tower: 9 a.m. – 11:45 p.m.
Built for the World Fair 1889, the Eiffel tower was said to be dismantled in 1909, but the scientific experiments made possible because of its height saved it. On the 2d floor, the view is a must, you will discover the impressive panorama of Paris monuments (for Parisians, it's a lovely reminding session but a fascinating discovery of the city for tourists).




Arc de Triomphe: 10 a.m. - 11 p.m.
Wished from 1806 by Napoleon I, the Arc de Triomphe is inaugurated in 1836 by French King Louis-Philippe, devoting it to the armies of the Revolution and the Empire. It currently is one of the most iconic landmarks in the city. The Unknown Soldier has been burried there since 1921. The Eternal Flame is lit up every day at 6:30 p.m. Enjoy unobstructed veiws from the top!




Panthéon: 10 a.m. -6:30 p.m.
The Panthéon is a neo-classic styled monument set in Paris 5th arrondissement, in the heart of the Latin Quarter, on the Sainte-Geneviève Mount. It is considered as the temple of the French nation. By creating exemplary religious architecture, Soufflot met Louis XV's wishes to glorify the monarchy within Saint Geneviève in a dignified manner. Now, it houses the bodies of major men and women who marked the History of France.




Sainte Chapelle: 9 a.m. - 7 p.m.
Gothic gem made in 7 years - a record - the Sainte Chapelle is devoted to housing precious relics of Christianity including the Christ's Crown of Thorns acquired by Saint Louis. Scattered in 15 glass roofs measuring 15-m high, the stained-glass windows of 1,113 scenes from the Old and the New Testament tell the story of the world until the relics arrived in Paris.




Domaine de Saint-Cloud: 7:30 a.m. – 8:50 p.m.
Covering 400-hectare, the park is a protected natural site and a Remarkable garden that used to house a castle. Kings' summer residence in the 19th century, the castle caught fire in 1870 and destroyed in 1892 because of the too-tight relationships with the monarchy and the Empire. All along the 18th century, magnificent parties were thrown in Saint-Cloud.




Gardens and Palace of Versailles: 7 a.m. – 8:30 p.m.
The Palace of Versailles and its royal gardens delight visitors for 350 years. Come along and discover a new season of walks around the groves and the fountains of the estate, in addition to the visit of the Royal palace. The Fountains Shows, the Music Gardens, the Night Fountain Shows and the Royal Serenade expect you. Listening to the music, 55 fountains scattered across the 850 hectares of the Versailles gardens feature an incredible show inherited from the Sun Century every weekend!




Vaux-le-Vicomte Château: 11 a.m. – 7 p.m.
The Vaux-le-Vicomte Chateau is one of the most beautiful castles from the 17th century, Nicolas Fouquet's work, Louis XIV's finance superintendent. This castle inspired the construction of the Palace of Versailles!




Château de Breteuil: 10 a.m. – 7 p.m.
Discover the history of the Château de Breteuil and its fantastic furniture thanks to the guided tours held all day long. In the afternoon, the castle story-tellers make you travel through Charles Perrault's tales: Donkeyskin, Little Red Riding Hood, Puss in Boots…




Parc Zoologique de Paris: 9:30 a.m. – 7:30 p.m.
The Parc Zoologique de Paris welcomes the Printemps des Explorateurs program from April 7 to May 6, 2018. Focused on local biodiversity, many events are planned: exploration game, conferences, exploring workshops and discovery days await. To do with your family and friends.




L'Aquarium de Paris: 10 a.m. – 7 p.m.
L'Aquarium de Paris is a 3,500-sqm tour in the heart of Paris with over 10,000 fishes and invertebrates, including 2,500 jellyfishes and 450 corals living in 50 pools suited to their way of life.
Museums and exhibitions to discover in Paris on Monday April 18, 2022:




Colors Festival, the immersive street-art exhibition in an abandoned building in Paris is back
Calling all street art fans, the Colors Festival returns for an even greater second edition! An immersive and exceptional exhibition expects you in Paris 11th arrondissement from April 2 to May 8, 2022. Dive into a world of colorful urban works of art in an abandoned building. [Read more]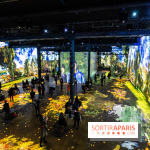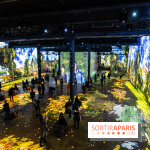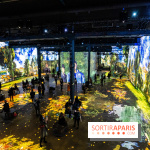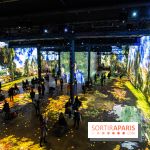 Cézanne at the Atelier des Lumières: the unmissable exhibition to enjoy now - our pictures
A door to Provence in the middle of Paris: from February 18, 2022 to January 1, 2023, the Atelier des Lumières takes us on an unusual journey through the "Cézanne, the Lights of Provence" exhibition. [Read more]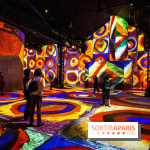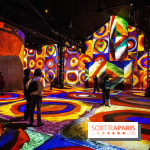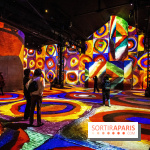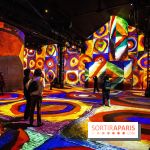 Kandinsky at the Atelier des Lumières: the immersive exhibition to discover - our pictures
Discover abstract art pioneer Vassily Kandinsky through the immersive exhibition of the Atelier des Lumières: "Kandinsky, The Odyssey of Abstraction". Running from February 18, 2022 to January 1, 2023. [Read more]




Centre Pompidou: 11 a.m.-9 p.m.
Centre Pompidou houses the Musée National d'Art Moderne and has been offering for over 40 years new contemporary works in a smoother and more accessible tour. Dubuffet's Jardin d'Hiver, Daniel Burren's linear works and Bertrand Lavier's works, we love this new display.




The Louvre: 9 a.m.-6 p.m.
Genuine icon of culture in Paris, this palace is a must-see that we'll never be able to visit as a whole. In addition to large formats and the most famous small painting (Mona Lisa), the Louvre has to be visited for its architecture, for the Medieval Louvre to the Louvre by I.M. Peï (the architect of the Pyramid) and for its many masterpieces!




Musée de l'Orangerie: 9 a.m.-6 p.m.
Set in the heart of the Jardin des Tuileries, the Musée de l'Orangerie is known for the Water Lilies and Jean Walter's and Paul Guillaume's private collections!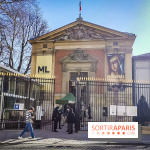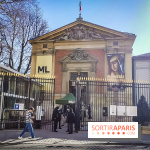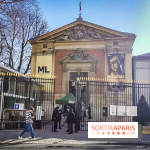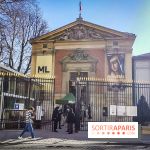 Musée du Luxembourg: 10:30 a.m. - 7 p.m.
The Musée du Luxembourg is set right by the Palais du Luxembourg, in a garden famous for sunny naps. From a cultural point of view, the museum displays temporary exhibitions. The program is made by SVO, Sylvestre Verger Organisation, a company managing the museum since July 2000, in partnership with the Senate.




Musée National des Arts Asiatiques Guimet: 10 a.m. - 6 p.m.
The museum was born from a major project by a Lyon-based industrial, Emile Guimet, who wanted to create a museum of religions of Egypt, classic Antiquity and Asian countries. Yet, it is mostly focused on Asian art.




Cité de l'Architecture et du Patrimoine: 11 a.m.-7 p.m.
Vestige of the Art Déco style in Paris, the Cité Chaillot provides about 22,000-sqm dedicated to French and World Heritage, divided into three parts, the collection of the Cité de l'Architecture et du Patrimoine houses entire part of buildings of any time, sometimes scale models, sometimes recreations and even photographs of various cities from the past century.




Espace Dali Paris: 10 a.m.-6 p.m.
Confidential museum in Paris, Espace Dali has been welcoming the greatest private collection of Salvador Dali's work for 25 years, a new offer thought to revitalize the museum.




Musée en Herbe: 10 a.m. – 7 p.m.
Musée en Herbe, set close to the Louvre and the Samaritaine, is a museum targeting children. Young people aged 2 to 12 can enjoy art in a playful and creative manner thanks to always innovative and fitting exhibitions.




Cinémathèque Française: 12 p.m. - 7 p.m.
Set by the Parc de Bercy, the Cinémathèque leeps most of the audiobbisual heritage, from the debuts of cinema to nowadays. From magical lanterns, picture boxes and optical views from the 18th to high-end cameras and spots, without forgetting models, scripts, props and backgrounds, the Musée de la Cinémathèque is a genuine gem for fans of the 7th art.




Grande Galerie de l'Evolution: 10 a.m. - 6 p.m.
The Grande Galerie de L'Evolution at the National Museum of Natural History stages plenty of animals, insects, dinosaurs in a modern and immersive staging. Admire the many species and all the secrets to their evolution in an uncommon sound and light atmosphere.
Musée de l'Homme: 11 a.m. - 7p.m.
Humans are a very singular being... To discover more about our species and ourselves, head to the Musée de l'Homme. Set Place du Trocadéro, the museum explors all our secrets and special features, from a scientific, historic and cultural point of view.
Musée Maillol: 10:30 a.m. - 6:30 p.m.
The Musée Maillol is packed with history, covering 4,250sqm of surface and housing the greatst collection of Maillol work in the world, as well as art collections from the 20th century of Dina Vierny. And in addition to this rich permanent collection, the museum regularly provides exclusive and surprising temporary exhibits, shining a light on artists from all background and all over the world.
Musée Jacquemart-André: 10 a.m. - 6 p.m.
In this fabulous hotel particulier purchased by Edouard André for his wife Nélie Jacquemart, enjoy the rich collection of the two art fans. Thanks to many travels and a certain taste for art, the couple created one of the most beautiful collections of Italian art in France. The museum also offers you to discover the couple's flat, let in its original state, with reception halls, music rooms and dining room.




Musée Grévin: 9:30 a.m. – 7 p.m.
Created in 1882 by journalist Arthur Meyer, Musée Grévin is now one of the most visited places in the French capital! The year 2018 marks 135 years of existence so, to pay it tribute, go to discover or rediscover its greatest was figures!




Musée de la Grande Guerre: 9:30 a.m. - 6 p.m.
The Musée de la Grande Guerre is a very beautiful historic museum open to all. Here, kids can discover the story of WWI through immersive staging. Enjoy reproductions of dressed soldiers, horses, reconstituted trenches and plenty of testimonies about this major episod of History.
For more outing ideas on Easter Monday, do not hesitate to have a look at our traditional Easter egg hunts guide, held in Paris and Île-de-France. Enjoy an indulging and fun moment with your family!