Published by La rédaction · Photos by My B. · Published on 25 May 2022 at 17h33
In Paris, rooftops are now a must. These spots set high allow you to sip a good drink or enjoy tasty dishes while enjoying a view on the roofs of the French capital! As sunny days are back, here are the best places to enjoy this spring-summer 2022!
Sunny days are back in Paris, and terraces appeal Parisians and tourists, looking for some sun! Among the main places in the city, rooftops are a must. These roof terraces provide us with the perfect occasion to have a great meal or pre-dinner drink up in the air, providing great views on the city. These great spots also enable us to remember - as if it was needed - why Paris is the world's most beautiful city.
Some rooftops are famous, others are more secret locations. And when the weather is great in the spring or summer, temporary venues bloom here and there, offering us the occasion to discover never-before-seen views above the roofs of Paris. You get it, when sunny days are here, we all need to get a rooftop.
So, for those wishing to have a drink in the Paris skies, and the city at their feet, here are rooftops waiting for you this spring-summer 2022. But stay tuned as we update this guide along the course of announcements and discoveries, so, do not hesitate to check it out again!
The most beautiful rooftop terraces in Paris this spring-summer 2022:




Printemps' new panoramic terrace: 7e Ciel
Printemps unveils a new terrace at the top of the "Femme" building. Head to the 7e Ciel, on the 7th floor, to discover a new rooftop to have a seat, a drink, and enjoy greats views on Paris and the Eiffel Tower. [Read more]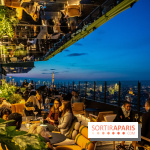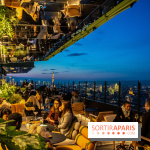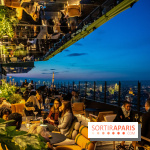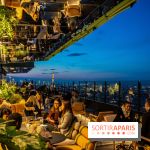 Skybar: Paris' highest open-air bar with unobstructed views on the Eiffel Tower
The Skybar is a great rooftop expecting you on the 32nd floor of the Pullman Montparnasse hotel. Discover the highest open-air bar in Paris with breathtaking views on the Eiffel Tower while enjoying an intriguing selection of exclusive cocktails. [Read more]




New Mama Shelter La Défense's rooftop restaurant-bar and its menu by Pierre Chomet
A restaurant-bar on a roof, on the 14th floor? Here is what to expect at Mama Shelter La Défense. On the menu, enjoy Asian dishes created by Pierre Chomet. [Read more]




Edmond, old-fashioned gastronomy on the rooftop of the Terrass" Hotel
Edmond is the perched spot in upper Montmartre expecting you at the Terrass" Hotel. With their new chef, Julien Goriot, the restaurant makes you jump back in time by giving pride of place to the gastronomy from the early 1900's. [Read more]




Ilvolo, the latest rooftop cocktail bar with views on the Eiffel Tower
Along its renovation, the Novotel Paris Vaugirard Montparnasse hotel unveils a new rooftop cocktail bar with views on the Eiffel Tower. Its name? Ilvolo. And it offers delicious cocktails created by Matthias Giroud pairing antipasti by Denny Imbroisi. [Read more]




Le Tout-Paris, Cheval Blanc Paris brasserie with views on the Seine
Le Tout-Paris welcomes you all day long on the 7th floor of Cheval Blanc Paris on the terrace serving breathtaking views on the Seine and the capital city's emblematic monuments, or in the garden above the Paris roofs. From breakfast to dinner, or for a cocktail, this contemporary Parisian brasserie will arouse your taste buds and your conscious with horizon as far as the eye can see. [Read more]




Kimpton St Honoré Paris, the latest Art Déco hotel, its Californian restaurant and rooftop bar
There is good news despite the health crisis, hotels keep opening in Paris, such as the Kimpton St Honoré, opening from August 23, 2021! This Art Déco-inspired 5-star hotel is set in the heart of the Opéra neighborhood and houses an indoor swimming pool, as well as a rooftop cocktail bar, Sequoia, and a Californian-inspired restaurant, Montecito. In other words, everything you can dream of at the moment! [Read more]




Perruche: the bar-restaurant on Printemps Haussmann rooftop
Perruche, this is the name of the cocktail bar and restaurant perched on Printemps Haussmann rooftop. This place provides you with a wonderful panorama over the French capital. [Read more]




Les Piaules, a second youth hostels at the Place de la Nation
In 2021, the Les Piaules team will open a second youth hostels at the Place de la Nation in Paris. [Read more]




Khayma Rooftop Bar: an affordable rooftop-bar with views on Paris
An affordable rooftop in Paris, it can exist! Head to the last floor of Generator Paris to discover Khayma Rooftop Bar, a super-trendy terrace with beautiful views on the Sacré Coeur. [Read more]




MUN, Champs-Elysées's magnificent rooftop
MUN, this is the name of the Parisian rooftop on everyone's lips for months. Set on the Champs-Elysées, this new restaurant inspired by Japan, designed by Paris Society, reopens the restaurant and the terrace for the summer 2021! [Read more]




Pedzouille La Grange: Novotel Paris Porte de Versailles altitude inn
This summer, Pedzouille team takes you to cloud nine or rather to the eighth floor of Novotel Paris Porte de Versailles thanks to the opening of La Grange. To be discovered from May 19, 2021, this new rooftop set in Paris 15th arrondissement is likely to delight fans of beautiful views, as well as lovers of hearty and typically French dishes. [Read more]




Canopy Trocadero by Hilton unveils their rooftop
This spring-summer 2022, hotel Canopy unveils a very great rooftop. Wide, very lush with views on the Eiffel Tower, serving cocktails, beers, and tapas, this terrace has it all. [Read more]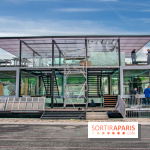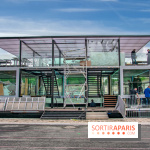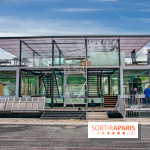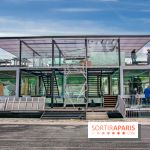 Fluctuart, the urban art center and open-air terrace within walking distance from the Invalides
irst floating urban center Fluctuart invites you to discover exhibitions and a rooftop all year around. An arty spot set by the Pont des Invalides bridge, 100% free, welcoming all street art fans! [Read more]