Published by La rédaction · Published on 27 September 2022 at 10h38
Cannot get enough of the Adventures of Sherlock Holmes or solving mysteries of any sort? Have you dreamed of solving your own mystery in a haunted manor? Escape rooms let you experience these adventures for one hour with your family or friends. Use your cleverness, team spirit and your observation to help you win!
You have probably heard about escape rooms. The goal is simple: Shut a group of friends, family or colleagues down in a room and wait until they can find their way out before the time is up (usually about 60 minutes.)
For an hour, you get to become Sherlock Holmes, searching for clues in all of the nooks and crannies and sharing information with your friends, without being bothered by cellphones and without an exit door. Stuck together in a room, the group has to put their heads together in order to make it out unscathed. Warning: these cooperation-based games that are based on fool-proof logic and sharp reflexes are highly addicting…
When you play a live escape game, you only get one shot; obviously, once you know the ending, you cannot play again. Each escape game is designed in its own way, with different worlds difficulty levels.
So choose one that is right for you and enjoy the game!
The best immersive experiences in Paris and Île-de-France:




Immersive experience: Visit the Eiffel Tower during the World's Fair in virtual reality
How about visiting the Eiffel Tower in an unusual fashion? Enjoy a virtual reality immersive guided tour at the foot of the Iron Lady and dive into its history, during the 1889 World's Fair. [Read more]




The Friends Experience: a Friends series-inspired immersive experience comes to Paris
Have you always dreamt of visiting the sets of "Friends"? You can now thanks to "The Friends Experience", an immersive experience inspired by the series coming to Paris for a few weeks, from November 21, 2022, to January 23, 2023. An unusual experience to walk around the series sets including the Central Perk and its orange sofa and recreate the iconic scenes of the series starring – among others – Jennifer Aniston, Courtney ox and Matthew Perry. [Read more]




Mad Golf, the first unusual and retro indoor mini-golf in the heart of Paris
The first indoor mini-golf in Paris opens in early September in the 2nd arrondissement, with two 9-hole courses, immersive and unusual backgrounds, and a colorful vintage atmosphere, very unique! [Read more]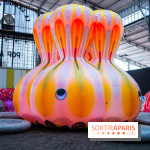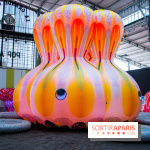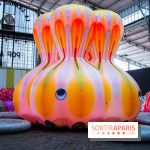 Pop air, the inflatable and immersive experience at the Grande Halle de la Villette: Last days
Starting from April 14, 2022, the Grande Halle de la Villette houses an exclusive and playful inflatable experience, Pop Air, made in partnership with Rome's Balloon Museum. The immersive exhibition is extended to September 4, 2022. [Read more]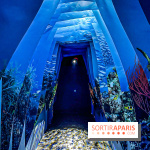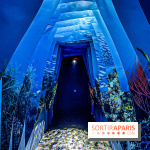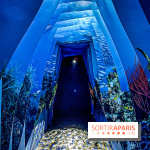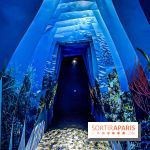 Science Experiences, the concept between museum and theme park in Bercy Village – DISCOUNT CODE
Families are expected at Science Experiences, a brand-new and playful spot mixing museum and theme park, bringing science to life in Bercy Village. The best way to encourage kids to pay interest to sciences by experiencing from the inside… And of our readers, this summer 2022, we have a Sortir à Paris special discount code at the end of the article! [Read more]




Immersive exhibition inspired by the Lantern Festival at Paris Korean Culture Center - Our pictures
To celebrate the Taste Korea festival, the Centre culturel coréen – or Korean Culture Center – nestled in Paris 8th arrondissement concocts an exclusive immersive and free exhibition inspired by the famous lantern festival. Meet from June 30 to September 9, 2022, to enjoy this fabulous journey! [Read more]




The Horizon of Khufu, an immersive nighttime journey in a pyramid to experience at the Arab World Institute
The Arab World Institute invites you to complete a unique journey, a virtual reality immersive experience taking you to one of the world's seven wonders. From June 14 to October 2, 2022, come and discover "The Horizon of Khufu". This July 2, enjoy an exceptional nighttime opening to discover this unusual experience. [Read more]




Johnny Hallyday: the compelling traveling exhibition devoted to the rocker soon in Paris
A Johnny Hallyday traveling exhibition soon in Paris? This is official! After stopping by Brussels, "Johnny Hallyday l'exposition" will come to Paris Parc des Expositions – Porte de Versailles in early 2024. This will be the occasion for fans to discover some of the most exceptional pieces from the rocker's collection on over 2,000sqm of surface. Here is what to expect! [Read more]




Make Music Day 2022 in Paris: immersive experience around Xenakis' Polytope de Cluny
If you want to experience an original and uncommon Make Music Day 2022, then head to downtown Paris. On Tuesday June 21, 2022, Ircam opens the Espace de Projection and offers on the occasion an immersive and free experience around the Polytope de Cluny by Iannis Xenakis! [Read more]




Polnarêves: Michel Polnareff's immersive experience at the Le Palace theater
Another immersive experience awaits you all at the Le Palace theater. This time, Michel Polnareff has decided to give it a go and provide you with "Polnarêves", a visual and musical 360° experience. Meet from June 2, 2022 to March 1, 2023, to discover Michel Polnareff's dreams in Paris. [Read more]




Secret Jungle: an immersive bar in Paris taking us to the Caribbeans
A new and uncommon experience is to pace your summer in Paris. Secret Jungle is an immersive bar taking you to the heart of the Caribbean jungle thanks to an exotic setting covering 150sqm. Meet from June 2, 2022, at the auditorium of Gymnase Marie Bell to discover this temporary bar. [Read more]




Machu Picchu et les Trésors du Pérou: the immersive exhibition at the Cité de l'Architecture et du Patrimoine, our pictures
"Machu Picchu et les Trésors du Pérou" – Machu Picchu and the Treasures of Peru – here is the name of the compelling exhibition running from April 16 to September 4, 2022, at the Cité de l'Architecture et du Patrimoine. On the occasion, follow the footsteps of pre-Colombian civilizations to the mystery of Machu Picchu. A unique journey where visitors can admire over 190 original pieces from one of the greatest Peruvian museums! [Read more]




La Fabrique de Chocolat, the immersive and insta-worthy venue in Paris
Looking for an immersive experience in Paris? Then, it is time to discover La Fabrique de Chocolat, an immersive and insta-worthy tour waiting for you in the city for a walk in indulging backgrounds. P.S.: there is even a ball pit! [Read more]




Aura, a light and sound show illuminating the Dôme de Invalides for the next ten years
Alert, a new immersive show is coming to Paris. Starting from the Fall 2022, discover Aura at the Musée de l'Armée, a light and sound show with video mapping shining a light on the Dôme des Invalides. [Read more]




Manoir Halloween Festival, 2021 Halloween festival by Le Manoir de Paris at La Villette
In 2021, Le Manoir de Paris takes over the Grande Halle de la Villette to set up the Manoir Halloween Festival from October 22 to 31, 2021. A horror festival including at least 4 haunted houses to scare you to death! [Read more]




PSG Experience, exclusive tour of the VIP area and the Galerie at Paris Parc des Princes stadium
After closing down for months and an incredible League of Champions journey, PSG Experience opens again the doors of the Parc des Princes stadium starting from Saturday September 5, 2020. Come and visit the stadium including the VIP lounges and the world's most beautiful locker rooms, walk the same places as players do before a game, and enjoy the Galerie; brace yourself because you will rediscover the Parisian soccer club in a new light! There is no better gift for supporters to celebrate the club's 50th birthday, isn't it? [Read more]




Shoe pyramid 2019 in Paris, Place de la République
The new and 25th edition of the Shoe Pyramid in Paris is held on Saturday September 28, 2019. Meet once again at Place de la République to throw your shoes and protest against the use of anti-personnel mines and explosive weaponry in populated area. [Read more]




A unique olfactive experience at Grevin Paris Palais des Mirages
In Grevin Paris Palais des Mirages, you often need your eyes, ears and now your nose to enjoy a new olfactive dressing designed by Emosens to take visitors to the heart of a multi-sensory experience. [Read more]




FIAC 2018 – International Art Fair: We Love Art turns Centre Pompidou into a temporary nightclub
For FIAC, Centre Pompidou will open to night birds on the night of Thursday October 18, 2018. On the menu? Free rein given to Davide Balula for an immersive performance followed by a temporary nightclub to enjoy and nonconformist night! [Read more]
The Best Escape Rooms in Paris:




Hint Hunt, the escape room providing varied universes in the heart of Paris
Calling all escape room fans! Hint Hunt – a facility in the heart of Paris – expects you to enjoy experiences in the heart of very varied universes. From a Zen room to a haunted pirate ship, or even a submarine, rediscover these very immersive rooms, within the first live escape room facility in Paris! [Read more]




Very Bad Night, the hangover escape room at One Hour Charonne
One Hour – escape room brand set in Paris 11th arrondissement – provides you with a very fun room, inspired by "The Hangover": Very Bad Night! The idea? You wake up after a crazy and boozy night and you have to remember the party by solving enigmas. [Read more]




69 Shades of Grey, an erotic escape room in Paris
Do you love 50 Shades of Grey? Well, you will love 69 Nuances de Grey [69 Shades of Grey]. This erotic escape room created by Destination Danger takes you to Christian Grey's BDSM universe. The perfect gift for a cheeky night. [Read more]




Sensas, the latest immersive, sensory and playful experience in Paris - our test
Have you heard about Sensas? This is a brand-new gaming concept that recently settled in by Montmartre. On the menu, an immersive tour calling for all your senses with many challenges. A great experience for a very incredible moment. [Read more]




Time Machine, L'Antichambre's temporal escape room
L'Antichambre, one of the leaders in the field of Escape Games in Paris, offers you to travel to the past with Time Machine, a temporal adventure to discover rue Blondel reopening from June 9, 2021. [Read more]




Da Vinci, the mysterious escape room by Phobia Escape Game
If you love Da Vinci Code and want to walk on the tracks of Robert Langdon, looking for the Holy Grail, Phobia Escape Game has the solution with the Da Vinci room. A dive into Leonardo da Vinci's mysteries to be discovered in the 13th arrondissement facility. [Read more]




Pirates, Hint Hunt Escape Game fourth room
Known for setting up the very first Parisian Escape Game, Hint Hunt opens a fourth room, a pirate-themed room! Leave on the look for the Sapphire of the famous pirate Henry Every! [Read more]




The Game, the immersive escape game a stone's throw from Jussieu reopens
If you are looking to practice team building or strengthen the bond with your friends, there is one place you should go to: The Game. This is what one of the escape game leaders in Paris, reopening from June 9, 2021, provides players with. A whole bunch of immersive rooms particularly requiring teamwork. [Read more]




Survive aboard the Plane, the immersive escape game in Paris by The Game - Reopening
Leading immersive escape game in France, the Game gives you the opportunity to try a new room in its Parisian premises since July 26, 2017. Will you dare boarding it? The Game opens booking for sessions starting from June 9, 2021. [Read more]




Reopening of Antichambre, a Captivating Escape Room a stone's throw from Grands Boulevards
Antichambre escape game reopens from June 9, 2021, after closing for several months over coronavirus. With 10 unsettling worlds and completely unprecedented experiences full of frightening, funny and suspenseful sensations. Get together with friends or family and work together to escape the mummy and voodoo divinity unscathed! [Read more]




Phobia Escape Game, the escape game paying no heed to padlocks and other codes! - Reopening
Escape game enthusiasts, we've found a new way to play! Phobia Escape Game, set in Paris 13th arrondissement, reopens from June 9, 2021, and shakes up the way to grasp escape games by providing players with a total immersion in varied universes, the whole, locked up in a room with no codes nor padlocks to move and escape. Without any timer as well… Ready to take the challenge up? [Read more]




Artimus Escape Game, the 100% immersive escape room
Nestled in Paris 20th arrondissement, Artimus Escape Game offers to discover all the mysteries related to professor Artimus in the varied and 100% immersive rooms of the place. An original way to approach escape games riding high in Paris. [Read more]
And in Île-de-France:




Team Break escape room: a new location at La Défense
Good news for escape room fans! Escape room brand Team Break is moving from CNIT and settles in a new location from June 9, 2021 at La Défense. As for rooms available, a collection of the best places of the facility as well as a new quizz experience and a Survivor-inspired room. [Read more]
Believe us, once you tried one of these escape games, you will be hooked!