Published by My B., Cécile D. · Photos by My B. · Published on 17 June 2022 at 12h48
The Palace of Versailles, its gardens, and its estate are part of the world heritage. Official home to kings of France, the Palace of Versailles holds the record of the biggest castle in the world, and the most visited on in France of course.
Set in Versailles, in Yvelines department, the Palace of Versailles is one of the greatest French art achievements in the 17th century. Listed for over 30 years as part of the world heritage, it used to be home to kings of France Louis XIV, Louis XV and Louis XVI.
At first, the palace aimed at glorifying the French monarchy. Initially built for king Louis XIII as a hunting lodge, the estate aroused enthusiasm of the royal family who saw the royal court moving from Paris to Versailles. The hunting lodge was then transformed into a royal complexe with richly decorated rooms, landscaped gardens and magnificent fountains.
For decades, Kings of France lived there, enabling the estate to change and improve. The reign that ended at the French Revolution, where the royal family was forced to Paris. As of today, the palace is one of the sites the most admired and visited in France. Every year, about 5 million people visit the Palace of Versailles, and between 8 and 10 million people walk the gardens (excluding on health-related rules).
In addition to the fabulous gardens featuring 2,300 bodies of water covering 63,154sqm, 400 sculptures and 1,400 fountains, the palace if a masterpiece itself, housing thousands of remarkable pieces you must discover. If you had to visit one room, it would undoubtedly be the famous Hall of Mirrors counting up to 357 mirrors, including seventeen arches covered in mirrors reflected in the seventeen arched windows looking on the gardens.
The Palace of Versailles is so big you need several days to visit it. Over the course of your discoveries, do not miss the Domaine du Trianon, and the famous Hameau de la Reine. The Domaine du Trianon is set by the Petit Parc and houses the Grand Trianon, the palaces of the Petit Trianon, the Hameau de la Reine, and varied ornmental gardens. Marie-Antoinette's famous shelter, the gardens and the Maison de la Reine still show her influence.
To discover all year around and in the surroundings:




International Castle Day: the most beautiful castles to visit in Île-de-France
This Tuesday July 19, 2022 is International Castle Day. How? By visiting these gorgeous buildings! And we are lucky: Paris and Île-de-France house some of the most beautiful castles in France. Here is a short selection of palaces to visit. [Read more]




October 2022's exhibitions in Paris and Île-de-France
So tell me, what are the new exhibitions in Paris this October 2022? Museums expect you all month long so you can discover wonderful exhibitions and events they have prepared. [Read more]




The estate of Trianon and its gorgeous gardens
The Estate of Trianon is to be visited apart from the Palace. Set at two kilometers, it used to be a place of refuge for the kings who found rest and relaxation far from the Court. Designed by Louis XV, this estate becomes Marie-Antoinette's fiefdom as she changes the place and creates a hamlet like a small village. [Read more]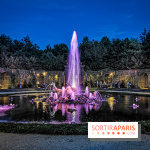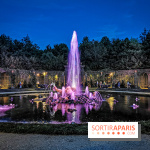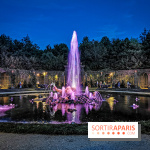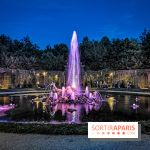 Nocturnes Electro 2022 – or Electro Nights at the Palace of Versailles: Musical experience and firework show
This year again, the Palace of Versailles holds Nocturnes Electro. Meet on Saturday September 24, 2022, for this musical experience inviting you to roam around groves and fountains exceptionally working to the rhythm of a French DJ's playlist. Bonus? A firework show to close the night! [Read more]




Night Fountains Shows 2022 at the Palace of Versailles: a magical tour with a firework show
Night Fountains Shows are back on Saturdays from June 11 to September 17, 2022, as well as July 14, at the Palace of Versailles. At nightfall, musicians and technicians tune to make you relive Louis XIV's parties thanks to pyrotechnic effects and lit water jets… A show you should experience at least once in a lifetime! As a bonus, this year, two exceptional nights await: the Nocturnes de Feu on Monday August 15 and the Nocturnes Electro on Saturday September 24. [Read more]




Fountains Shows of the Palace of Versailles 2022: a poetic outing you do not want to miss
The Musical Fountain Shows and the Musical Gardens of the Palace of Versailles are coming back in the gardens fountains and pools for a new season. From April 2 to October 30, 2022, enjoy strolls around the estate thickets and fountains in a magical atmosphere worthy of Louis XIV. [Read more]




Waldorf Astoria Trianon Palace, a royal setting in the heart of the Versailles park - reopening
Fancying a royal weekend, surrounded by nature, a stone's throw from Paris? Head to Waldorf Astoria Trianon Palace providing you with a true change of scenery by the park of the Palace of Versailles. A true relaxing experience to discover, especially if traveling abroad or too far away is not possible because of the health crisis. [Read more]