Published by My B., Rizhlaine F. · Photos by My B. · Published on August 6, 2022 at 02:28 p.m.
Free outings in Paris in August? We have some in head! Are you looking for good deals to enjoy the city without going broke? Here are a few tours and activities you will love without having to blow up your outing budget.
Free outings in Paris? No, this is no urban legend: you can enjoy the French capital without breaking the bank! So, where do these good deals hide? We have gathered a few activity ideas to enjoy when you are broke. Let us hope it will inspire you some upcoming outings!
Free outings in August:




Summer Garden 2022 at Paris Musée du Quai Branly, last days of free entertainments
You do not need to leave Paris to enjoy quiet and wilderness... From July 3 to August 28, 2022, summer comes to Quai Branly garden. A free and playful event for all themed on nature, environment and the living! You have until Sunday August 28, 2022, to have a fulfilling moment, in peace, within walking distance from the Seine and the Eiffel Tower. [Read more]




La Villette Open Air Cinema Festival 2023: free screenings this summer in Paris
The open-air film festival of La Villette returns from July 19 to August 20, 2023 in Paris! On the program: a month of free and open-air film screenings, to be followed while lounging on the great lawn of La Villette. For this new edition, the theme is Team Spirit! [Read more]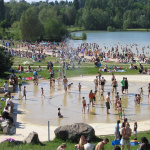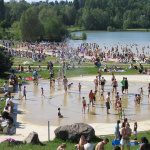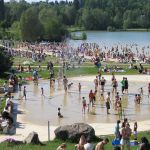 Free swimming pools and water games in Paris and the Ile-de-France region this summer 2023
The heat is on, and you are looking for a pool (with beach or deckchairs if possible) or a body of water to swim for free? To feel like you're on vacation without paying a cent, discover the great spots where it's good to bring family and friends in Paris and Ile de France. [Read more]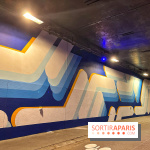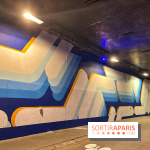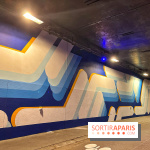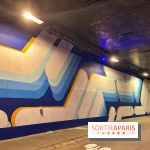 Paris: the Tuileries Tunnel transformed into a street art gallery until 2023 - our photos
The Tuileries Tunnel takes on colors! For two weeks, a dozen artists have covered the Parisian tunnel reserved for soft mobility with colorful frescoes, visible until July 2023. [Read more]




Jardins Ouverts 2023: when art is invited in the parks of Paris and Île-de-France
Jardins Ouverts en Île-de-France is back for its seventh edition, this summer 2023. From July 1 to August 27, the people of Ile-de-France can enjoy two months of cultural activities and original outings in the parks and gardens of their city. [Read more]




Les Extatiques 2023: the open-air monumental art trail at La Défense and La Seine Musicale
Les Extatiques, the monumental outdoor exhibition at La Défense is back from June 22 to October 1, 2023 for a 6th edition. This year again, we enjoy beautiful installations to see in a discovery walk between La Défense and the gardens of the Seine Musicale. Discover the first names! [Read more]
To go further:




Tips for the week of June 12-18, 2023 in Paris: free or inexpensive outings
A new week is upon us, and with it a whole range of things to do and things to discover in Paris and the Paris region! Click here to discover the cheapest deals for the week of June 12 to 18, 2023 in Paris and the Ile de France region. [Read more]




Tips for the weekend of June 9 to 11, 2023 in Paris: free or inexpensive outings
Sortiraparis has come up with the best ideas for free activities or cheap deals to be enjoyed this weekend, June 9, 10 and 11, 2023 in Paris and the Ile de France region. [Read more]




Free activities and outings in Paris in the summer of 2023
Free activities in Paris for this summer? We have what you need! We give you all the good plans to go out smart and have fun for free for the summer season! [Read more]




Free exhibitions to see in August 2023 in Paris and Ile-de-France
In August, we enjoy a Paris with less Parisians. But the good cultural plans remain of the part throughout the summer! Here are the free exhibitions that await you in Paris in August! Great ideas for outings during the summer vacations! [Read more]




This summer 2022's open-air exhibitions in Paris and Île-de-France
How about treating ourselves to an open-air exhibition this summer 2022 in Paris? What is best with summer in Paris – and the Paris area – is the wonderful strolls to enjoy in the streets and parks, to discover the current open-air exhibitions. Here are this summer's best places to enjoy art and sun. [Read more]




Free museums and monuments in Paris this Sunday, July 2, 2023
Which free museum to visit in Paris on the 1st Sunday of the month, Sunday July 2, 2023? We're delighted to return to our little ritual at the start of the month: discover a museum or monument for free! [Read more]




10 free or cheap rooftops to get a breath of fresh air and the best views in Paris
A free (or almost) and fabulous rooftop? Whether you are looking for fresh air during a heatwave or simply looking for one of the most beautiful viewpoints to admire Paris without breaking the bank, here are 10 great ideas to have the best spots overlooking the city without ending up broke. [Read more]




Summer in Paris and the Ile-de-France region: free concerts and music festivals not to be missed
Summer in Paris is a time for strolling through parks and gardens, sunbathing on terraces, and enjoying great music. Jazz, classical, electro, rock or French variety... there's something for everyone! Here's an overview of the free concerts and music festivals not to be missed this summer in Paris and the Paris region. [Read more]