Published by La Rédac · Photos by Manon de Sortiraparis · Published on October 18th, 2023 at 12:48 p.m.
Fancy some fried chicken? Take the plunge and discover soul food restaurants in Paris, the popular and generous cuisine that originated in the American South!
Are you familiar with soul food? The term first appeared in the 60s, when the word 'soul' was commonly used to refer to African-American culture. But the origins of soul food go back much further. Originating in the southern United States, particularly Louisiana and cities such as New Orleans, this traditional, popular, family-style cuisine was brought to the Americas by black slaves in the late 17th century, along with West African foods such as sorghum and okra.
Influenced byWest African dishes, soul food also includes elements of Southern American cuisine, such as corn, beans, sweet potatoes, pork and chicken. Among the must-try dishes, it's impossible to miss the famous fried chicken & waffle, a piece of fried chicken placed on a sweet waffle and covered with maple syrup; or jambalaya, a Louisiana specialty made with rice, chicken, shrimp and cayenne pepper.
Although sometimes criticized today by leaders of the African-American community for its impact on health due to its high levels of saturated fats, salt and sugar, soul food remains a cultural pride for African-Americans and a generous cuisine rich in history that is perfectly possible to enjoy in Paris.
Here are the best places to enjoy soul food in Paris, as well as the best places to eat fried chicken, the emblem of soul food, in the capital!
Soul food and fried chicken restaurants in Paris:




Dogma, the new gourmet fried chicken burger restaurant
Dogma is a new street food restaurant offering a delicious interpretation of fried chicken in Paris's 10th arrondissement. From generous fried chicken to varied burgers, we reveal the spot. [Read more]




Foou, the bao street food and bubble tea gourmet in Saint-Michel, Paris
Right in the heart of Paris, by the famous Saint-Michel fountain, hides a street food counter: Foou. Here you can sample traditional Baos and savor an authentic Bubble Tea. [Read more]




Label Broche: Top Chef David Gallienne's new Paris rotisserie hotspot
We take you on a tour of Label Broche, the fine French rotisserie designed by Top Chef 2020 winner David Gallienne, nestled in the heart of the Nouvelles Tables du Gourmet at Galeries Lafayettes in Paris. [Read more]




Nakatsu, a responsible Japanese fried chicken restaurant perched in the 18th
Perched on the heights of the 18th arrondissement, the Nakatsu restaurant specializes in karaage, the famous Japanese fried chicken, offered in burger and donburi. [Read more]




Mao Fry, Taiwanese street food, XXL fried chicken and great burgers
Mao Dumpling Bar's little brother, Mao Fry looks at another mainstay of Chinese street food: the XXL fried chicken of Taiwan's night markets. [Read more]




Mosugo, African street-food and fried chicken burgers by Mory Sacko
Gone are the white tablecloths and silver cutlery of his Michelin-starred restaurant; at Mosugo, Mory Sacko is experimenting with street food and fried chicken. [Read more]




Bonchon, the fried chicken restaurant opens its doors
Bonchon, the world-famous Korean fried chicken street-food chain, is coming to Paris on March 9, 2023. Head to the 2nd arrondisseemnt to (re)discover the best chicken wings by Business Insider. [Read more]




Street Bangkok, the Thai street food chain opens a new location in Levallois-Perret
Thai street food specialist Street Bangkok opens a new eatery in Levallois-Perret. A place where the brand serves fried chicken, as well as market recipes such as pad Thai and stewed curries. [Read more]




Baba Zulu, the American soul food restaurant to try in Paris
Head to the United States for a regressive taste trip with Baba Zulu. Head to the Faubourg Saint-Antoine, in the 11th arrondissement, to taste gourmet dishes made with waffles and chicken. Intrigued? We tell you more... [Read more]




Barbecue King, the Korean restaurant in Paris 15th arrondissement
Barbecue King is the name of the latest Korean restaurant in Paris 15th arrondissement where you can have a seat with your family or friends and enjoy bento, bibimbap and grilled food to share. [Read more]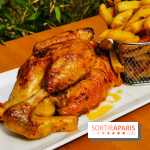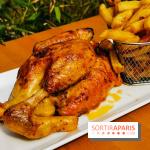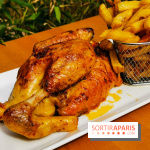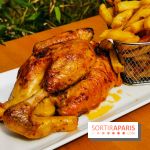 Poulet Poulette, the restaurant serving free range chicken in all shapes and sizes in Montparnasse
Chicken lovers, we have found your new canteen, Poulet Poulette. In this restaurant set in the Montmartre area, chicken (and only Red Label chicken) comes in burgers, wraps, salads. Roasted, marinated, fried, grilled, you will find a chicken-based recipe likely to please your taste buds. [Read more]
Street food in Paris, our good tips and addresses for street food
Here are some street food addresses to accompany you on the road! [Read more]
So, are you ready for the fried chicken and waffle combo?