Published by Manon C., Rizhlaine F. · Photos by My B. · Published on 3 August 2022 at 13h54
There is nothing quite like a tasty tapas bar to toast while enjoying ourselves. Here are the greatest tapas bar in Paris!
Feel like discovering nice tapas bars in Paris? We get it, it is the perfect formula to meet over a glass of wine, cocktail and tasty food to nibble on while having a drink with friends, in an ambiance of sharing both friendly and warm.
There are many great places in Paris providing you with creative and flavorsome dinner-aperitifs, so make the most of what the city has in store to have unforgettable and highly indulging evenings!
Organic wines, craft beers paired with Asian-inspired tapas, or on the contrary paying tirbute to the French terroir and what it has best, there is something for everyone and all budgets. Here are the best tapas bars in Paris!
Tapas bars in Paris:




Iluma, the latest Iberian restaurant and festive tapas bar
Iluma alma iberica, here is the latest Iberian restaurant serving Spanish and Portuguese specialties, tapas bar style, in Paris 2nd arrondissement. A lively bar-restaurant providing fabulous moments of sharing whether it comes to drinks or food. [Read more]




The Place To: restaurant, bar and coworking, a place fitting your needs in Paris 10th arrondissement
The Place To is the latest lively venue to linger in, in Paris 10th arrondissement! The restaurant welcomes you from dawn to nightfall with a complete and indulging offer from breakfast to dinner including lunch and happy hour. The asset: several areas, several atmospheres, perfect for coworking! [Read more]




TiTi Palacio, La Félicité's huge festive bar-restaurant is up
TiTi Palacio is a huge 500sqm bar-restaurant recently opened within hotel-inn The People Paris Marais, itself set in the latest eco-district of La Félicité Paris Sully-Morland. [Read more]




Gamelle, the bar, bowling and foosball within walking distance from the Gare de Lyon
Looking for a place to play bowling whilst nibbling on delicious boards to share? Head to Gamelle, a bistro in Paris 12th arrondissement, set within walking distance from the Gare de Lyon, serving a great selection of tapas, and bowling tracks and foosball tables. Perfect if you are into sport and aperitif in a laid-back fashion! [Read more]




Le Rouge à Lèvres, the travel-inducing tapas and wine bar in Paris 9th arrondissement
Great greeting, delicious beverages, exquisite dishes to share (or not), and clean and immersive décor... Here is the magic formula of Le Rouge à Lèvres, this tapas and wine bar nestled in Paris 9th arrondissement and providing us with a fabulous exotic break. [Read more]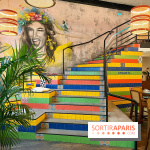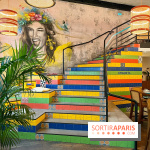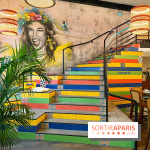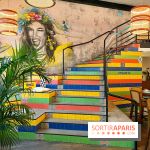 Uma Nota, Japanese-Brazilian food, exotic cocktails and wild parties
Here is a fantastic mix! Uma Nota shines a light on Japanese-Brazilian food in a colorful setting also the very theater to wild parties several nights a week. [Read more]




Vert Sauvage, friendly wine and tapas bar in a lush jungle
Small cocoon of greenery with lush plants, Vert Sauvage is a lovely wine and tapas bar where one is greeted like a friend. [Read more]




TÔ Restaurant, for a bistronomic French-Japanese experience in Paris
Sponsored - The Tô restaurant is a French restaurant with Japanese influences set a stone's throw from the Canal Saint-Martin in Paris, carrying you to chef Ryo Miyazaki's bistronomic fusion cuisine. [Read more]




Rita, neat restaurant and natural wine bar
Both a restaurant and a wine bar, Rita is the latest place for night owls in the Ménilmontant neighborhood. One cheers with a selection of natural wine, while nibbling on sophisticated and fantastic dishes to share. [Read more]




B.Better, the perfect tapas bar for a plant-based aperitif
Calling all vegetarians, flexitarians and vegans! Head to B.Better, a restaurant set in Paris 4th arrondissement encouraging you to discover a menu as indulging as healthy created for plant-based cuisine fans. We gave it a go and here are our thoughts! [Read more]




Comptoir des Fables, Fables de la Fontaine annex with delicious tapas and cocktails
Looking for a place in Paris serving exquisite tapas and share a great moment with friends? We have got you covered! Head to the Comptoir des Fables in rue Saint Dominique (Paris 7th arrondissement) to enjoy good food while sipping on delicious cocktails. [Read more]




Noush, Paris 9th arrondissement restaurant between daily specials, tapas, and infused rums
Noush – restaurant set rue Saint-Lazare – serves for lunch burgers and daily specials, homemade cuisine by chef Adrian Calvo. But by night, things change for more conviviality with tapas and infused rums. [Read more]




Clandestino: cocktail bar and speakeasy in the heart of Paris
Craving a cocktail night off the beaten tracks? Come along and discover Clandestino a cocktail bar providing you with exclusive creations along with tasty tapas. And the icing on the cake, it also hides a speakeasy bar in the basement! [Read more]




Boteco Vila Mada, the tapas bar in Paris 9th arrondissement, reopens
Exotic flavors lovers, tapas bar Boteco Vila Mada reopens in Paris 9th arrondissement. A true change of scenery! [Read more]




After work party at Le Durand Dupont with original cocktails and delicious tapas
In addition to its fresh and healthy menu and its shell bar, restaurant Le Durand Dupont provides every evening, at aperitif time, original cocktails to enjoy along with fantastic tapas. [Read more]




Ensemble: the gourmet tapas restaurant in Western Paris
A quality cuisine of sharing with gourmet and hearty tapas cooked with fresh and seasonal ingredients: here's what Mathieu Darmont and Aude Bourguignon offer with their second Parisian address, simply called Ensemble. [Read more]




Libra, the French-Iranian tapas bar and restaurant in Paris
Libra is chef Sayeh Zomorrodi's intimate restaurant set in rue Augereau in Paris 7th arrondissement. A small and charming restaurant that invites us to travel through tapas dishes to share filled with French and Iranian flavors. [Read more]




La Cantine du 18 opens a French style tapas bar
French style cocktails and tapas, here are the novelties of La Cantine du 18, this friendly and family place set in Paris 18th arrondissement. [Read more]




Boteco, the Brazilian tapas bar in Paris 10th arrondissement
Boteco is the trendy Brazilian address that rocks Paris 10th arrondissement. A friendly tapas bar that makes everyone looking for exotic notes and southern-American getaways travel… [Read more]




The Cod House, the Japanese tapas bar in Paris
Like Izakaya bars Japanese style, The Cod House is a new place of life in Paris 6th arrondissement where it feels good to stop by to sip a wonderful cocktail and eat tapas-like dishes. Japanese-French dishes as good as original are yours. To taste asap! [Read more]
Great and indulging nights lay ahead! Cheers and enjoy!
Alcohol abuse is bad for your health, please drink responsibly.