Published by Manon C., My B., Julie M., Rizhlaine F. · Photos by My B. · Published on 29 June 2022 at 20h54
Are you looking for a terrace to soak vitamin D up? Let us browse the terraces in Paris open in July 2022. To have a bite or a drink, there are always great places in Paris.
A lovely terrace by a restaurant, a nice rooftop, or a new spot to sunbathe, here are terraces in Paris welcoming you with open arms in July – especially with these gorgeous skies in Paris!
You thought you know all the terraces in Paris? You think there is nothing new now? Well, I am deeply sorry to tell you that you are wrong. In Paris, everything is possible! Of course, Parisians, tourists and Île-de-France inhabitants want to make the most of the first sunrays, idling around to forget about their cold vampire looks as winter is now over!
As restaurants, bars, museums and other places delight us with new places, as the weather is getting hotter and days grow longer, here is a large range of good ideas to have a blast, a cocktail in hand!
July's best terraces in Paris:




Sofitel Paris Le Faubourg's summer lush terraces, exotic tapas and creative cocktails
This summer, Hotel Sofitel Paris le Faubourg unveils a verdant hacienda-inspired terrace for you to enjoy exotic tapas and creative cocktails. [Read more]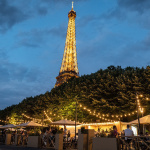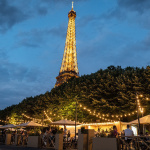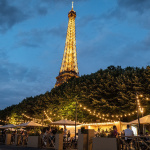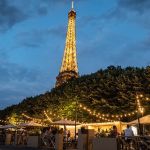 Bal de la Marine, the guinguette-restaurant by the Seine at the foot of the Eiffel Tower
The Bal de la Marine, a festive guinguette by the Seine mixing music and restaurant, expects you again for the summer. The occasion to chill out and dance all week long by the water, in a unique setting and a friendly atmosphere. [Read more]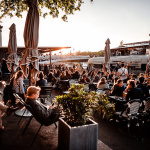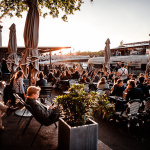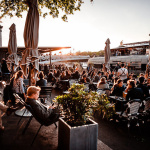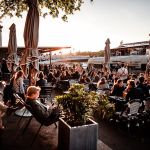 The Flow at Paris: the restaurant-bar-terrace, club and rooftop barge by the Pont Alexandre III
The Flow is a festive venue ideally set by the Seine, by the Pont Alexandre III with views on the Grand Palais and the Eiffel Tower. Doubling as a restaurant, bar, show venue, club and rooftop, this lively guinguette has it all to provide you with great nights by the water. [Read more]




Seveste – Montmartre's Théâtre de l'Atelier terrace-restaurant
Seveste is the name of the terrace-restaurant taking over the square of the Théâtre de l'Atelier. Set in Montmartre, within walking distance from the Sacred heart, discover siblings Alexis and Josselin Flocon's lovely bistro cuisine. [Read more]




The Hotel de Crillon unveils their Secret Summer Garden
The Hotel de Crillon invites you to their "Secret Garden" from Tuesday June 28 to Friday July 8, 2022, to cool off in a floral and plant-filled setting, safe from preying looks. Come and have a drink or enjoy the palace pastry chef's iconic sweet creation! [Read more]




The Eiffel Tower's Mediterranean-inspired 2022 terrace
Do you fancy relaxing and enjoying the sun on the 1st floor of the Eiffel Tower? Starting from May 20, 2022, a Mediterranean-inspired bar with unique panorama on Paris expects you 187 feet in the air. [Read more]




Café Mulot, Maison de Victor Hugo's hidden restaurant
Sponsored - How about taking a walk in the Marais? Have a break at Café Multo, the French café-restaurant nestled in the heart of the iconic Place des Vosges! This place is perfect to quench your thirst, have lunch or enjoy homemade pastry, far from the Parisian hustle and bustle and the summer heat. [Read more]




Ernest, the solidarity-driven restaurant financing food aid!
The Ernest charity opened a solidarity-driven restaurant to finance their actions. Set within walking distance from the Porte de Bagnolet, in the 2,000sqm of garden of a new third place called "Le Sample", this restaurant works with residing chefs and is thought as a place of meeting and sharing relying on the charity's values. Come and enjoy their terrace! [Read more]




Ralph's restaurant opens their sublime hidden terrace with Sunday brunch
A lovely verdant terrace to make the most of summer with cocktails, authentic American cuisine and indulging brunch... This is what Ralph's provides for the reopening of their patio. Anywya, this is the perfect place to enjoy a quiet break without leaving the French capital. [Read more]




Grilled food and champagne on the terrace of the Trianon Palace Versailles
Summer is coming to the terrace of the Trianon Palace Versailles! On the menu, grilled food and champagne for foodies! [Read more]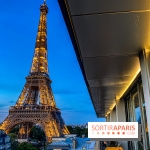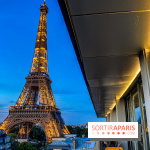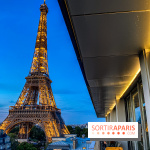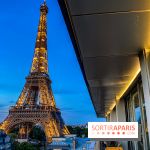 10ème Ciel, the temporary tapas and rooftop bar across the Eiffel Tower is back
How about getting on a one-on-one date with the Eiffel Tower? 10ème Ciel, here is the name of the temporary tapas bar, provided from July 9 to August 21, 2022, by the Pullman Tour Eiffel. [Read more]




Summum Rooftop, the huge restaurant-bar terrace and crazy and festive brunch in Créteil
Summum Rooftop is the latest spot doubling as a bar, restaurant, beer garden with 3 terraces covering over 600sqm of surface in South-East Paris in Créteil. Within metro reach, you will love this crazy rooftop serving divine brick-oven pizzas and brunch on Sundays. [Read more]




Radioeat's wide temporary plant-filled terrace aka Maison de la Radio's restaurant
To chill all summer long, Radioeat, aka Maison de la Radio's restaurant, unveils a wide, temporary and plant-filled terrace! [Read more]




Karlito Perché, the BBQ on MOB Hôtel rooftop
A BBQ on a rooftop! This is possible! Head to MOB Hôtel in Saint-Ouen to discover Karlito Perché and its huge rooftop brazier! [Read more]




Roch Hôtel & Spa's (very) indulging and hidden summer 2022 terrace, Cap au Sud
Calling all fans of south-inspired food! Roch Hôtel & Spa reopened the summer terrace and on the occasion, gives pride of place to southern cuisine. Chef Rémy Bérerd will serve dishes to share inspired by Italy, Greece, Spain, pairing cocktails and south-inspired dishes. [Read more]




Fika Paris, the latest relaxing café at the Swedish Institute
Fika is the name of the latest café inaugurated at the Swedish Institute. In the paved courtyard of this cultural venue shining a light on Sweden, enjoy a welcoming and bright coffee shop with a terrace serving delicious Swedish specialties. [Read more]




This summer's lush and flowery terraces in Paris and Île-de-France
Choosing a quiet place to have a drink or grab a bite is not always easy in Paris. And yet, there are many terraces and small corners of heaven, ideally hidden in the French capital. Here, engine and horn sounds are off and we can hear birds chipping and trees creaking. Like in the countryside... Let's go green this spring-summer 2022, friends, shall we? [Read more]




Westin-Paris Vendôme Summer terrace 2022
In 2022, hotel Westin-Paris Vendôme terrace is back for a new summer season. A haven of peace safe from the city's hustle and bustle serving chef David Reneux's delicious cuisine. [Read more]




Shangri-La Paris La Bauhinia's hidden garden-terrace and Asian-inspired menu
For the second year, Shangri-La Paris's magnificent landscaped garden opens to welcome us on La Bauhinia's terrace. Chef Christophe Moret cooks Asian-inspired dishes you can enjoy whilst gazing at the Eiffel Tower. [Read more]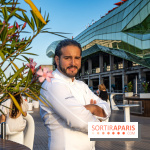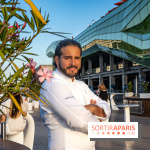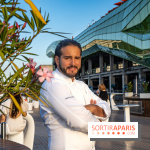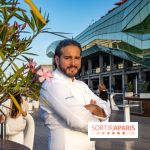 Babor by Mohamed Cheikh, the Diamant Bleu's festive dinner cruise on the Seine is on
Friends! This summer, the Le Diamant Bleu boat welcomes Babor, Mohamed Cheikh's temporary restaurant for a festive dinner cruise on the Seine on Saturdays from June to October 2022. For the night, enjoy Top Chef France 2021 winner's dishes whilst admiring the greatest landmarks of the city. [Read more]
You only have to choose which terrace in Paris and around you will visit to have a good time with your family, friends, or even on your own!
Alcohol abuse is bad for your health, please drink responsibly.