Published by My B., Manon C. · Photos by My B. · Published on 7 September 2022 at 14h26
Are you looking for a terrace to soak vitamin D up? Let us browse the beautiful terraces in Paris available in September 2022. To have a bite or a drink, there are always great places in Paris.
A lovely terrace by a restaurant, a nice rooftop, or a new spot to sunbathe, here are terraces in Paris welcoming you with open arms in September – especially with these gorgeous skies not willing to leave Paris!
You thought you know all the terraces in Paris? You think there is nothing new now? Well, I am deeply sorry to tell you that you are wrong. In Paris, everything is possible, and there are lots of new terraces to enjoy this year! Of course, Parisians, tourists and Île-de-France inhabitants want to make the most of the last sunrays, idling around the Indian summer, before entering the sad weather and gloominess of Fall and Winter.
Fortunately, restaurants, bars, museums and other places delight us this year again, with new places, as the weather is still very goegrous. Here is a large range of good ideas to have a blast in September, a cocktail in hand!
September's best terraces in Paris:




Vieux Carré: the latest cocktail spot in Eastern Paris
Sponsored - Calling all cocktail and mixology fans! Set 58 rue de Montreuil, in Paris 11th arrondissement, the Vieux Carré shakes cocktails from Tuesday to Saturday, and from 6 p.m. to 2 a.m. [Read more]




Bonnie: hotel SO/Paris bar-restaurant and perched club is open
A new spot with lofty terrace opened in Paris on September 6, 2022. Here is Bonnie, the restaurant-bar and club by Paris Society settling on the 15th and 16th floors of SO/ Paris, the trendy hotel by the Seine, in the Marais area. [Read more]




The new FIKA café by the Swedish Institute
Fika is the name of the latest café inaugurated at the Swedish Institute. In the paved courtyard of this cultural venue shining a light on Sweden, enjoy a welcoming and bright coffee shop with a terrace serving delicious Swedish specialties. Pre-opened this summer, the café officially opens and unveils sweet treats. [Read more]




Ladurée's 160th anniversary teatime on the flowered terrace
How about indulging us to a lovely and delicious teatime on a terrace? Head to the new flowered terrace of the historic Maison Ladurée store on the Champs-Elysées for a scrumptious break mixing pastries and macarons to enjoy this summer. [Read more]




Persil: the heart-stopping restaurant in Paris 11th arrondissement
Persil is a local gem expecting you in Paris 11th arrondissement. This Berlin-inspired restaurant serves inventive cuisine with a menu half-vegetarian, half-vegan. A place to get everyone to agree! [Read more]




Iluma, the latest Iberian restaurant and festive tapas bar
Iluma alma iberica, here is the latest Iberian restaurant serving Spanish and Portuguese specialties, tapas bar style, in Paris 2nd arrondissement. A lively bar-restaurant providing fabulous moments of sharing whether it comes to drinks or food. [Read more]




Restaurant and café terraces hidden in gardens that we love
With the warmer weather, we want to go to the countryside and unearth great cafés and lush restaurants a tad confidential. Between museum terrace or sunny terrace nestled in a fabulous park or garden, here is our selection of great deals to relax and enjoy the sun. [Read more]




Ladurée launches their brand-new flowery terrace on the Champs-Elysées
Maison Ladurée launches their brand-new flowery terrace on the Champs-Elysées! How about having a seat for breakfast or teatime surrounded by hundreds of roses? [Read more]




SO/ Paris: an arty hotel with rooftop bar-restaurant and spa: opening date and booking
SO/ Paris is a flagship hotel opening by July 2022 by the Seine riverbanks in Paris. To be expected, rooftop with great views on the city, a Codage spa, an indoor swimming pool, all this in a venue designed for Parisians and tourists. Good news, the opening date has landed and you can book now! [Read more]




Sofitel Paris Le Faubourg's summer lush terraces, exotic tapas and creative cocktails
This summer, Hotel Sofitel Paris le Faubourg unveils a verdant hacienda-inspired terrace for you to enjoy exotic tapas and creative cocktails. [Read more]




Hotel Rochechouart opens their rooftop bar for the summer
Head to the 9th floor of Hotel Rochechouart to discover the Bar sur le Toit reopening for the summer. On the menu, Italian dishes to share (or not), signature cocktails and even a teatime! [Read more]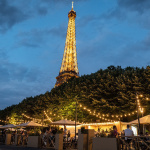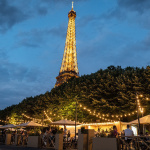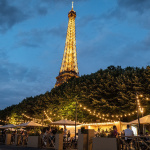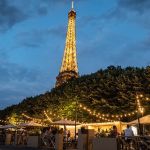 Bal de la Marine, the guinguette-restaurant by the Seine at the foot of the Eiffel Tower
The Bal de la Marine, a festive guinguette by the Seine mixing music and restaurant, expects you again for the summer. The occasion to chill out and dance all week long by the water, in a unique setting and a friendly atmosphere. [Read more]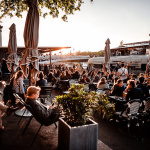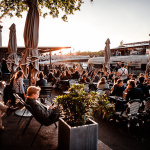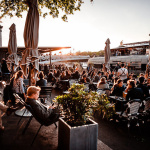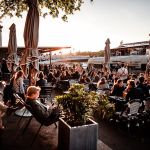 The Flow at Paris: the restaurant-bar-terrace, club and rooftop barge by the Pont Alexandre III
The Flow is a festive venue ideally set by the Seine, by the Pont Alexandre III with views on the Grand Palais and the Eiffel Tower. Doubling as a restaurant, bar, show venue, club and rooftop, this lively guinguette has it all to provide you with great nights by the water. [Read more]




Seveste – Montmartre's Théâtre de l'Atelier terrace-restaurant
Seveste is the name of the terrace-restaurant taking over the square of the Théâtre de l'Atelier. Set in Montmartre, within walking distance from the Sacred heart, discover siblings Alexis and Josselin Flocon's lovely bistro cuisine. [Read more]




The Eiffel Tower's Mediterranean-inspired 2022 terrace
Do you fancy relaxing and enjoying the sun on the 1st floor of the Eiffel Tower? Starting from May 20, 2022, a Mediterranean-inspired bar with unique panorama on Paris expects you 187 feet in the air. [Read more]




Ernest, the solidarity-driven restaurant financing food aid!
The Ernest charity opened a solidarity-driven restaurant to finance their actions. Set within walking distance from the Porte de Bagnolet, in the 2,000sqm of garden of a new third place called "Le Sample", this restaurant works with residing chefs and is thought as a place of meeting and sharing relying on the charity's values. Come and enjoy their terrace! [Read more]




Ralph's restaurant opens their sublime hidden terrace with Sunday brunch
A lovely verdant terrace to make the most of summer with cocktails, authentic American cuisine and indulging brunch... This is what Ralph's provides for the reopening of their patio. Anywya, this is the perfect place to enjoy a quiet break without leaving the French capital. [Read more]




Grilled food and champagne on the terrace of the Trianon Palace Versailles
Summer is coming to the terrace of the Trianon Palace Versailles! On the menu, grilled food and champagne for foodies! [Read more]




Summum Rooftop, the huge restaurant-bar terrace and crazy and festive brunch in Créteil
Summum Rooftop is the latest spot doubling as a bar, restaurant, beer garden with 3 terraces covering over 600sqm of surface in South-East Paris in Créteil. Within metro reach, you will love this crazy rooftop serving divine brick-oven pizzas and brunch on Sundays. [Read more]




Roch Hôtel & Spa's (very) indulging and hidden summer 2022 terrace, Cap au Sud
Calling all fans of south-inspired food! Roch Hôtel & Spa reopened the summer terrace and on the occasion, gives pride of place to southern cuisine. Chef Rémy Bérerd will serve dishes to share inspired by Italy, Greece, Spain, pairing cocktails and south-inspired dishes. [Read more]
You only have to choose which terrace in Paris and around you will visit to have a good time with your family, friends, or even on your own!
Alcohol abuse is bad for your health, please drink responsibly.
L'abus d'alcool est dangereux pour la santé, à consommer avec modération.