Published by My B. · Photos by My B. · Published on 30 July 2022 at 00h31
Are you looking for a nice café with Wi-Fi to work in Paris? Whether you are into large and verdant places, indulging coffee shops, or small hidden and quiet cafés, we have go you covered so you can bring your laptop and work in peace whilst enjoying a cup of coffee or iced tea.
Goodbye offices! Working in a café in Paris is very common and even more since remote working is increasing. Feel like enjoying a change of scenery, finding a lovely Parisian café with free Wi-Fi to work from? We have great places to share. Between new cafés and coffee shops, big places often little-known or famous and hotel cafés open 24h a day, here are great ideas to have a seat, work, have a cup of coffee or latte whilst nibbling on some cute pastry and cake at the same time.
And today, although you are no longer physically requested at work and if you feel like not working from home, working from a nice location can be the right solution. Less stressful, cozier, in a café near you, you buy time, get more productive and you can even enjoy yourself. After a crazy chai latte or a fluffy carrot cake or even indulging babka, you are in the perfect mood to get back to work.




The Place To: restaurant, bar and coworking, a place fitting your needs in Paris 10th arrondissement
The Place To is the latest lively venue to linger in, in Paris 10th arrondissement! The restaurant welcomes you from dawn to nightfall with a complete and indulging offer from breakfast to dinner including lunch and happy hour. The asset: several areas, several atmospheres, perfect for coworking! [Read more]




TiTi Palacio, La Félicité's huge festive bar-restaurant is up
TiTi Palacio is a huge 500sqm bar-restaurant recently opened within hotel-inn The People Paris Marais, itself set in the latest eco-district of La Félicité Paris Sully-Morland. [Read more]




Fika Paris, the latest relaxing café at the Swedish Institute
Fika is the name of the latest café inaugurated at the Swedish Institute. In the paved courtyard of this cultural venue shining a light on Sweden, enjoy a welcoming and bright coffee shop with a terrace serving delicious Swedish specialties. [Read more]




Rose Bakery at the Balzac's House, the café-tearoom in a bucolic garden
A confidential coffee shop nestled in the hidden and lush garden of the Maison de Balzac sounds very appealing. With a 100% organic and homemade menu, its bright setting opened onto the relaxing garden and views on the Eiffel Tower, it is hard not to be delighted. [Read more]




Le Shack, majestic restaurant and cocktail bar in the former Calmann-Levy printing works
Both a restaurant, cocktail bar, coworking area and place dedicated to wellness, the Le Shack is a unique venue set within the former Calmann-Levy printing works. Chef Albane Auvray unveils vegetable and seasonal food, local and complying with the environment convincing everyone tasting it. [Read more]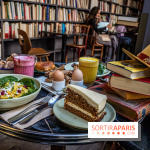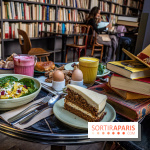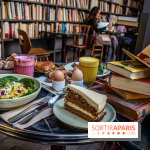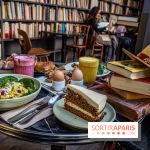 Used Book Café, the literary coffee shop
The Used Book Café is a library coffee shop created by Concept Store Merci. An uncommon coffee shop enabling you to read while enjoying a simple and homemade menu. [Read more]




La Main Noire, the coffee shop serving fantastic brunches and divine chaïs and lattes
La Main Noire is the great coffee shop hiding in rue Cavalotti in Paris 18th arrondissement. Like authentic Australian coffee shops, this spot created by 3 French-Australian friends has it all. Serving a brunch, healthy products and alternative homemade drinks, while complying with the environment, it is a winner! [Read more]




Elémentaire, the new generation brasserie adapting to seasons
Craving simple food changing with seasons? Come along and discover Elémentaire, an aptly named local restaurant. [Read more]




Back in Black, the Bastille coffee shop where everything is homemade
Let's go and discover Back In Black, a new top-notch coffee shop in the Bastille area entertaining coffee lovers and those who really enjoy homemade dishes. At the helm, the team already managing KB Coffee Roasters, you can make sure you'll get quality coffee in a very wide place. [Read more]




Les Piaules, a second youth hostels at the Place de la Nation
In 2021, the Les Piaules team will open a second youth hostels at the Place de la Nation in Paris. [Read more]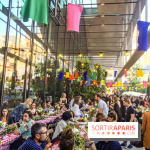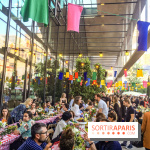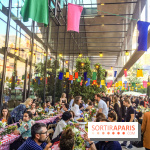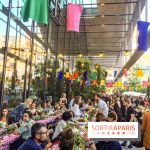 La Felicità: Big Mamma XXL restaurant in Paris Station F
Big Mamma keeps on increasing with a new address that is even bigger, more beautiful and impressive than the previous ones! Entitled La Felicità, this huge Italian restaurant x food-market has opened on May 25, 2018 within Station F in Paris 13th arrondissement. 4,5000-sqm including 1000s-qm of sunny terrace, 3 bars, 5 kitchens, a cafeteria open 24h a day… talk about crazy! [Read more]




ONI Coffee Shop
ONI Coffee Shop is the brand-new coffee shop set Boulevard Saint-Martin. Come and discover this relaxing, luminous and welcoming place where you'll feel relaxed whilst sipping a delicious coffee and eating a homemade pastry. [Read more]
So, shall we go to one of the best cafés to work from with free Wi-Fi in Paris?