Published by La rédaction · Photos by My B. · Published on 1 December 2022 at 16h08
Paris is full of vegan addresses that make vegans happy. Discover the best spots where you can confidently enjoy delicious meals without products of animalorigin!
World Vegan Day is the occasion to think about your relationship with meat, and even to rethink your diet to make sure it complies more with animals' wellbeing and environmental protection.
As a matter of fact, the production of meat is held responsible for greenhouse gas and requires a lot of water. For instance, did you know that to make a 100-gr hamburger you need 1,500 liters of water? Data are mind-blowing!
And yet, being vegan does not mean saying goodbye to tasty dishes and finding yourself eating salad for the rest of your life, far from it. Actually, many chefs ingeniously try to create cheeky dishes free from any animal exploitation without saying goodbye to flavors.
From the traditional burger packed with plant-based cheese and vegan steak, to the ultra-comforting risotto via the pan-seared vegetable wok, these vegan addresses are willing to prove you how rich and tasty vegan cuisine can be.
Vegan restaurants in Paris:
Les restaurants vegans de Paris




Bloom, Christian Ventura's heart-stopping new vegan sushi restaurant
Bloom, here is the name of this new plant-based restaurant with Japanese influences recently inaugurated in Paris 17th arrondissement. Already trending in the U.S., plant-based sushi is coming to Paris, ready to give it a try? [Read more]




Persil: the heart-stopping restaurant in Paris 11th arrondissement
Persil is a local gem expecting you in Paris 11th arrondissement. This Berlin-inspired restaurant serves inventive cuisine with a menu half-vegetarian, half-vegan. A place to get everyone to agree! [Read more]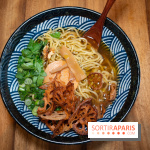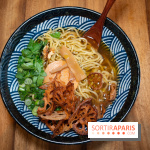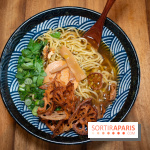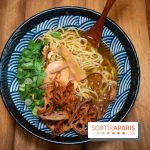 Neko Ramen Green, the traditional Japanese and vegan ramen restaurant
Neko Ramen, Japanese ramen restaurant, now has a younger and vegan sibling, Neko Ramen Green. This new Japanese and vegan canteen recently settled in Paris 10th arrondissement rue de Paradis. And it still displays a very Japanese decoration. [Read more]




Maison Mère's semi-vegan brunch: an irresistible menu for indulging Sundays
Looking for a scrumptious brunch in Paris? At Maison Mère, discover two menus, including a vegan one based on healthy dishes playing with our guilty pleasures! 100% pleasure, 0% guilt! [Read more]




Jimmy's Street Food, the new temple of vegan street-food
At Jimmy's Street Food, street-food is served vegan style with generous and homemade dishes, without any ingredient of animal origin. A restaurant likely to delight even the most resistant. [Read more]




Comptoir Veggie, the vegan canteen in Paris 12th arrondissement
Set Avenue Ledru Rollin in Paris 12th arrondissement, Comptoir Veggie is a venue set halfway between the coffee shop and the canteen, very cozy, likely to indulge vegan cuisine fans. [Read more]




B.Better, the perfect tapas bar for a plant-based aperitif
Calling all vegetarians, flexitarians and vegans! Head to B.Better, a restaurant set in Paris 4th arrondissement encouraging you to discover a menu as indulging as healthy created for plant-based cuisine fans. We gave it a go and here are our thoughts! [Read more]




Sweet Rawmance, vegan restaurant and patisserie in Montparnasse
By the Montparnasse Tower, Sweet Rawmance welcomes you in the vegan restaurant for a healthy lunch based on vegan burgers, fruity lemonades, and delicious pastries! [Read more]




Naked Burger, the vegan smash burger spot in Paris
Naked Burger – recently inaugurated in Paris 6th arrondissement – bets on vegan Californian street-food. On the menu of this pink restaurant? Vegan smash burgers. [Read more]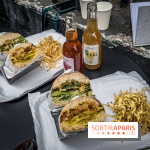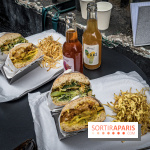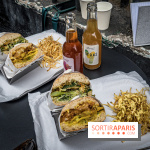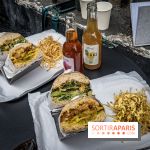 Plan D, the new vegan sandwich and ice-cream parlor by the Canal Saint Martin
Plan D is the brand-new vegan canteen that opened by the Canal Saint-Martin. On the menu? Sandwiches based on seasonal vegetables and (vegan) ice creams. Cooked street-food to enjoy on the terrace or by the canal. [Read more]




Ladurée launches a vegan capsule to enjoy in their restaurants
Ladurée adds to the on-site food offer a vegan capsule based on 3 products renewed every season to complete an already rich vegetarian dish offer. [Read more]




Normandy Hotel Paris restaurant-bar, Le Comptoir du Chantier: our pictures
New address alert! Plant-based and vegan food fans are expected at Le Comptoir du Chantier, the brand-new restaurant-bar at Normandy Hotel set in Paris 1st arrondissement. A new place with a design décor inspired by construction sites that has been inaugurated on October 17, 2019 and provides you with a delicious plant-based menu from breakfast to late in the afternoon. Let's go, friends, shall we? [Read more]




Burger Theory, delicious vegan burgers
Forget all you think you know about plant-based diet, because at Burger Theory, burgers are tasty in addition to be entirely homemade. [Read more]




PH7 Equilibre, the healthy and organic eatery in Paris 3rd arrondissement
PH7 Equilibre opens a second restaurant in Boulevard du Temple, Paris 3rd arrondissement. Are you looking for a nice, healthy, balanced, organic, vegan and tasty eatery? You've just found your spot. We tried it, and here's what we think. [Read more]




Positive Café, the healthy café in Versailles
Positive Café is all grown-up now and crosses the street to offer more choice and more space. Are you looking for a vegan, healthy, organic and vegetarian restaurant? If so, head over Positive Café Healthy Food & Juice Bar, the new spot within walking distance from the Palace of Versailles offering you a creative cuisine that is good for you! [Read more]




Hank Burger, the tasty vegan restaurant
Hank Burger is one of these addresses you should know in Paris. Every day, it pleases vegetarians and curious eaters by treating them with very flavorful burgers. [Read more]




Brasserie Lola, a very fresh vegan spot
Brasserie Lola is a restaurant that looks like an ordinary brasserie. But the difference is that the menu is entirely vegan. [Read more]




East Side Burgers, American vegan street-food in Paris
East Side Burgers is one of the best addresses for vegans and vegetarians. Here, you can taste burgers made with love and 100% vegan. The whole is to be experienced in an American atmosphere. [Read more]




Jah Jah by Le Tricycle, a vegan and Rastafari restaurant
Jah Jah by Le Tricycle serves vegan cuisine but not only. You can also taste Jamaican flavors matching the two Rastafari founders, Coralie Jouhier and Daqui Gomis. [Read more]




VG, the 100% vegan burger restaurant in Paris
VG is a small restaurant but with huge flavors offering a 100% vegan and 100% homemade menu based on burgers. Try it asap! [Read more]




Abattoir Végétal, a delicious vegan restaurant
Vegan friends! We discover an amazing adress in Paris 18th arrondissement: the Abattoir Végétal (vegetable abattoir). This name is an historical nod to the address (a former local butcher's shop) and sets the tone. But be rest assured, here, the only things slaughtered are fruits and vegetables for your greatest pleasure and the least we can say is that the result is delicious and at a ridiculously low price! [Read more]




PH7 Equilibre, Organic and Vegetarian Restaurant in Paris
PH7 Equilibre is a new, healthy and delicious eatery in the 9th arrondissement in Paris. The restaurant serves not only vegetarian and organic cuisine (sometimes even vegan dishes) but also meals that respect an acido-basic balance. With these fresh, seasonal ingredients including vegans and gluten-free options, you can order guilt-free with your eyes closed. [Read more]
Vegan restaurants on the map of Paris:
Get some tasty dishes free from products of animal-origin!