Published by La rédaction · Photos by Manon C. · Published on 8 August 2022 at 08h02
How about having Portuguese food at lunch? Here are great Portuguese places in Paris, restaurants, patisseries, wine bars and more, to (re)discover for the France-Portugal season.
How about visiting a great Portuguese restaurant? This year, from mid-February to October 2022, it is France-Portugal season, a unique event celebration the French-Portuguese culture and friendship in all its forms. Exhibitions in the museums of the city, shows, concerts, a lot of events are planned in Paris.
As for gastronomy, the city is packed with Portuguese restaurants, bakeries, wine bars and more fiendishly indulging places. So, how about giving it a go today?
From fried sardines to the staple cod brandade, including the famous creamy pasteis de nata, and the comforting seafood cataplana; Portuguese gastronomy is a lot more. Perfect to feel like in Lisbon, enjoying street food without even leaving the French capital city.
So, to make sure you will feast on Portuguese food, here are places we tried and approved!
Portuguese restaurants in Paris:




Iluma, the latest Iberian restaurant and festive tapas bar
Iluma alma iberica, here is the latest Iberian restaurant serving Spanish and Portuguese specialties, tapas bar style, in Paris 2nd arrondissement. A lively bar-restaurant providing fabulous moments of sharing whether it comes to drinks or food. [Read more]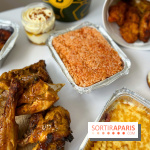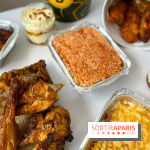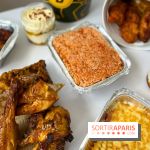 PB Poulet Braisé – the affordable grill house with golden poultries
At PB Poulet Braisé, chicken is Breton and is served over and over again. A quick, hearty and affordable bargain for families and groups of friends. [Read more]




Papo, flavorful Portuguese street-food in Paris 11th arrondissement
This new eatery called Papo highlights a little-known Portuguese specialty: Papo, a small stuffed bread coming in several and mouthwatering versions. [Read more]
And Bom apetite!