Published by La rédaction · Photos by Manon C. · Published on 25 May 2022 at 11h28
As a major popular dish, pizza is in the top 20 most loved food in France! Quick, discover the best pizzas in Paris so you can have a treat in no time!
Where can we find the best pizzas in Paris? This may be the question that deserved some in-depth research. But first things first, let us give you a little bit of a background. The origin of the pizza is rather unknown, but it seems the ancestor of pizza appeared about 3,000 years ago. At this time the "pizza" was more a flatbread cooked over a burning stone, without sourdough.
As for the authentic and traditional pizza based on tomato and mozzarella, it seems it was created in the 18th century in Naples. From that day, pizza spread and experienced a slow and difficult rise and all the way to become one of the most enjoyed dishes in Europe.
Today, pizza is available in multiple sizes and shapes and delights everyone. The pizza madness knows no boundaries!
The best pizzas in Paris:




Peppe, Europe's best pizzeria 2022 aka Giuseppe Cutraro's pizzeria
Peppe restaurant by chef Giuseppe Cutraro in the Saint-Blaise area in Paris 20th arrondissement has been named Europe's best pizzeria 2022. Let's go and enjoy delicious pizzas facing the Saint-Germain de Charonne church. [Read more]




Gruppomimo, the indulging Italian restaurant in Batignolles, Paris 17th arrondissement
Gruppomimo, here is the name of the Italian restaurant delighting everyone rue Legendre in Paris 17th arrondissement. Pizza, Pasta & Amore, here is the eatery's motto expecting to take over the streets of the city. [Read more]




La Ultima in Paris: an Italian restaurant doubling as speakeasy and pizzeria in the Saint-Michel area
If you enjoy uncommon and yummy concepts, then run to the iconic Saint-Michel square in Paris, to discover La Ultima. This is here, at the back of a pizzeria worthy of the ones in Little Italy, that hides La Ultima, a speakeasy restaurant shining a light every night on the richness and flavorsome Italian gastronomy. Shall we give a go? [Read more]




GustoMassimo Paris, authentic Italian restaurant with dishes to share
Sponsored - GustoMassimo Paris is a cozy and laid-back place to discover rue de Clichy in Paris 9th arrondissement. Here Massimo Petrone serves antipasti to share, based on fresh produces directly imported from Italian producers, as well as pizzas, salads and authentic Italian desserts! [Read more]




Tasty pizzas to enjoy outside in Paris
How about eating some pizza in the sun? Come along and discover Parisian pizzerias with a terrace to make the most of sunny days in the city. [Read more]




The best Italian restaurants in Paris, our heart-stopping selection!
Do you enjoy Italian cuisine? Then, grab your notebook: We tell you everything about the best Italian restaurants in Paris! [Read more]




Oxymore, the pizzeria with tasty French produces
We wondered why such an enthusiasm about Oxymore, and then, when putting it on the test, we got it: pizzas are based on tasty French produces and are simply exquisite. [Read more]




Melting Pot, the latest tasty and beautiful food court in Bagnolet
Melting Pot is the latest food court that opened this past Fall in Bagnolet. On the menu? Pizzas, burgers, pasta, Thai cuisine and even Indian food. Everything is homemade and to be enjoyed in a colorful venue worthy of the trip. We love the concept. [Read more]




Zapi, the latest Italian pizzeria in Paris 8th arrondissement
Zapi, here is the name of the latest Italian restaurant that arrived by the Avenue Montaigne and Champs-Elysées. In a lovely setting, enjoy great classics with a thin dough and tasty 100% Italian produces. [Read more]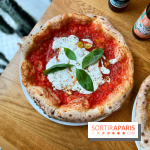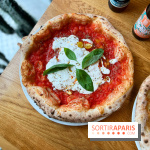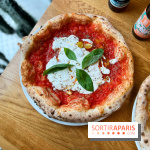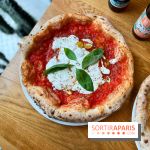 Bricktop Pizza, the fantastic pizza by the Canal Saint-Martin
For a heartily garnished Neapolitan pizza, both affordable and made by the book, run to Bricktop Pizza by the Canal Saint-Martin. [Read more]




Joya Trattoria, the taste of Italy in Paris 15th arrondissement
Italian cuisine fans are expected at Joya in Paris 15th arrondissement, a stone's throw from Beaugrenelle, offering to revisit the principle of the trattoria, but always with tasty produces, thoroughly selected. A great location to enjoy light pizzas and other sunny dishes! [Read more]




+400° Laboratorio, Gennaro Nasti's chic and gourmet pizzeria
Italian chef Gennaro Nasti unveils his very first restaurant in Paris, +400° Laboratorio, in the 9th arrondissement. A pizzeria displaying chic and smart decor, serving delicious gourmet pizzas among other Italian specialties. [Read more]




The (new) Pub Saint-Germain has arrived!
Saint-Germain-des-Prés institution for over 50 years after its creation, the Pub Saint-Germain has completed a renewal. Taken over by the O'Sullivans team, this wide venue still unveils modernized brasserie cuisine. And a very large choice of beers, especially local brews. [Read more]




Maker, the custom-made American pizzeria
At Maker – that recently opened in Paris 9th arrondissement – one goes for signature recipe or rack their brains and invents their own pizza! They are all costing €12.80. [Read more]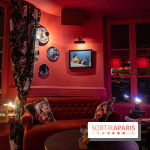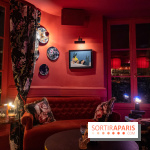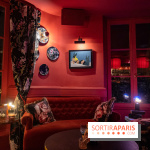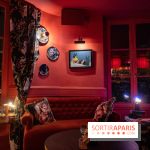 Scorzo, the festive Italian restaurant waking the 17th arrondissement up
Looking for a great place to have an exquisite moment? Look no more, you need to go to Scorzo. Between affordable cocktails, tasty Italian food and live music to sing-along and dance, Scorzo has it all. [Read more]




Pasticcio, the Italian restaurant between street food and tradition in Paris 11th arrondissement
Italian food lovers are expected at Pasticcio, a restaurant set in Paris 11th arrondissement and providing authentic pizzas and dishes. A genuine taste of Italy it would be wrong not to enjoy! [Read more]




Pizz'Aria, Riccardo Giraudi's latest restaurant in Paris 2nd arrondissement
Pizza lovers are expected at Pizz'Aria, aka Riccardo Giraudi's latest Italian restaurant, that opened this Wednesday October 27, 2021 in Paris 2nd arrondissement, set a stone's throw from the Sentier neighborhood. [Read more]




The Village Terrazza, the very indulging Italian restaurant in the 14th arrondissement
The Village Terrazza is the name of the latest restaurant created by Garry Dorr. This trattoria, set in Paris 14th arrondissement, serves pizzas, pastas and other delights, all day long, with CBD topping, in an atmosphere inspired by Greenwich Village. It is affordable and very lovely. [Read more]




Quindici Trattoria, Denny Imbroisi's latest restaurant at the Novotel Paris Vaugirard Montparnasse
Reopening after undergoing renovations, the Novotel Paris Vaugirard Montparnasse gets a new restaurant, Quindici. To create this trattoria, the hotel called in Denny Imbroisi. The Italian chef has come up with a mouthwatering menu serving Italian classics. Dishes pairing Italian cocktails by Matthias Giroud. [Read more]




Pizzeria Popine launches a €5 Margherita pizza for lunch
Who says better than €5 for a pizza? Head to Popine Saint-Sauveur to make the most of this new offer available every lunch of the week. [Read more]




Piadineria 14.07, the piadine restaurant a stone's throw from Bastille - our pictures
Have you heard about piadine? Head to Piadineria 14.07, an Italian restaurant in Paris 11th arrondissement, to discover this culinary specialty halfway between pizza and focaccia, coming straight from Emilia-Romagna. A wonderful address to never end summer, and enjoy many sunny flavors! [Read more]




Giusé, the hearty and chic trattoria in Paris 8th arrondissement
Set in Paris 8th arrondissement, Giusé trattoria serves delicious Italian specialties. On the menu of this hearty family restaurant? Neapolitan pizzas, pastas, antipasti… Always based on quality ingredients and served with good mood. [Read more]




We tried Pink Flamingo: the quirkiest pizzas in the Marais
At Pink Flamingo in the Marais, enjoy pizzas betting on originality. Delicious recipes and natural wines, this is the summer spot you will fall in love with! [Read more]




Broadway Caffe, the new gigantic Neapolitan pizzeria in Paris 14th arrondissement
Broadway Caffe is the brand-new trattoria by Garry Dorr that recently opened by Montparnasse. On the menu of this very American restaurant with a huge terrace, Neapolitan pizzas and fresh pastas, among others. One of the new spots to try out this summer! [Read more]




Casa di Peppe, Peppe Cutraro's new trattoria, pizzeria and delicatessen opens
Peppe Cutraro opens more restaurants and inaugurates his latest Trattoria Pizzeria and delicatessen in Paris 5th arrondissement. Pizza World Champion chef Giuseppe Cutraro keeps delighting us. [Read more]




Giorgio: the new Italian restaurant by Dalmata
Giorgio, this is the name of the latest tasty and 100% Italian table created by Gruppo Dalmata. Meet in Paris 11th arrondissement to meet this new spot and enjoy a unique and festive travel in space and time. [Read more]




Tripletta and its Neapolitan pizzas are coming to Paris Latin Quarter
Tripletta's delicious pizzas are now to be enjoyed in Paris Latin Quarter. The best of "Neapolitan" pizza in Paris opens a new and third address in the heart of the 5th arrondissement. Hurry and enjoy! [Read more]




Paris-Boca, the new Argentinean canteen in Paris 9th arrondissement
Rue Pierre Fontaine in Paris 9th arrondissement, restaurant Paris-Boca has just opened. On the menu of this Argentinean canteen? Pizzas, genuine symbol of the Argentinean street-food. [Read more]




Bijou, Europe's third best pizzeria is in Paris
It is on the hill of Montmartre that hides the third best pizzeria in Europe. Its name? Bijou. Neapolitan pizzas from the most classic ones to the quirkiest ones, Bijou will manage to delight foodies' taste buds. [Read more]




Papi: the exquisite local restaurant in Paris by Etienne Ryckeboer
Papi: this is the name of the new tasty restaurant created by Etienne Ryckeboer. Set in Paris 9th arrondissement, Papi proposes a return to one's roots with fresh, seasonal and local products. For this new local eatery, Etienne Ryckeboer teamed up with Japanese chef Akira Sugiura and Thierry Delabre, considered as the "sourdough pope". We tell you more about this new place that is truly worth it. [Read more]




Pépita: Saveriu Cacciari's new restaurant in Paris
After Chez Minnà, L'Alivi and Alma, Saveriu Cacciari presents his latest restaurant in Paris. Called Pépita, this new restaurant expects you in Paris 5th arrondissement to treat you to Mediterranean flavors likely to tickle your taste buds! [Read more]




Marco Marco, the pizzeria at La Défense, reopens
Marco Marco opens its doors at La Défense from June 15, Monday to Friday for lunch. People working in the business area now have a new spot to enjoy tasty pizzas. [Read more]




Reopening of Tripletta Gaité, the pizzeria near Montparnasse
After Tripletta Belleville, discover Tripletta Gaité. Trinity Group's famous pizzas have landed in the Gaité neighborhood, just a few steps from Montparnasse, for an even bigger gustative pleasure! [Read more]




Paris best pizza is back as La Manifattura reopens!
The second edition of the "Best Pizza in Paris" championship left the veils on the finalists and the winner. Set in Montparnasse, La Manifattura wins the coveted prize, followed by Eataly Marais and That's Life restaurant. Good news, la Manifattura reopened in early June and hs now fully reopened on June 15, 2020! [Read more]




Metà e Metà, the Italian pizzeria and delicatessen in Montreuil
At Metà e Metà, one enjoys original Neapolitan pizzas and fresh and homemade pasta while sipping nice and organic wines from Italy. Before you go, let's visit the delicatessen, well-stocked in nice and Italian products. [Read more]




La Massara, Sicilian pizzeria a stone's throw from the Place de la République reopens
Italian cuisine lovers are expected at La Massara, a Sicialian pizzeria set in Paris 3rd arrondissement, a stone's throw from the Place de la République. The occasion to enjoy delicious pizzas and travel through time for lunch or dinner to Catania, Palermo or Syracuse. [Read more]




La Serre, Rotonde Stalingrad new 100% Corsican spot by Gustu
Let's move to Corsica without even leaving Paris thanks to La Serre, the new covered and heated spot by Rotonde Stalingrad, created by Gustu team where you can enjoy and sip the best of Corsican food. [Read more]




Mad Men restaurant in Paris: bistronomy in all its glory
Mad Men is the latest restaurant inaugurated in Paris 8th arrondissement. Open by Sébastien Maréchal, this new table awakens the senses thanks to a bistronomic and hearty cuisine by Italian chef Igor Compagnoni. [Read more]




Chez Bartolo, the oldest pizzeria in Paris
Here's one of the oldest pizzerias in Paris: Chez Bartolo, an Italian restaurant open in 1950 in the Saint-Germain area. The restaurant got a makeover and enjoys a new menu to taste in a warm atmosphere, about 70 years after it first opened. Pizza, rack of lamb and grilled squid expect Italian cuisine lovers along with tasty wines! [Read more]




Manhattan Terrazza, the friendly Italian restaurant in Paris 17th arrondissement
Craving an Italian restaurant with a cozy setting and a divine food? Head to Manhattan Terrazza, a restaurant set in Paris 17th arrondissement, a few steps from the Pereire metro station. The occasion to enjoy different Italian specialties and travel a bit for lunch or dinner. [Read more]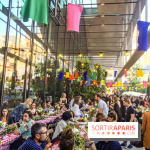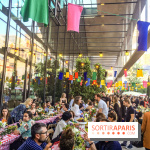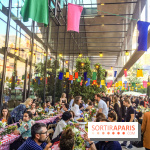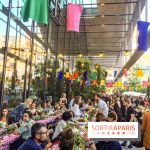 La Felicità: Big Mamma XXL restaurant in Paris Station F
Big Mamma keeps on increasing with a new address that is even bigger, more beautiful and impressive than the previous ones! Entitled La Felicità, this huge Italian restaurant x food-market has opened on May 25, 2018 within Station F in Paris 13th arrondissement. 4,5000-sqm including 1000s-qm of sunny terrace, 3 bars, 5 kitchens, a cafeteria open 24h a day… talk about crazy! [Read more]
Enjoy!