Published by Rizhlaine F. · Photos by My B. · Published on 30 March 2022 at 10h28
It is getting chilly, right? It is time to head to the most comforting spots in Paris! Warm restaurants or cozy tearooms, here are our favorite places to warm up with indulgence!
Cold has come to Paris and foodies are looking for indulging and comforting places to spend the winter. We must say that we all these tasty restaurants and delicious tearooms opening here and there, hibernating is not an option! On the contrary, let us make the most of this time to enjoy Paris as we never had. So, calling all great flavor fans, here are some of our favorite places where you will love to find shelter!
Savory foodies' favorites:




La Cantine des Tsars, Russian dumplings in Paris
La Cantine des Tsars is this warm restaurant where you can enjoy Pelmenis and Varenikis, these famous Russian dumplings created with farm ingredients and homemade. A local gem to discover. [Read more]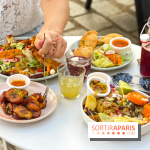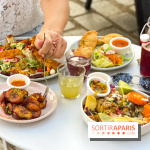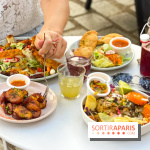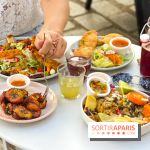 BMK Folie-Bamako: the new African canteen in Paris 11th arrondissement
At BMK Folie-Bamako in Paris 11th arrondissement, you can enjoy flavorful, original and homemade African dishes. Treat yourselves to traditional ingredients and recipes with a twist. Meet in the Folie Méricourt area in Paris to give this experience a try. [Read more]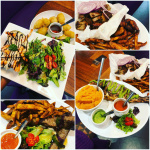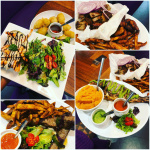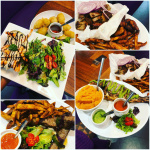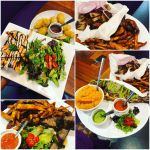 Moonlight, the African-inspired restaurant in Paris 13th arrondissement
Set in Paris 13th arrondissement, this restaurant aims at being the best representative of the African gastronomy in a sophisticated setting, a modern and bright décor. The occasion to discover an exotic and flavorful cooking! [Read more]




Ibrik Deli, street food from the Balkans by Ecaterina Paraschiv
Balkan street-food is to be enjoyed in Paris thanks to Ecaterina Paraschiv opening – after Ibrik Café and Ibrik Kitchen – Ibrik Deli, a delicious eatery featuring a terrace! [Read more]




La Daronne, the friendly and indulging restaurant
La Daronne, so is the name of the restaurant that opened this past July giving pride of place to nice homemade dishes and good time to share. Run to Paris 2nd arrondissement to discover this welcoming and friendly restaurant. [Read more]




BigBang, master Korean barbecue restaurant in Paris
Sponsored - Facing the Luxembourg garden, restaurant BigBang promises us to make us travel to Korea thanks to the authenticity of its cuisine. Bibimbap, bulgogi and Korean barbecue await in the two restaurants. [Read more]
Sweet-toothed foodies' favorites:




Le Petit Valentin, a tearoom hidden in a covered passage in Paris
Did you know? Nestled in the Galerie Vivienne in Paris, a lovely hidden tearoom is making foodies looking to enjoy tasty pastries very happy. Welcome to Le Petit Valentin, one of our favorite spots you will fall in love with! [Read more]




Le Jardin de Mademoiselle, the mouthwatering tearoom changing over the seasons
Feel like discovering wonderland? Come along and discover Le Jardin de Mademoiselle, a lovely tearoom changing its decoration and menu over the seasons. Have a seat and enjoy scrumptious drinks and cakes in a bright and bucolic atmosphere. [Read more]




Café Pavane, restaurant and tearoom by Manon Hévin
Facing the Jardin du Luxembourg, Café Pavane is Jean-Paul Hévin's daughter Manon Hévin's first tearoom. For this gourmet address, she's come up with a nice cocoon providing Russian-inspired dishes and her father's emblematic cakes who is a famous chocolate maker. Here's a nice place ideally set to enjoy the Cheesecake Mazaltov, the Pomme de Terre and the Longchamp chocolat by Jean-Paul Hévin! [Read more]




Fou de Pâtisserie patisserie, brunch and teatime every day
Tasty pastry and culinary know-how fans, hello! Fou de Pâtisserie has opened its first tea room in Paris 6th arrondissement. Let us have a seat and enjoy some of the most beautiful pastries by pastry chefs, brunch, or enjoy a teatime every day at anytime. [Read more]




Opening of Cupkie, the first raw cookie dough store in France
Cupkie is the very first store in France to provide… raw cookie dough! And of course, it's in Paris 5th arrondissement that Cupkie has decided to settle in. opening on December 4, 2019. [Read more]
And to take it a step further:




The best tearooms in Paris
Are you looking for a great tearoom in Paris for a sweet break? Head to one of our favorite tearooms... It will tickle your taste buds and you will have a very delightful time in the French capital! [Read more]




The best Coffee Shops in Paris
Coffee lovers unite! Because a coffee break is a ritual shared by many people worldwide, we decided to make you discover the best coffee shops in Paris. [Read more]




Paris best traditional bouillons, brasseries and bistros
How about having a bite to eat in a typically Parisian restaurant? Here are the best addresses of traditional bouillons, brasseries and bistros in Paris! [Read more]




The best exotic restaurants in Paris
Are you looking for an exotic restaurant in Paris likely to make you travel? Your unstoppable need to look everywhere may come to an end with these restaurants and each fork will be a discovery! [Read more]