Published by La rédaction · Photos by My B. · Published on 5 August 2022 at 16h05
Are you fond of izakaya? You know, these Japanese bars where you can meet over tasty dishes served with sake or beer. Discover our favorite ones in Paris for a delightful break with friends or your date.
What is an Izakaya? A sort of tapas bar, but Japanese style where one can drink not wine, not even cocktails, but sake. These Japanese bars – there are thousands of them in Japan – are taking over Paris and we are not mad about it. Very crowded in the evening, one usually drinks beer or sake, while nibbling on cold or warm dishes that can be shared between friends or colleagues with joy and good mood. But innovative concepts are also featured in our selection.




Jinchan Yokocho, a new genuine Japanese eatery opens in Paris
Calling all Japanese cuisine fans. After the success of Jinchan Shokudo, French-Japanese couple Alban and Miyo Cacace do it again, and opens in September a new izakaya called Jinchan Yokocho. [Read more]




This Izakaya in Paris serves French draft sake
Wakaze, sake brewer set in France opens an eponymous izakaya and sake bar in Paris. This place especially serves draft sake brewed in France along with ostumami (aka Japanese tapas). [Read more]




Ramen Bar, the tasty ramen restaurant in the Passage des Panoramas
Tasty ramen in Paris? Run to the historic Passage des Panoramas, set between Grands Boulevards and the Sentier area, to discover Ramen Bar, a very lovely eatery so you can enjoy ramen without fuss. [Read more]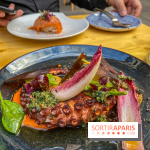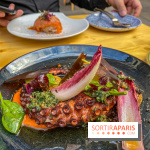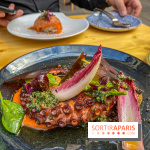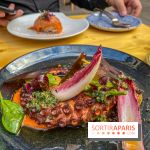 TÔ Restaurant, the very essence of French-Japanese gastronomy in Paris
TÔ Restaurant is the name of the new restaurant that opened by the Canal Saint-Martin. Go and discover this French bar-restaurant with Japanese hints giving pride of place to fresh and well-prepared produce. [Read more]




Jinchan Shokudo, an authentic and popular izakaya in the heart of Paris
Jinchan Shokudo is a place to remember if you are fond of Japanese culture. In this genuine and popular izakaya, enjoy a menu filled with tapas and indulging dishes based on delicate ingredients but always affordable. Anyone has better? [Read more]




Onii-San: the exquisite Japanese izakaya restaurant in Paris Marais
Japanese gastronomy keeps on taking over Paris. And this Fall 2020, the 3rd arrondissement welcomes Onii-San; a new izakaya restaurant created by Arthur Cohen, Olivier Léone and Isaac Romero. On the menu? Delicious Japanese-inspired tapas both modern and creative, as well as "hand roll" temaki for wonderful gustatory discoveries. [Read more]




Marclee: new half vegan Asian fusion menu
Asian food is wide, and each flavor is more irresistible than the other. We got the proof with Marclee, an Asian food izakaya that knows how to make our taste buds happy! And it is perfect, the menu is new and becomes half-vegan! [Read more]




Taisho at the Aquarium de Paris, the exquisite summer terrace by Keisuke Yamagishi
This summer, Etude starred restaurant in Paris team comes to Taishō, the summer terrace nestled at the Rotonde de l'Aquarium de Paris. Facing the Eiffel Tower, come and enjoy tasty and creative dishes created by the talented Japanese chef Keisuke Yamagishi and pastry chef Mika Okazawa. [Read more]




Nomikaï, inspired plates to share and quirky nature wines
Since it opened in February 2018, Nomikaï serves curious people, foodies and gourmands a whole bunch of plates to share and many nature wines, all thoroughly selected like in Japanese Izakaya. [Read more]




The Cod House, the Japanese tapas bar in Paris
Like Izakaya bars Japanese style, The Cod House is a new place of life in Paris 6th arrondissement where it feels good to stop by to sip a wonderful cocktail and eat tapas-like dishes. Japanese-French dishes as good as original are yours. To taste asap! [Read more]