Published by La rédaction · Photos by Rizhlaine F. · Published on 8 June 2022 at 11h16
You love speakeasies, these hidden bars that take you back to the prohibition era? Yet, a hidden bar means… it is hidden! Here is how you can find the best secret bars in Paris.
Speakeasies are part of those secret spots Parisians and tourists love. If you have not heard about this concept yet, well, in a nutshell, these are hidden bars, inspired by the prohibition era and which staging is often mind-blowing. Sometimes, you just have to pull a book from a bookcase or give the password. To access other venues, you might have to solve an enigma. Some are so well hidden you will have to take an extra look to a laundromat, a delicatessen store or venture around to the kitchen of a restaurant.
Once you found them, these hidden bars reward you to cocktails, often very creative, to sip in a very crazy setting. But how to find them? We walked around every inch of the capital city to find these secret bars we love so dear. Whether it is to surprise your friends for a surprise pre-dinner drink party, meet your crush over for a date, or simply because you love discovering great places in Paris, speakeasies are a must in terms of outings in the city.
Stay tuned: this guide is regularly updated! So, to make sure you miss none of these secret bars in the city, check this page regularly!




Mezzanine: Trois Baudets' hidden restaurant and tapas bar in Paris
Feel like discovering a new secret place in Paris? Head to Trois Baudets in the 18th arrondissement. This is here, or rather about the famous venue, that hides Mezzanine, a brand-new restaurant and tapas bar likely to appeal curious people! [Read more]




Secret Jungle: an immersive bar in Paris taking us to the Caribbeans
A new and uncommon experience is to pace your summer in Paris. Secret Jungle is an immersive bar taking you to the heart of the Caribbean jungle thanks to an exotic setting covering 150sqm. Meet from June 2, 2022, at the auditorium of Gymnase Marie Bell to discover this temporary bar. [Read more]




Acte II (former Au_Top): the hidden rooftop in Paris serving Japanese food
Acte II (formerly known as Au_Top) is a mouthwatering rooftop hidding in the heart of Paris with a surprising 360° view. In this restaurant managed by Jean Philippe de la Perle, discover views on Paris rooftops while enjoying dishes cooked by Masahide Ikuta, serving Japanese gastronomy up in the air. [Read more]




Le Confidentiel: arty speakeasy restaurant by we are_ in Paris 8th arrondissement
Secret, indulging, arty and surprising! Le Confidentiel – the latest we are_ restaurant in Paris – is all this. You do not believe us? Go and discover this new venue, it will not disappoint! [Read more]




Neuvième Sauvage, the latest Sauvage restaurant at the foot of Montmartre and speakeasy bar
The Sauvage concept continues to grow in Paris with the opening of a new restaurant, Neuvième Sauvage, in downtown Montmartre; a restaurant, and wine cellar in the basement, serving Mediterranean-inspired cuisine cooked over charcoal and ember. [Read more]




The Zanzi: An African-inspired hidden cocktail bar in Paris
Come along and discover the Zanzi, an incredible cocktail bar hidden in Paris 8th arrondissement. Paying tribute to magnificent Zanzibar and Tanzania, the first "African speakeasy" in town is the occasion to enjoy an enchanted break both delicious and original in the very chic "Golden Triangle". Ready to take off? [Read more]




Rehab, the CBD-based cocktail speakeasy bar in Paris
Have you heard about the Normandy Hotel speakeasy? Welcome to Rehab, the CBD cocktail bar that rocks. Here, one enjoys original creations based on cannabidiol, in a very relaxing setting. [Read more]




Datsha Underground, the good-looking and tasty restaurant and its hidden bar, the Spootnik
Brand-new this Fall, the Datsha restaurant has undergone a makeover. Now called Datsha Underground, it features a cocktail bar featuring aerospace décor, hidden in the basement. [Read more]




Sequoia, Kimpton St Honoré Paris's new rooftop bar
Let us run to Kimpton St Honoré Paris's 10th floor to discover SEQUOIA, the brand-new rooftop bar with 360° views on Paris rooftops and beautiful monuments. Opening from Monday August 23, 2021! [Read more]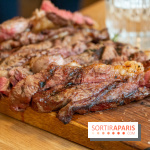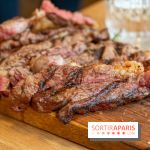 Lombem: grilled meat restaurant in Paris
Dear meat-eating readers, let's run to Paris 2nd arrondissement to discover the new restaurant specialized in meats cooked in a wood-fired oven: Lombem. [Read more]




Clandestino: cocktail bar and speakeasy in the heart of Paris
Craving a cocktail night off the beaten tracks? Come along and discover Clandestino a cocktail bar providing you with exclusive creations along with tasty tapas. And the icing on the cake, it also hides a speakeasy bar in the basement! [Read more]




Mobster Bar in Paris: the Prohibition-inspired speakeasy
How about travelling back in time all the way to the Prohibition while staying in Paris? To enjoy this incredible travel in space and time, head to Paris 11th arrondissement to discover Mobster Bar created by the Lozano brothers. [Read more]




The best hotel bars in Paris
How about sipping a drink in a hotel bar? Because yes, we rarely think about it. Yet Paris hotels are filled with hidden, unique or simply design bars that sometimes feature a breathtaking view. The bonus? They are open to everyone, let's go there! [Read more]