Published by My B. · Photos by My B. · Published on 15 June 2022 at 19h50
Looking for a nice and new coffee shop in Paris? Here are 8 new places you need to discover to enjoy an indulging break to get a fantastic latte or have divine lunch or brunch in duo or with friends.
What is great in Paris is the city is always full of new places. Do you love coffee shops, these relaxing Parisian cafés serving tasty coffee, treats and brunches during the day? Here are 8 new places likely to delight fans of lattes, pancakes and more cookies and divine cakes.




Fika Paris, the latest relaxing café at the Swedish Institute
Fika is the name of the latest café inaugurated at the Swedish Institute. In the paved courtyard of this cultural venue shining a light on Sweden, enjoy a welcoming and bright coffee shop with a terrace serving delicious Swedish specialties. [Read more]




Babka Zana opens its first indulging coffee shop by the Place des Vosges
Are you fan of Babka Zana's delicious babkas and Levantine specialties? Head to the Place des Vosges to discover the first coffee shop of the brand expecting you from morning to afternoon, including lunch with a great savory offer to enjoy on site or in the park next door. [Read more]




Joe & The Juice opens a new juice bar at the Champs-Elysées Galeries Lafayette!
Sponsored - It is at the food court of the Galeries Lafayette Champs-Elysées that magic happens! Joe & The Juice - the famous hybrid coffee shop and juice bar concept coming straight from Denmark - has decided to settle in the basement of the Champs-Elysées department store. [Read more]




Printemps Haussman's Café Vert, the new lush and indulging coffee shop
Printemps Haussmann keeps unveiling novelties with this new lush café called Café Vert. You are expected every day from 10 a.m. to 8 p.m. to enjoy warm beverages served with sweet treats, or lunch with fresh and scrumptious dishes, or a pre-dinner drink with friends. [Read more]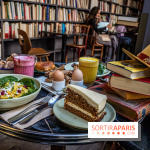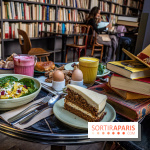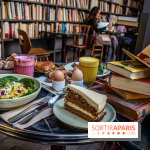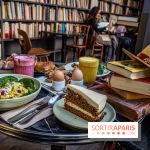 Used Book Café, the literary coffee shop
The Used Book Café is a library coffee shop created by Concept Store Merci. An uncommon coffee shop enabling you to read while enjoying a simple and homemade menu. [Read more]




Benchy: the coffee shop dedicated to sandos in Paris 6th arrondissement
Sando, this famous Japanese sandwich, can now be enjoyed in Paris 6th arrondissement thanks to the opening of the Benchy coffee shop. Savory or sweet, you cannot resist it, as it is often paired with delicious matcha latte! [Read more]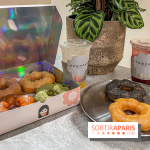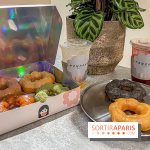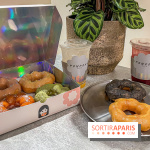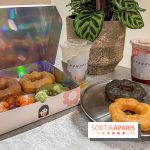 Ponpon, the first mochi donut store in Paris
Indulging food alert! The first mochi donut store has opened in Paris! Ponpon Café, here is the name of this spot already meeting great success attracting everyone in Paris. We tried it and loved it! [Read more]




@unreve, the magnificent French-Asian café-tearoom
@unreve, here is the name of this new coffee shop, tearoom and patisserie that settled in Avenue Parmentier in Paris 11th arrondissement. Picture this: a lovely mix of the best of coffee shops and Asian flavors, and you get the tone. [Read more]
Have a great Coffee Shop time, you all!