Published by Manon C. · Photos by My B. · Published on 31 January 2023 at 14h30
Are you looking for a nice meat restaurant in Paris? Wake up the carnivore inside you with these great places serving fabulous meats!
Although some people may have decided to cut their meat consumption or even completely stop it, other people cannot kiss good meat goodbye; and after all, you do you. And it is perfect since plenty of restaurants in Paris are specialized in quality meat and wait resolutely meat-eaters.
These great tables shine a light on local quality meats, or at least coming from France in most of cases, or from Japan for Wagyu beef or Kobe beef or even Argentina, a country renown for exceptional meats. And Argentinean restaurants in Paris are also some of the great places to visit to enjoy exceptional meats and discover the traditional asado technique on the same occasion.
But other restaurants in Paris have decided to shine a light on original cooking methods and cook their meats over flame, charcoal, in a smokehouse, over the barbecue or woodfire, each technique giving a unique and very specific flavor to the meat.
So, if you are into meat too and looking for a great place to enjoy delicious meat, here are the best meast restaurants in Paris.
Meat restaurant in Paris, our favorite places:




Lazy Suzy and Texan-style BBQ smoked and pulled meat burgers
Lille-based brand Lazy Suzy is coming to Paris 5th arrondissement and this is THE good news smoked meat and BBQ burger fans were waiting for! [Read more]




Blanca – Biondi's chef Fernando de Tomaso's second Basque-inspired Argentinean restaurant
And two it is for chef Fernando de Tomaso who opens a new and mind-bowing Basque-inspired Argentinean restaurant after Biondi: Blanca, by the Bastille area. A wonderful discovery. [Read more]




Carni, the delicious meat restaurant in Paris 9th arrondissement - Our pictures
Meat eaters, this new restaurant was made for you! Carni is the new meat restaurant in Paris 9th arrondissement providing meat cooked over bbq or low temperature. We gave it a good go and let us tell you more about it! [Read more]




Doppio Malto, the Italian brewer king of braised meat at La Défense Les 4 Temps shopping mall
Calling all craft beer and meat fans! Doppio Malto, Italian brewer and restaurant specialized in beer and braised meat invites you to discover their new venue in the heart of La Défense Les 4 Temps shopping mall, open since April 13, 2022. A great venue we tried… Let us tell you more about it! [Read more]




Asado: the Argentinean street-food restaurant by Clasico Argentino in Paris
Ready to fly to a delicious journey to Argentina? Take your boarding card, buckle up and let us head to Paris 2nd arrondissement, to discover Asado. This new indulging address by Clasico Argentino shines a light on the staple empanadas, as well as the famous beef meat so dear to the inhabitants of this gorgeous South American country! Shall we pay them a visit? [Read more]




La Estancia, the festive Argentinean steakhouse in Paris
La Estancia is the place to be for meat-lovers looking for Argentinean beef and Latin American dishes, aka the perfect restaurant for a big table of friends, to share guacamole, empanadas and more indulging ceviche dishes. [Read more]




Le Severo, meat restaurant by butcher-restaurateur William Bernet
At the Le Severo, meat is cut, prepared and cured on site by butcher-restaurateur William Bernet, and then cooked by chef Johnny Beguin. The restaurant mostly gives pride of place to meat, and especially beef. [Read more]




Melt and its barbecued meats and cocktails goes to the 15th arrondissement
The smell of barbecued meat will soon fill the air of rue Cambronne… Melt – specialized in barbecued meats and Texan BBQ – opens their third restaurant in Paris, in the 15th arrondissement. The smokehouse and BBQ are lit on January 25, 2022. [Read more]




Fumé, the smoked meat, fish and dish restaurant
How about enjoying smoked food? Head to Paris 8th arrondissement to discover "Fumé", a restaurant giving pride of place to smoking process. From beef to salmon to kemias, wonderful discoveries are to be enjoyed. [Read more]




Le Beef, Le Marais latest meat restaurant
Meat lovers, here is a restaurant likely to delight you: Le Beef. This Le Marais restaurant mostly serves meat, especially cured beef cooked several ways. Get your most beautiful fork out! [Read more]




Biondi, the bistronomic restaurant taking you to Argentina
Set in Paris 11th arrondissement, Biondi invites you to travel to Argentina. On the menu, meats (delicious, obviously) rub shoulders with specialties from Messi's country. [Read more]




Pleyground, Pley Hotel's restaurant serving Polmard meats
Recently renovated and renewed, Pley Hotel opens Pleyground restaurant. Exceptional – and cured – meats from Maison Polmard are to be enjoyed. Hard to choose a meat cut because everything is so good. [Read more]




Perlimpinpin, custom-made tartares in Paris 17th arrondissement
Tartare fans, head to Paris 17th arrondissement and discover Perlimpinpin, a brand-new tartare restaurant in Paris. A restaurant offering you to create your dish of meat, fish or raw vegetable to your liking. [Read more]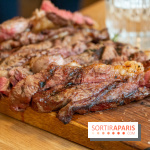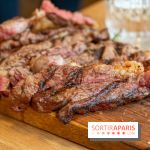 Lombem: grilled meat restaurant in Paris
Dear meat-eating readers, let's run to Paris 2nd arrondissement to discover the new restaurant specialized in meats cooked in a wood-fired oven: Lombem. [Read more]




Street BKK and its grilled food entertain the Saint-Germain-des-Prés neighborhood
It's in the Saint-Germain-des-Prés neighborhood that Street BKK has inaugurated its new restaurant. Here, meats and fishes go into an impressive Josper oven and get out perfectly grilled and braised [Read more]




Galéo Tartares, a new address for meat-lovers in La Défense
Here's to tartare lovers, Galéo Tartares opens in September 2019 a new address a stone's throw from La Défense! All you need to delight gourmands with meats selected by Hugo Desnoyer and organic products! [Read more]




Anahi, the place to be for lovers of exceptional meats
Anahi is an institution. Located 49 Rue Volta, the restaurant is known by food lovers for decades. It used to be a butcher's shop before becoming a more or less successful meat restaurant in the 80s. In April 2017, the restaurant gets a second wind with Riccardo Giraudi and his exceptional meats. To (re)discover asap! [Read more]




Mamie Bidoche, lovely meat restaurant in Paris 11th arrondissement
Meat eating friends, a new 100% tasty meat spot has just opened in Paris 11th arrondissement, and Mamie Bidoche is delicious! [Read more]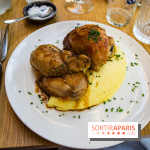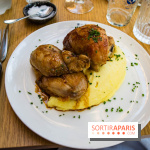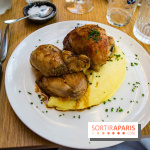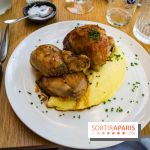 Bien Ficelé, a quality meat restaurant in Paris
Bien Elevé team has opened in September a second address: Bien Ficelé! Set in Paris 11th arrondissement, Bien Ficelé presents – like its big brother – to its patrons the best of made in France meats: suckling pig, poultries, home-cured beef… An address to recommend to meat lovers! [Read more]




Upcoming opening of Beefbar Paris by Riccardo Giraudi
Meat lovers are expected in Paris 8th arrondissement to discover Beefbar, described as the "temple of exceptional meat". [Read more]




Les Fines Lames, meat restaurant in Paris 18th arrondissement
Meat-eating friends, let's head to Les Fines Lames, the meat restaurant set in Paris 18th arrondissement to enjoy a whole bunch of delicious meats and classics of the French bistronomy. [Read more]




Freddy's BBQ, the smoked meat eatery like in the US
Freddy's BBQ is the new smoked meat the American way restaurant that has opened in rue Saint Denis. Dive into a Texan atmosphere and go for these meats slowly cooked overnight for an unparalleled taste and texture. We go there to discover the various meats with fitted cookings, tasty burgers and typical and well-seasoned specialties. [Read more]




Patchanka in Paris: the excellent Latino bistro in Paris 11th arrondissement
When food fulfills taste buds, but it even has the boldness to make us travel, it's a success! And this is the menu that awaits when we come at Patchanka, the new Latino and gourmet address in Paris by Argentinian Chef Gastón Stivelmaher. [Read more]




Clover Grill: Jean-François Piège's smart BBQ in Paris
It's within walking distance from the Louvre Museum that two-star French chef Jean-François Piège set up his new address: Clover Grill, a smart bistro promoting exceptional meats cooked on charcoal or on a spit. [Read more]




La Brigade and its carnivorous team set up at Oberkampf in Paris
First French food truck specialized in grilled meat, La Brigade now sets up in Paris 11th arrondissement and opens its meat "counter". On the menu: meats, fresh fries and 100% homemade sauces. [Read more]




Wood-fire grill houses in Paris, our favorite places
Craving vegetables grilled over wood fire or flamed, or even smoked meats? Here are the best restaurants in Paris! [Read more]
Shall we have some meat, then?