Published by Manon C., My B., Laurent P. · Photos by My B. · Published on 21 May 2022 at 11h14
How about discovering Paris hidden terraces? In these authentic and secret gardens, you can chill out and relax in the sun and in peace.
For a discreet rendez-vous, a moment untouched by time far from the city's hustle and bustle, or to have a rest in a green setting in Paris, we have got you covered. After lush terraces, barge terraces or smart terraces or those with great views on the city, this spring-summer 2022 discover hidden terraces to enjoy on sunny days in Paris.
On the menu, terraces you will not find easily but once on site, you will enjoy the genuine haven of peace they provide in the heart of Paris as they provide you with sunshades, lush plants and secret doors you have to know to get in.
So, for luxury, quiet and calm moments, have a look at our selection of secret terraces and other mysterious patios to discover on sunny days in the French capital city. Here are great tips to keep to yourselves!
Hidden terraces in Paris for the summer 2022:




Ralph's restaurant opens their sublime hidden terrace with Sunday brunch
A lovely verdant terrace to make the most of summer with cocktails, authentic American cuisine and indulging brunch... This is what Ralph's provides for the reopening of their patio. Anywya, this is the perfect place to enjoy a quiet break without leaving the French capital. [Read more]




Grilled food and champagne on the terrace of the Trianon Palace Versailles
Summer is coming to the terrace of the Trianon Palace Versailles! On the menu, grilled food and champagne for foodies! [Read more]




Radioeat's wide temporary plant-filled terrace aka Maison de la Radio's restaurant
To chill all summer long, Radioeat, aka Maison de la Radio's restaurant, unveils a wide, temporary and plant-filled terrace! [Read more]




Roch Hôtel & Spa's (very) indulging and hidden summer 2022 terrace, Cap au Sud
Calling all fans of south-inspired food! Roch Hôtel & Spa reopened the summer terrace and on the occasion, gives pride of place to southern cuisine. Chef Rémy Bérerd will serve dishes to share inspired by Italy, Greece, Spain, pairing cocktails and south-inspired dishes. [Read more]




Fika Paris, the latest relaxing café at the Swedish Institute
Fika is the name of the latest café inaugurated at the Swedish Institute. In the paved courtyard of this cultural venue shining a light on Sweden, enjoy a welcoming and bright coffee shop with a terrace serving delicious Swedish specialties. [Read more]




Westin-Paris Vendôme Summer terrace 2022
In 2022, hotel Westin-Paris Vendôme terrace is back for a new summer season. A haven of peace safe from the city's hustle and bustle serving chef David Reneux's delicious cuisine. [Read more]




Shangri-La Paris La Bauhinia's hidden garden-terrace and Asian-inspired menu
For the second year, Shangri-La Paris's magnificent landscaped garden opens to welcome us on La Bauhinia's terrace. Chef Christophe Moret cooks Asian-inspired dishes you can enjoy whilst gazing at the Eiffel Tower. [Read more]




Bar à Bulles – Machine du Moulin Rouge's hidden and verdant rooftop terrace
Bar à Bulles is the discreet rooftop of the Moulin Rouge. Have a seat in this lush setting, surrounded by vintage furniture lovingly bargain-hunted and hanging plants. Enjoy lively parties, movies and nice and affordable cocktails. [Read more]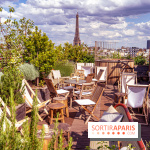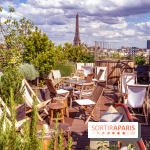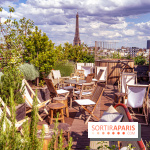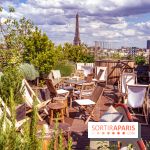 Brach hotel rooftop, the magnificent terrace hidden in a kitchen garden
This is undoubtedly one of the most beautiful rooftops in Paris, Brach hotel perched terrace set within their kitchen garden is a gem to discover. A confidential terrace with panoramic views on Paris to have a relaxing time surrounded by hens, enjoy a Norwegian bath, and smell aromatic plants. [Read more]




A tacos bar comes to the rooftop of a beautiful Paris hotel!
A summery wind blows on the Sequoia, rooftop of hotel Kimpton Saint-Honoré. This summer, this Parisian location unveils a delightful tacos bar and magnificent views on the Eiffel Tower, Opéra Garnier and more Parisian landmarks. [Read more]




Joe & The Juice opens a new juice bar at the Champs-Elysées Galeries Lafayette!
Sponsored - It is at the food court of the Galeries Lafayette Champs-Elysées that magic happens! Joe & The Juice - the famous hybrid coffee shop and juice bar concept coming straight from Denmark - has decided to settle in the basement of the Champs-Elysées department store. [Read more]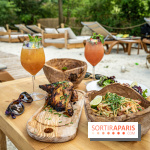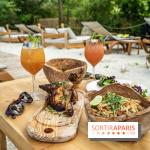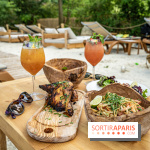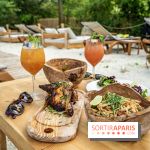 Beach Parisienne, Chalet du Lac's huge terrace-beach back to the Bois de Vincennes
How about having a drink on the beach without even leaving Paris? This is the fantastic experience provided by Chalet du Lac's Beach Parisienne this summer. Meet from May 29, 2022, at the Bois de Vincennes to discover an exclusive beach. [Read more]




Cheval Blanc's summer garden-inspired rooftop terraces
How about enjoying a new rooftop? Head to the Jardin aka Cheval Blanc's 650sqm rooftop serving verdant terraces for great moments above Paris rooftops. [Read more]




Peninsula Paris rooftop bar and breakfast serving gorgeous views
Looking for a beautiful rooftop in Paris? Peninsula Paris terrace bar – open to all without prior booking – is now available. It is time to go touch the clouds and enjoy a delicious cocktail with veggie tapas while enjoying the city. [Read more]




OFF Paris Seine, the floating hotel unveils its summer terrace on the quay
The OFF Paris Seine is a floating hotel moored port d'Austerlitz. In addition to the bedrooms looking on the Seine, this spring-summer 2022, the hotel unveils a new terrace on the quay! [Read more]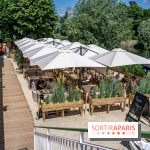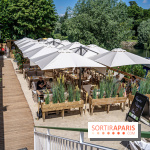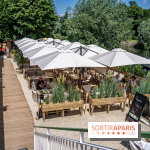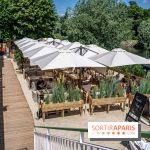 Maison Louveciennes's Beach Club beach terrace
How about enjoying a beach-inspired terrace? Head to Maison Louveciennes in Yvelines to chill by the water, a mojito in hand. [Read more]




L'Arrière-Pays, Hotel Lancaster's summer terrace
L'Arrière-Pays is hotel Lancaster's summer terrace promising us a journey in the sun without even leaving Paris thanks to its Mediterranean-inspired décor and fresh menu created by chef Sébastien Giroud. [Read more]




Saint-James' hidden terrace, a chic and glamorous den for this spring-summer season
Saint-James' garden-terrace certainly is one of the most glamorous and uncommon spots in the city. This secret garden was created to be exceptional, coming every year with its share of novelties. [Read more]




Hotel Cinq Codet's spring-summer 2022 terrace
With sunny days upon us, Hotel Cinq Codet unveils its new terrace, quiet and well-hidden, chic and shady enough, in the heart of the 7th arrondissement, set close to the Eiffel Tower. [Read more]




Seven Up, the rooftop with swimming pool and barbecue in Paris unveils a Circus spirit this summer!
The Seven Up is a fabulous rooftop with a swimming pool expecting you outside Paris, in Boulogne-Billancourt. From May 18 to late September, you are expected on Wednesdays to enjoy the Circus Wednesdays, nights themed on circus with fakir, sword swallower, fire breather, magic tricks and more uncommon performances to the sound of DJ sets! [Read more]




Laho: Gare de Lyon railway station rooftop serving views
Laho – Paris rooftop with unobstructed 360° views - returns for the summer. Go and enjoy this splendid spot set within walking distance from the Gare de Lyon railway station, with its verdant setting, unique sunset and yummy menu... Perched 60 meters in the air! [Read more]




Petit Toit, the intimate rooftop hidden in Paris 16th arrondissement
Petit Toit is the confidential rooftop expecting you in Paris 16th arrondissement. Perched on the rooftop of restaurant Le Petit Victor Hugo, this sunny terrace provides you with an intimate and bucolic setting in a merry spirit. [Read more]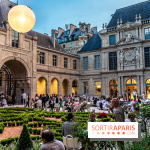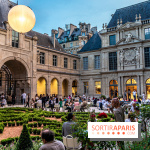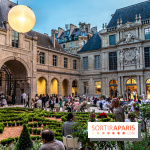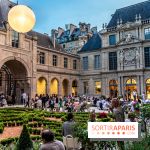 Fabula, Thibaut Spiwack's ephemeral restaurant at Paris Musée Carnavalet
Fabula, here is the name of Top Chef France contestant Thibaut Spiwack's ephemeral restaurant settling from May 6, 2022 to October within the Musée Carnavalet. [Read more]




Sequoia, Kimpton St Honoré Paris's new rooftop bar
Let us run to Kimpton St Honoré Paris's 10th floor to discover SEQUOIA, the brand-new rooftop bar with 360° views on Paris rooftops and beautiful monuments. Opening from Monday August 23, 2021! [Read more]




Café Renoir, Musée de Montmartre's lush summer terrace
Café Renoir, hidden within the Musée de Montmartre, expects you for a wonderful break in the conservatory or its lush garden. A stone's throw from the Sacré Coeur, come and have a bucolic and tasty break on this shady terrace and tearoom serving a sweet and savory offer. [Read more]
These few places will help you forget about Paris buildings all spring-summer 2022 long! Great discoveries are laying ahead!