Published by La rédaction · Photos by Manon C. · Published on 30 April 2022 at 12h30
Are you looking for a nice restaurant in Paris 2nd arrondissement? If so, we have got good news for you, your quest stops here! Nice addresses, we have got plenty to propose you and for everyone. So, for the best restaurants in Paris 2nd arrondissement, keep reading! The selection is regularly updated, do not hesitate to check it again to see the new wonders in the area.
Are you hungry and craving for delicious flavors? If so, head to Paris 2nd arrondissement where nice restaurants are galore but do not look like one another. And since we all love good food, we share with you our best addresses in this Parisian neighborhood. No matter if you find yourself in the Bourse area, Montorgueil, Sentier or even Réaumur Sébastopol, there is one sure thing: these restaurants are just delicious!




Asado: the Argentinean street-food restaurant by Clasico Argentino in Paris
Ready to fly to a delicious journey to Argentina? Take your boarding card, buckle up and let us head to Paris 2nd arrondissement, to discover Asado. This new indulging address by Clasico Argentino shines a light on the staple empanadas, as well as the famous beef meat so dear to the inhabitants of this gorgeous South American country! Shall we pay them a visit? [Read more]




Café Jeanne, Park Hyatt Paris Vendôme's new restaurant by Jean-François Rouquette
Park Hyatt Paris Vendôme unveiled last late summer a brand-new restaurant, Café Jeanne. More than a simple restaurant, the menu is put together by Jean-François Rouquette and welcomes you all day long in three areas for a coffee, a snack, a pre-dinner drink, or a meal. A smart restaurant allowing us to enjoy Jean-François Rouquette's exquisite cuisine for a cost smaller than at his Michelin-starred restaurant. [Read more]




The new Life restaurant opens in Paris, "Life is food and love"
Sponsored - Good life is good food! In a scenery mixing wood and natural stone, Life signs an indulging Mediterranean menu where charcoal cooking gives a remarkable flavor to vegetables, fishes and meats… inauguration this Saturday March 5 with a dinner show from 7:30 p.m. themed on the 90's! [Read more]




Italian cuisine by Giovanni Passerini under the splendid glass roof of the Hôtel des Grands Boulevards
The Hôtel des Grands Boulevards hides a flavorsome Italian restaurant set under a splendid glass roof and the menu was created by chef Giovanni Passerini. [Read more]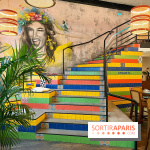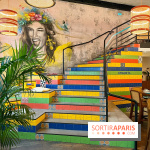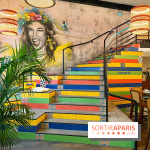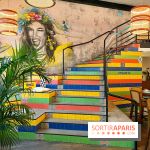 Uma Nota, Japanese-Brazilian food, exotic cocktails and wild parties
Here is a fantastic mix! Uma Nota shines a light on Japanese-Brazilian food in a colorful setting also the very theater to wild parties several nights a week. [Read more]




Ramen Bar, the tasty ramen restaurant in the Passage des Panoramas
Tasty ramen in Paris? Run to the historic Passage des Panoramas, set between Grands Boulevards and the Sentier area, to discover Ramen Bar, a very lovely eatery so you can enjoy ramen without fuss. [Read more]




The Bachaumont hotel unveils its modernized French cuisine restaurant
The hotel Bachaumont set in Paris 2nd arrondissement completely renewed its restaurant. New décor, new management encouraged by Guillaume Guedj. In the kitchen, chef David Baptiste completes French-inspired cuisine, while pastry chef Sophie Coulombel is entrusted with magnificent desserts. [Read more]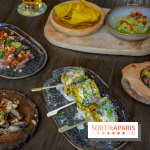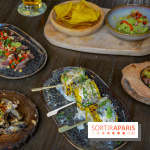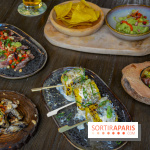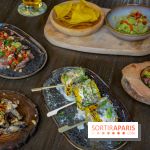 Bomba, the Latino-American restaurant-bar shaking the Grands Boulevards up
Bomba is the wonderful restaurant-bar open on the Grands Boulevards. In this uncommon spot nestled in a verdant jungle, one comes to enjoy Latino-American food with sophisticated tapas to share and great cocktails. [Read more]




Astair, Parisian brasserie within the Passage des Panoramas
Within the Passage des Panoramas, the Astair brasserie unveils a menu featuring traditional French dishes served in hearty portions. The place is highly comforting this winter! [Read more]




La Plume, Madame Rêve hotel's panoramic restaurant
This November 25, 2021, Madame Rêve – the latest hotel in Paris city center – opens their restaurant La Plume. Le Plume is a restaurant featuring panoramic views on Paris and a tree-filled patio serving gastronomy inspired by Japan and desserts by Pierre Hermé. [Read more]




Circonstances, the restaurant serving naughty dishes to share
Circonstances is changing. This Fall, the restaurant serves very cheeky dishes for dinner to share with guests. A successful change. [Read more]




Marcore restaurant
After Bouillon's success – his first restaurant – Marc Favier aka Jean-François Piège's former second at the Ambassadeurs at the Hôtel Crillon, then Thoumieux executive chef, has launched Marcore last year, a place that does not including one but two rooms and two atmospheres: on the ground floor, a bistronomic menu, and upstairs, a smarter table serving high-quality gastronomy. [Read more]




Pizz'Aria, Riccardo Giraudi's latest restaurant in Paris 2nd arrondissement
Pizza lovers are expected at Pizz'Aria, aka Riccardo Giraudi's latest Italian restaurant, that opened this Wednesday October 27, 2021 in Paris 2nd arrondissement, set a stone's throw from the Sentier neighborhood. [Read more]




Road Trip Paris, the street-food spot serving indulging hot dogs and taiyaki waffles
Road Trip is a genuine culinary journey through world's street food without leaving Paris. Set a stone's throw from the Grand Rex, this indulging location invites us to enjoy homemade hot dogs and introduces us to taiyaki, Japanese waffles shaped like a fish. [Read more]




The very French Dubillot brasserie indulges the Sentier area
Brasserie Dubillot is the brand-new and very French brasserie created by Victor & Charly – already behind Brasserie Bellanger. Sharpen your knives, here, French meat is given pride of place along with cold cuts and French bistro staples. [Read more]




Instinct Origine, the new gourmet sandwich store in the Sentier area
Bistrot Instinct founders open a new store, Instinct Origine. This new street-food restaurant is a high-range sandwich store set in the heart of the Sentier area in Paris 2nd arrondissement. On the menu? Kebobs, and banh mi revisited in a gourmet and French fashion. So good. [Read more]




Pizzeria Popine launches a €5 Margherita pizza for lunch
Who says better than €5 for a pizza? Head to Popine Saint-Sauveur to make the most of this new offer available every lunch of the week. [Read more]




Magniv, the new restaurant, bar and club in Sentier
Magniv is the latest restaurant shaking the Sentier area up. Running this recently inaugurated spot, Benjamin Chiche and Clément Faure, two cocktail masters, and in the kitchen, chef Kobi Villo-Malka founder and chef at Tavline. In the basement, discover a club where ace cocktails are served! [Read more]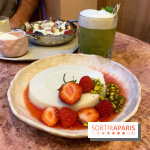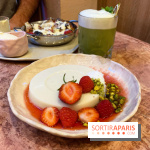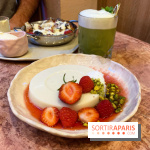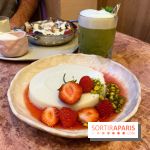 Dalia, the remarkable new Levantine restaurant in Paris 2nd arrondissement
A new restaurant has opened in the Sentier area, and has already delighted us. Running the kitchen, female chef Or Bitan intends to shine a light on flavors coming from Israel to Lebanon via Syria, Turkey and Jordan. [Read more]




Elémentaire, the new generation brasserie adapting to seasons
Craving simple food changing with seasons? Come along and discover Elémentaire, an aptly named local restaurant. [Read more]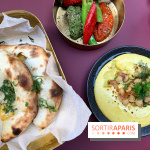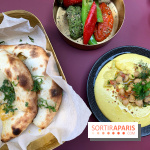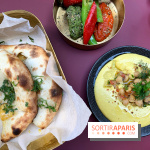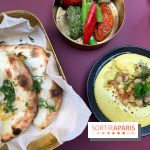 Jugaad, Chef Manoj Sharma's fantastic Indian restaurant
Uma Nota team and chef Manoj Sharma open a new place together: a restaurant shining a light on modernized Indian cuisine in Paris 2nd arrondissement called Jugaad! This is likely to become your new favorite Indian restaurant. Who wants to bet? [Read more]




Itacoa, chef Rafael Gomes' restaurant in the Sentier area
Chef Rafael Gomes opened in Paris 2nd arrondissement his first restaurant: Itacoa. On the menu, delicious dishes twisted with Brazilian influences from the chef and cooked with fresh, healthy and local ingredients. [Read more]




Les Amis des Messina, the Sicilian canteen in Paris 2nd arrondissement
Sicilian gastronomy fans rush to Les Amis des Messina, a restaurant and delicatessen in Paris 2nd arrondissement, a stone's throw from Sentier metro station, to discover Ignazio Messina's fantastic, sun-filled, and convivial cuisine. A delicious menu available in delivery, and click & collect, while the health crisis is going on. [Read more]




La Daronne, the friendly and indulging restaurant
La Daronne, so is the name of the restaurant that opened this past July giving pride of place to nice homemade dishes and good time to share. Run to Paris 2nd arrondissement to discover this welcoming and friendly restaurant. [Read more]




La Cevicheria, ceviche temple in Paris
It is hard to resist to a nice ceviche, is it not? Well, with three restaurants in Paris, La Cevicheria is our favorite restaurant for creative recipes as good-looking as tasty. [Read more]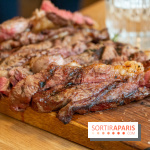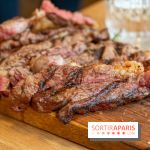 Lombem: grilled meat restaurant in Paris
Dear meat-eating readers, let's run to Paris 2nd arrondissement to discover the new restaurant specialized in meats cooked in a wood-fired oven: Lombem. [Read more]




Aux Crus de Bourgogne, authentic French cuisine in Montorgueil
The Aux Crus de Bourgogne institution has got a makeover but remains loyal to its image. Let's enjoy great French gastronomy classics masterly cooked. [Read more]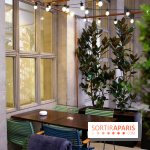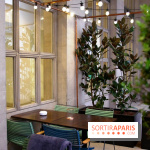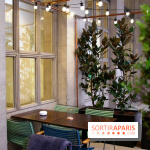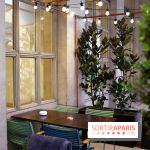 Dépôt Légal opens its covered terrace
Dépôt Légal is the place to be for foodies. Christophe Adam's restaurant-tearoom reopens its covered terrace by the Palais Royal. Let's head there to have lunch, a drink or even brunch! [Read more]
What are your favorite spots in Paris 2nd arrondissement?