Published by La rédaction · Photos by My B. · Published on 4 August 2022 at 17h36
Sunday's brunch is now an unmissable meeting for Parisians, Ile-de-France inhabitants and tourists visiting the French capital. And to find THE perfect spot to shake up your taste buds and treat yourself, the editorial board concocted you a nice and little guide of the best brunches in Paris. So, let us book our Sundays, friends, shall we?
Gourmet alert! You crave a nice brunch, but you do not know where to go? Do not panic, we have got you covered with this guide about the best brunches in Paris! In a plate, on a board, or all-you-can-eat buffet… discover the crème de la crème and I promise you will have a fantastic time with your family or friends.
And for neophytes, let us walk you through! A brunch is a rather hearty meal combining breakfast and lunch and generally served between these two delicious moments of the day. Coffee, fruit juice, eggs, savory plate, bread and jam… All you need to satisfy your sweet tooth or your savory tooth. You now have no more excuse not to go brunching….
The best brunches in Paris:




The all-inclusive all-you-can-eat brunch on Saturdays and Sundays
Sponsored - Meet in a very exotic place: a genuine beach hut in the heart of Paris serving a huge ALL INCLUSIVE brunch at weekends: an event foodies do not want to miss. Exceptional brunch on Pentecost Monday! [Read more]




Opéra Garnier's restaurant-terrace CoCo's smart brunch
How about enjoying a chic and elegant Parisian brunch? Head to Coco, set within the Opéra Garnier, to enjoy a very indulging brunch at weekends, inside the historic venue or on the magnificent terrace with views on the iconic building. [Read more]




The Place To: restaurant, bar and coworking, a place fitting your needs in Paris 10th arrondissement
The Place To is the latest lively venue to linger in, in Paris 10th arrondissement! The restaurant welcomes you from dawn to nightfall with a complete and indulging offer from breakfast to dinner including lunch and happy hour. The asset: several areas, several atmospheres, perfect for coworking! [Read more]




Quirky brunch with the cutest fresh drinks in Paris
Sponsored - PINGWOO – the coffee shop in Paris famous for its cute drinks – serves fusion brunch based on Eastern and Asian flavors every day all summer around. In addition to Insta-worthy lattes, enjoy Japanese "shokupans" white breads, fluffy and moist, perfectly matching benedict eggs or scrambled eggs with bacon, beef or salmon! [Read more]




Ralph's restaurant opens their sublime hidden terrace with Sunday brunch
A lovely verdant terrace to make the most of summer with cocktails, authentic American cuisine and indulging brunch... This is what Ralph's provides for the reopening of their patio. Anywya, this is the perfect place to enjoy a quiet break without leaving the French capital. [Read more]




Summum Rooftop, the huge restaurant-bar terrace and crazy and festive brunch in Créteil
Summum Rooftop is the latest spot doubling as a bar, restaurant, beer garden with 3 terraces covering over 600sqm of surface in South-East Paris in Créteil. Within metro reach, you will love this crazy rooftop serving divine brick-oven pizzas and brunch on Sundays. [Read more]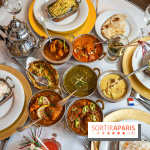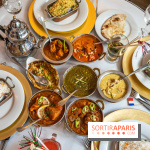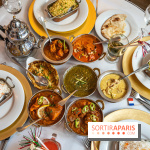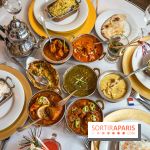 Jaipur Café's all-you-can-eat indulging and original brunch
Sponsored - Craving some tasty and unlimited Indian brunch? We have got you covered with Jaipur Café in Paris 10th arrondissement, set a stone's throw from the Faubourg Poissonnière. On Saturdays and Sundays, enjoy a brunch as tasty as affordable. [Read more]




Park Hyatt Paris Vendôme Café Jeanne's chic and enchanted brunch
Park Hyatt Paris Vendôme Café Jeanne and its 3 new spaces including restaurant, lounge and patio terrace houses on Sundays a chic and divine brunch. For a well-deserved Sunday's break, go and treat yourselves to dishes by Chef Jean-François Rouquette and pastry chef Naraé Kim. [Read more]




Giorgio's Italian outdoor brunch
Giorgio, the most disco Italian restaurant in the city launches a brunch to enjoy on Saturdays and Sundays. Get the best of Italy mixed to brunch classics, to enjoy in the sun, outside, whilst attending a DJ set. [Read more]




Villa M's new indulging brunch
Are you looking for the best brunches in Paris? How about discovering Villa M's brunch in the 15th arrondissement? This new spot by Paris Society serves an enchanting setting designed by Starck, live music and unlimited goods. [Read more]




Jardin de Mademoiselle's enchanted brunch
Jardin de Mademoiselle's brunch is a journey to wonderland. On Saturdays and Sundays, make the most of this enchanted moment in a cozy setting where everything is homemade and created to indulge you. [Read more]




Café de la Paix's incredible brunch
Are you looking for one of the best brunches in Paris, served in an exceptional setting? Head to the Café de la Paix and its historic and gorgeous restaurant. Ideally set across the Opéra de Paris, this Sunday's brunch has it all to please even the most demanding patrons. [Read more]




Açai and You, the everyday and all-day fruity brunch in Odéon
Craving some affordable and very fruity brunch all day and every day? How perfect, this is the very concept of the latest Açai and You restaurant that opened in the Odéon area. A restaurant broving açai bowl-based brunch – a Brazilian specialty prepared with açai, namely a berry from Amazonia. [Read more]




Prince de Galles Paris' unbelievable brunch
Are you looking for a dream-worthy brunch in an enchanting setting? Prince de Galles's famous brunch is back and it will satisfy all your cravings. [Read more]




Brunch & Paint: uncommon brunch and painting workshop in an art gallery in Paris
How about enjoying an uncommon brunch in Paris? If you are in, head to Galerie Wawi hosting two Sundays a month their Brunch & Paint, an indulging event providing you with a painting workshop with an artist! [Read more]




Maison Bréguet's pop-up brunch: an original concept expecting you on Sundays
The pop-up brunch is an original concept by Maison Bréguet in Paris, inviting you to enjoy a sweet break while shopping. On Sundays, enjoy a Mediterranean-inspired brunch while discovering what the pop-up has in store. Every week comes with a new gem! [Read more]




Maison Mère's semi-vegan brunch: an irresistible menu for indulging Sundays
Looking for a scrumptious brunch in Paris? At Maison Mère, discover two menus, including a vegan one based on healthy dishes playing with our guilty pleasures! 100% pleasure, 0% guilt! [Read more]




La Main Noire, the coffee shop serving fantastic brunches and divine chaïs and lattes
La Main Noire is the great coffee shop hiding in rue Cavalotti in Paris 18th arrondissement. Like authentic Australian coffee shops, this spot created by 3 French-Australian friends has it all. Serving a brunch, healthy products and alternative homemade drinks, while complying with the environment, it is a winner! [Read more]




Les Artizans's new brunch
Les Artizans is a nice bistro set rue de Montorgueil by the Halles that make market's food rhyme with tasty pastries. The place launches a brunch on Saturdays and Sundays. Let us discover it, shall we? [Read more]




Benoit Castel's fantastic and homemade all-you-can eat brunch
If you love tasty and homemade brunches, you will love Benoît Castle's all-you-can-east brunch up the rue de Ménilmontant. Go for craft viennoiseries, fresh bread, scrambled eggs, mixed salads, tarts and caramelized pork ribs, without forgetting tasty and laid-back desserts. Here, everything is fresh and flavorful and we love it! [Read more]




Lactem, the very indulging coffee-shop delighting brunchers
Lactem is the great place to give a try to by the Grands Boulevards. In this quirky and welcoming coffee-shop, one can enjoy very comforting treats. On the menu, tasty coffee, very thick cookies and a great brunch! [Read more]
Happy brunch day to all!