Published by Manon C. · Photos by Manon C. · Published on 30 March 2022 at 13h47
It is settled then, before summer starts, we want to get a grip on ourselves! Good, organic, fresh and healthy, this is what we are craving and what is expecting us in these vegetarian and vegan restaurants in Paris! To enjoy outside, on the terrace!
After long gray winter months eating tons of pasta because we were lazy or just down – no judging, we did the same! – we must confess: we are dreaming of a tasty healthy dish packed with fresh and seasonal vegetables, nuts, seeds and cereals. How perfect! This is exactly what these vegetarian and vegan restaurants in Paris listed below.
And the icing on the cake is these vegetarian and plant-based eateries have fantastic sunny and shaded terraces, you name it, perfect to have you this spring.
Something organic, something tasty, something healthy and seasonal, here is what to expect on terraces this spring-summer 2022. A great way to definitively debunk prejudices about vegan and/or vegetarian cuisines one easily thinks sad, plain and bland.
Keep reading to hit the nail on the head this lunch!
Vegetarian and vegan restaurants to enjoy outside in Paris:




The Avocado Show, the eco-friendly restaurant serving all-thing avocado
The Avocado Show unveils their first venue in France, in Paris, in the Etienne Marcel area. This surprising restaurant takes up the challenge to make us enjoy avocado in all shapes and sizes whilst being eco-friendly. On the menu, a brunch menu to discover every day of the week! [Read more]




Sezono, hearty and inventive vegetarian cuisine
Genuine restaurant-market, Sezono shines a light on inventive and resourceful vegetarian cuisine to enjoy on the lovely sunny terrace. [Read more]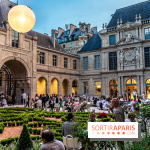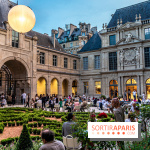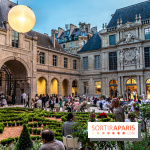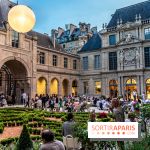 Fabula, Thibaut Spiwack's ephemeral restaurant at Paris Musée Carnavalet
Fabula, here is the name of Top Chef France contestant Thibaut Spiwack's ephemeral restaurant settling from May 6, 2022 to October within the Musée Carnavalet. [Read more]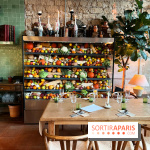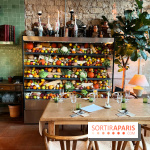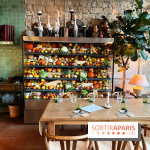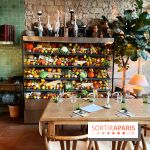 Ora, indulging vegetarian restaurant, culinary show, and edible paintings directly on the table
Set in La Caserne, Ora provides you with a genuine indulging experience through a culinary show performed by chef Saayann, uplifting vegetables in edible paintings made directly on the table. [Read more]




Comptoir Veggie, the vegan canteen in Paris 12th arrondissement
Set Avenue Ledru Rollin in Paris 12th arrondissement, Comptoir Veggie is a venue set halfway between the coffee shop and the canteen, very cozy, likely to indulge vegan cuisine fans. [Read more]




B.Better, the perfect tapas bar for a plant-based aperitif
Calling all vegetarians, flexitarians and vegans! Head to B.Better, a restaurant set in Paris 4th arrondissement encouraging you to discover a menu as indulging as healthy created for plant-based cuisine fans. We gave it a go and here are our thoughts! [Read more]




Sweet Rawmance, vegan restaurant and patisserie in Montparnasse
By the Montparnasse Tower, Sweet Rawmance welcomes you in the vegan restaurant for a healthy lunch based on vegan burgers, fruity lemonades, and delicious pastries! [Read more]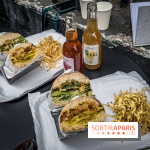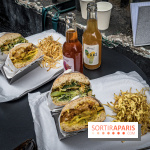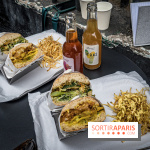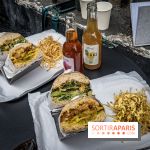 Plan D, the new vegan sandwich and ice-cream parlor by the Canal Saint Martin
Plan D is the brand-new vegan canteen that opened by the Canal Saint-Martin. On the menu? Sandwiches based on seasonal vegetables and (vegan) ice creams. Cooked street-food to enjoy on the terrace or by the canal. [Read more]




Avocateria Bastille, the all-things avocado healthy spot and terrace
After a first spot in the Sentier area, Avocateria has come in to Bastille in May 2020, in a new restaurant set a stone's throw from the rue de la Roquette. A place giving pride of place to pancakes… And as usual, everything is based on avocados! A mouthwatering spot to discover on the terrace and indoors starting from June 9, 2021, in compliance with the lockdown exit schedule. We gave it a go, keep reading to find out more! [Read more]




Café Mareva, the healthy but delicious spot
If I tell you gluten-free and lactose-free hotspot, you think about sad and plain dishes, right? Well, prepare for a shock! At Café Mareva, one eats healthy while enjoying very good food! [Read more]




L'Abattoir Végétal opens a new table on Paris left bank
New in September: L'Abbatoir Végétal opens its first table on the left bank. On the menu, green plates to share, vegan cocktails and plant-based drinks as well as vegan pastries to treat yourself all day long. [Read more]




Douceurs Capitales, the new vegetarian coffee shop at the Square Gardette, Paris
Douceurs Capitales is the new place-to-be for coffee lovers by the Square Gardette. French pastries, coffee from Coutume and sunny terrace, here's the address that ticks all the boxes! [Read more]




Canal Poké, healthy and original poke bowls
Japan-inspired poke bowls, sounds yummy, right? You can find them at Canal Poké. Healthy, delicious and hearty bowls served with a nice miso soup before you wrap your meal up with some very nice pastry. [Read more]




Yumi, the healthy spot in Paris 10th arrondissement
Today, we take you to Yumi. The famous fruit and vegetable cold squeezed juice brand now has a true healthy restaurant in Paris 10th arrondissement. On the menu, fresh and healthy dishes we enjoy inside or outside on the beautiful sunny terrace! [Read more]




Brasserie Lola, a very fresh vegan spot
Brasserie Lola is a restaurant that looks like an ordinary brasserie. But the difference is that the menu is entirely vegan. [Read more]




East Side Burgers, American vegan street-food in Paris
East Side Burgers is one of the best addresses for vegans and vegetarians. Here, you can taste burgers made with love and 100% vegan. The whole is to be experienced in an American atmosphere. [Read more]




VG, the 100% vegan burger restaurant in Paris
VG is a small restaurant but with huge flavors offering a 100% vegan and 100% homemade menu based on burgers. Try it asap! [Read more]




Abattoir Végétal, a delicious vegan restaurant
Vegan friends! We discover an amazing adress in Paris 18th arrondissement: the Abattoir Végétal (vegetable abattoir). This name is an historical nod to the address (a former local butcher's shop) and sets the tone. But be rest assured, here, the only things slaughtered are fruits and vegetables for your greatest pleasure and the least we can say is that the result is delicious and at a ridiculously low price! [Read more]
Get some tasty and fresh dishes as soon as sunny days are back in Paris!