Published by La rédaction · Photos by Laura B. · Published on 16 June 2022 at 18h46
Are you looking for a quality restaurant in Paris 1st arrondissement? Good news, your quest stops here and now! We have countless spots to give you likely to satisfy every need. So, to find out more about the best restaurants in Paris 1st arrondissement, keep reading! The selection is regularly updated, do not hesitate to check it again to see the new wonders in the area.
Whether you happen to be in the Saint-Germain-l'Auxerrois area, by the Halles neighborhood, the Place-Vendôme or by the Palais-Royal, if you feel like trying tasty food, there is always a great restaurant around. No matter the budget or craving, there is something for everyone. Keep reading to find out more about our recent selection of the best restaurants in Paris 1st arrondissement.




Roch Hôtel & Spa's (very) indulging and hidden summer 2022 terrace, Cap au Sud
Calling all fans of south-inspired food! Roch Hôtel & Spa reopened the summer terrace and on the occasion, gives pride of place to southern cuisine. Chef Rémy Bérerd will serve dishes to share inspired by Italy, Greece, Spain, pairing cocktails and south-inspired dishes. [Read more]




Westin-Paris Vendôme Summer terrace 2022
In 2022, hotel Westin-Paris Vendôme terrace is back for a new summer season. A haven of peace safe from the city's hustle and bustle serving chef David Reneux's delicious cuisine. [Read more]




Buckwheat, Hôtel Normandy Le Chantier's newest creperie
Calling all crepe lovers! Head to Buckwheat, a restaurant set within Hôtel Normandy Le Chantier, serving a delicious menu inspired by the western French coast! Wheat or buckwheat pancakes… make your choice! [Read more]




The all-inclusive all-you-can-eat brunch on Saturdays and Sundays
Sponsored - Meet in a very exotic place: a genuine beach hut in the heart of Paris serving a huge ALL INCLUSIVE brunch at weekends: an event foodies do not want to miss. Exceptional brunch on Pentecost Monday! [Read more]




Tamara, Clément Vergeat's delicate and genius gourmet table
Two years later, here we are, back at Tamara aka Clément Vergeat's delicate and inventive table. A gourmet peregrination that went straight to our hearts. [Read more]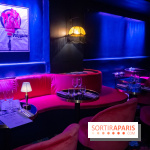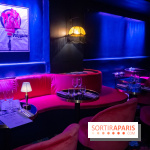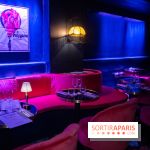 Chez Lulu: new restaurant, cocktail bar and club in Paris city center
A new, indulging, sexy and festive venue is about to open in Paris 1st arrondissement. Its name? Chez Lulu! Described as a "disco restaurant" and an "erotico club", Chez Lulu definitely is the place to be for people who love having fun. [Read more]




Au Pied de Cochon, cheeky cuisine in the Halles area by day and by night
By day and by night, brasserie Au Pied de Cochon delights Parisian and tourists with traditional, very hearty French cuisine. An iconic venue to visit at least once in your life. [Read more]




Escargot Montorgueil, the Parisian institution still indulges, 200 years later
Set in the Halles neighborhood, Escargot Montorgueil shines a light on Burgundy Snails in original recipes, and brilliantly prepares timeless French gastronomy classics. [Read more]




Zebulon, clever bistronomy and virtuoso vegetable desserts
Set within walking distance from the Palais Royal, chef Guillaume Dunos – recently arrived to the Zebulon kitchen – serves clever bistronomy and virtuoso vegetable desserts and some of them are unforgettable. [Read more]




Djakarta Bali, the restaurant serving authentic Indonesian dishes
Sponsored - Djakarta Bali is the place to go to enjoy a journey to Indonesia with delicious dishes cooked by the book. For a total immersion, on Friday nights, a dancer in traditional costume takes you to the Bali atmosphere with royal and war dances, then on the Isle of Java with more noble and slower dancing. And if you want to stay warm, the Djakarta Bali menu is available to delivery within Paris! [Read more]




La Halle aux Grains, elegant gastronomy by Michel and Sébastien Bras at the Bourse de Commerce
Michelin-starred chefs Michel and Sébastien Bras have settled in a historic venue, the Bourse de Commerce, to open the La Halle aux Grains, a timeless restaurant where grain lent cachet. [Read more]




Granite, Tom Meyer's restaurant aiming at the stars
Tom Meyer recently opened his first restaurant in Paris, Granite, surrounding himself with Stéphane Manigold and Anthony Chenoz for the pastry part. A new restaurant soon to be awarded their first star in a few weeks. [Read more]




DokiDoki: the Japanese handroll bar in downtown Paris
Calling all Japanese flavor fans! Paris 1st arrondissement welcomes a newcomer, DokiDoki. With the strong will to make you travel to the country of the Rising Sun, this indulging and elegant venue introduces you to the art of "Omakase", offering delicious handrolls, made to order before your eyes! Come along! [Read more]




1129 iiniku: the Japanese BBQ-style Wagyu Yakiniku restaurant in Paris
Japanese culinary art comes to the center of Paris. Omatsu France – already running the tasty An Japonaise location in the 2nd arrondissement – opens a new restaurant in the city. This time, nestled in the 1st arrondissement, 1129 iiniku shines a light on Wagyu beef and the yakiniku concept, the famous Japanese BBQ. Shall we give you a tour? [Read more]




Sfacciata, the latest retro-contemporary Italian restaurant
Sfacciata, here is the name of this new Italian restaurant opening in Paris 1st arrondissement, a stone's throw from the Jardins des Tuileries. A retro-inspired concept serving contemporary Italian cuisine, we love it! [Read more]




El Vecino, the latest Mexican taqueria in Paris
Mexican street food in all its diversity at El Vecino, a small taqueria that opened in Paris. On the menu, tacos galore! [Read more]




Presto Fresco, the Italian family trattoria a stone's throw from the Halles
Italian food lovers, cheer up! Run to Presto Fresco and discover tasty produces coming straight from Italy in this lovely trattoria in Paris 1st arrondissement, a stone's throw from the Halles. A trattoria that is part of a cooperative of artisans with 100% independent, natural and short-delivery-system produces. [Read more]




Astara, the restaurant devoted to seafood
It is in Paris 1st arrondissement that Astara opened a restaurant doubling up as a super-complete sea delicatessen. On the menu, taramasalata, caviar and even smoked salmon and a lovely menu for the winter 2021. [Read more]




Salon des Manufactures, Alain Ducasse's latest restaurant and tearoom
Above his chocolate factory set rue des Petits Champs, Alain Ducasse opens his Salon des Manufactures where one can enjoy a healthy menu filled with surprising dish and ice cream pairings. A place highlighting the Michelin-starred chef's know-how. [Read more]




Damigiana: the excellent Italian restaurant with traditional and original recipes
Loving Italian gastronomy? Head as soon as possible to Les Halles neighborhood in Paris to (re)discover Damigiana, the culinary address by the Corinti family making you discover little-known Italian specialties but oh-so flavorful. [Read more]




Mimosa, Jean-François Piège's restaurant at the Hôtel de la Marine opens
Mimosa is Jean-François Piège's restaurant opening very soon at the Hôtel de la Marine serving a never-before-seen food concept in Paris: a deviled egg (English for "oeuf mimosa" in French) bar but not only. Go and discover this unique place with majestic decor while enjoying the chef's dishes. [Read more]




Sisters' Factory, a place mixing Latino restaurant and creative agency a stone's throw from the Louvre
Feel like taking an indulging break while enjoying the expertise of a creative agency? Head to Sisters' Factory, a place set in the 1st arrondissement, by the Louvre, and providing you with exclusive and delicious Peruvian food. [Read more]




Tzantza à Paris: Latin-American-inspired and festive restaurant and cocktail bar
To enjoy a fabulous gustatory journey between Peru and Japan, head to Tzantza. Nestled in Paris 1st arrondissement, this Latin-American inspired restaurant and cocktail bar reveals Nikkei-inspired food, delicious beverages and the friendly and festive atmosphere we missed so much! [Read more]




Christo comes to Odette, L'Auberge Urbaine for dishes in tribute to the artist
Craving a tasty lunch or dinner? On the occasion of the Arc de Triomphe wrapped designed by late artist Christo, head to Maison Albar Hotels – Le Pont Neuf restaurant Odette to discover a tribute menu featuring "wrapped" dishes! a culinary homage to enjoy from September 18 to October 3, 2021. [Read more]




Le Tout-Paris, Cheval Blanc Paris brasserie with views on the Seine
Le Tout-Paris welcomes you all day long on the 7th floor of Cheval Blanc Paris on the terrace serving breathtaking views on the Seine and the capital city's emblematic monuments, or in the garden above the Paris roofs. From breakfast to dinner, or for a cocktail, this contemporary Parisian brasserie will arouse your taste buds and your conscious with horizon as far as the eye can see. [Read more]




Baltard au Louvre: the bistro by the stock exchange
Baltard au Louvre is the restaurant by the new Bourse Pinault stock market, facing the verdant Jardin Nelson Mandela. Go and enjoy Ewout Vranckx's brasserie-inspired cooking. [Read more]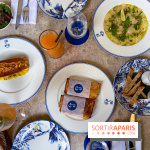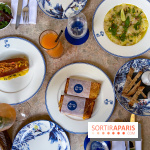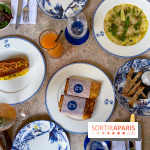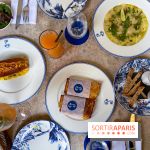 Café Lapérouse, the explorers' brasserie at Hôtel de la Marine
Although Hôtel de la Marine is a cultural gem to absolutely discover in Paris, Café Lapérouse is also a stop you do not want to miss. This restaurant serves a menu paying a proud tribute to sailors, including explorer Jean-François de La Pérouse. On the menu, a magnificent setting and fresh, tasty cuisine at the level of the monument! [Read more]




Source by Joie, La Samaritaine's healthy spot
Head to La Samaritaine ground floor for a well-deserved break during your shopping spree. At Source by Joie, enjoy some plant-based and cheeky cooking, along the plant-filled light well. [Read more]




L'Assaggio, Paris Hotel Castille's magnificent Italian terrace
Feel like traveling? Head to the heart of Paris to discover Hotel Castille's fantastic restaurant L'Assaggio and their beautiful, and secret terrace. On the meny, hearty and sophisticated Italian cuisine, and some exceptional tiramisu to list among the best in town! [Read more]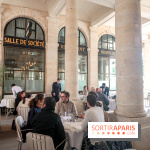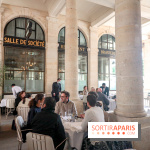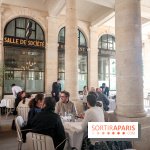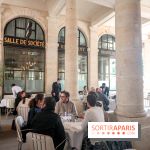 Michelin starred restaurant Le Grand Véfour renews as a bistro, our test and pictures
Le Grand Véfour signs a new page in its story. Goodbye 2 Michelin stars, hello affordable menu with market produces on the great terrace, safe from the rain and sun, across the Palais Royal garden. The team is still settling in, but the historic house is starting the year auspiciously. [Read more]




Petit Crème Montorgueil, the latest coffee shop in the Halles area
Petit Crème Montorgueil, this is the name of the latest restaurant replacing Aux Tonneaux des Halles, 28 rue de Montorgueil. Go and discover this new mouthwatering offer set a stone's throw from the Forum and the beautiful Nelson Mandela garden. [Read more]




Room Service Club: the super-private restaurant to enjoy until dawn
Room Service club is this surprising clandestine restaurant that takes over three bedrooms of Hôtel Normandy. Three immersive and uncommon atmospheres expect you for a surprising and flavorful dinner. Surprise, for the price of a meal, you can enjoy your private room until dawn. [Read more]




Le Petit Bouillon Pharamond: tiny prices, maxi pleasure
Let's meet at Les Halles to discover a new Parisian bouillon, Le Petit Bouillon Pharamond. A place where you can enjoy Parisian bistronomy classics for tiny prices but maxi pleasure! [Read more]




La Maison Plisson at the Marché Saint-Honoré, giant restaurant-delicatessen-cellar
Three years after opening the first store in Paris, La Maison Plisson opens a second address right in the center of the French capital. A giant space covering 1,200 sqm bringing together a restaurant, a delicatessen and a cellar. This new place devoted to well-eating is likely to seduce you. [Read more]
What about you, what are your favorite spots in Paris 1st arrondissement?