Published by Manon C. · Photos by My B. · Published on 4 October 2021 at 18h38
Burgers are a must-eat in Paris. Revisited or traditional, served with fries, restaurants try to outdo one another to provide delicious recipes. For World Burger Day 2021 on October 13, discover and enjoy the best burgers in the French capital city!
Burger has travelled a lot from North America... It even managed to convince Parisian restaurateurs who no longer hesitate to revisit it their way. On the other hand, you have the main American brand that are taking over the French capital and conquering our taste buds.
In other words, a true love campaign is going on and it makes more and more burger-fans happy. So, wheter it is a fast-food or fast-good version, for World Burger Day 2021 on October 13, discover the most delicious burgers in Paris!
The best burgers in Paris:




Naked Burger, the vegan smash burger spot in Paris
Naked Burger – recently inaugurated in Paris 6th arrondissement – bets on vegan Californian street-food. On the menu of this pink restaurant? Vegan smash burgers. [Read more]




Baagaa Burger, the indulging restaurant serving affordable Wagyu beef burgers
Calling all gourmet burger fans, come along by the Trocadero to give a go to Baagaa Burger, a surprising restaurant serving Wagyu beef burgers. Mouthwatering, isn't it? [Read more]




Goiko and its gourmet burgers are reopening
Famous Spanish gourmet burger brand Goiko has come to France in 2019. And it's of course in Paris 2nd arrondissement that the brand has decided to settle in…. Goiko is all that and we love it. And good news, the restaurant has reopened. [Read more]




Mangez et cassez-vous, cheap burger restaurant in Paris reopens
Super good deal alert! Mangez et Cassez-vous (eat and go away) restaurant set in Paris 11th is back with burgers for only 2.70 euros, and a new restaurant in Paris 9th arrondissement! Let's go find some cheap and tasty burgers! [Read more]




Lazy Guys Paris, air fried street food for delivery
Lazy Guys Paris, this is the name of the latest street food offer using the air frying technology – a convection oven to simulate deep frying without even submerging food in oil. Let us go and give it a try, shall we? [Read more]




BCBG Gourmet, the chic gourmet burger bistro near the Eiffel Tower
Not far from the Eiffel Tower, the BCBG Gourmet restaurant provides gourmet burgers and other homemade dishes based on fresh and organic ingredients! [Read more]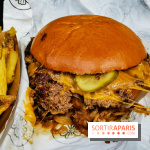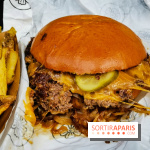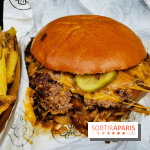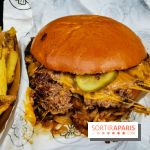 Blossom Burgers & Beers: the latest burger spot in Paris
New spot alert! Blossom Burgers & Beers is THE latest burger spot and the talk of Paris over the past weeks. Especially because Jarvis Scott ("Top Chef France" 2021) has created a pork-based burger recipe. But also because of the delicious smash and cheese burgers. [Read more]




Yannick Alléno opens his burger restaurant, "Burger Père & Fils", in Paris
This summer 2021, Michelin-starred chef Yannick Alléno gets into burgers with his son, Antoine. In his "Allénothèque" set in Beaupassage, the chef has decided to propose two reinterpretations of the burger, starting this Friday May 14, 2021. Burger Père & Fils is to be enjoyed every day of the week, from noon to 2 p.m. and from 6 p.m. to 7 p.m., available to takeaway or on the terrace from May 19! [Read more]




PNY Voyager has opened in Pigalle
And four! PNY, think Paris New York, has opened in early January a new and fourth addess in Paris. This time, head to the famous Pigalle neighborhood! [Read more]




Bioburger, new restaurant in Paris 9th arrondissement
Following the success of the first fast-food, Bioburger does it again in Paris 9th arrondissement and a new and bigger facility. Organic fans wishing to eat as everyone else – or maybe even better – will be delighted: it's not too expensive and they can be rest assured with the origins of the ingredients. [Read more]
So, which of these burgers do you crave the most?