Published by My B. · Published on 4 August 2022 at 10h30
Heat is hitting hard and you are looking for a beach where to sunbathe and bathe for free? To feel like on vacay without paying at all, discover the greatest spots where you can take your family and friends in Paris and Ile-de-France.
Did you know you can bathe for free in Paris in the summer? Yes, and not only in the Bassin de la Villette. So, if like us you enjoy good deals, if you are into keeping your money for a refreshing drink or a tasty ice cream in Paris, or simply because you are on a budget, be smart and take your pick in the free swimming pools and beaches in Paris and around.
After a wonderful stroll at Paris Plages, a free exhibit, a great festival, you might be looking for a place to lie in the sun, cool off or swim. Here are our favorite ideas.
Free swimming pools and beaches in Paris and Île-de-France:




Water features and paddling pool at the Parc André Malraux in Nanterre (92)
How about playing in the water? Within walking distance from La Défense, stands the verdant 25-hectare Parc André Malraux in Nanterre. Go and discover the free 1,200 sqm waterpark expecting children and adults on hot summer days. [Read more]




Paris Plages 2022 at La Villette pool, free activities
For Paris Plages and from July 9 to August 21, 2022, the La Villette Bassin is full of life. Swimming in the pool, paddle boat, sports, a wonderful opportunity to introduce your children and teens for free to water sports or having a quirky stroll by the Canal. [Read more]
Get your most beautiful towel out and enjoy!
For even more ideas:




The most beautiful outdoor swimming pools in Paris and Île-de-France
Is there something more pleasant than bathing in the open air and bask in the sun when it is out? Sortiraparis gives you the list of outdoor swimming pools open in Paris and its Île-de-France. Here is a good way to relax and have fun outside and soak in vitamin D thanks to the sun. [Read more]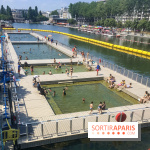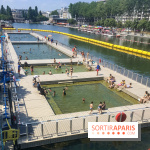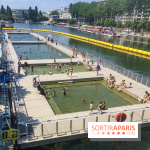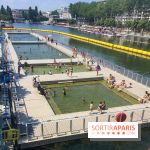 Swimming and Beach Areas in Paris and Ile-de-France this summer 2022
There are beaches and swimming areas in Paris and the region! That is why Sortiraparis has done the work for you, putting together this list of beaches along lakes, rivers, pools or any other body of water of water where you can cool off and relax in the sun this summer 20222. Paris can also be your next beach resort destination! [Read more]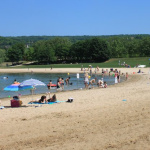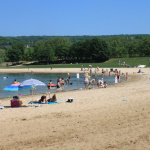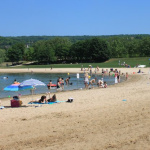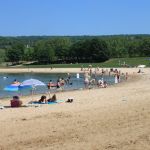 Outdoor activities centers in Ile de France
To feel on vacations without riding the train or driving for 2 hours, the perfect solution is the outdoor activities centers! These artificial beaches are great to sunbathe, swim like by the sea, but including not too expensive activities as a bonus. Parisians or tourists, here is a lovely and cheap solution… to enjoy some relaxing time near our capital. Sortiraparis tells you everything about the 12 outdoor activities centers in Ile de France where swims and entertainments await. [Read more]