Published by La Rédac · Photos by My de Sortiraparis · Published on November 15th, 2023 at 07:08 a.m.
Tastefully decorated and intimate, hotel restaurants are the perfect way to spend a gourmet moment in a chic setting, far from the hustle and bustle of Paris.
Parisian hotel restaurants are not just for hotel guests - no, no. In Paris, it's perfectly possible for tourists and gourmets alike to visit these establishments - some of which boast one, two, three, four or even five stars - and discover their unique and delicious cuisine, all in a chic and confidential setting.
Usually decorated with great care, hotel restaurants sometimes even have a beautiful terrace, a discreet patio or even a rooftop overlook ing the rooftops of Paris. And when it comes to food, there's something for everyone, whether you're hungry for French gastronomy with a difference, bistronomy with a difference, or world cuisine with a difference, whether it's Chinese or Italian.
As you can see, stepping into a Parisian hotel to sit down at its table is the guarantee of a successful meal and a moment spent far from the hustle and bustle of the Parisian streets. A suspended moment to satisfy every appetite. Here are the best addresses, Left Bank and Right Bank, for fine hotel restaurants in Paris!
The best hotel restaurants in Paris:




L'Oiseau Blanc, high-flying gastronomy at the Peninsula Paris
L'Oiseau Blanc, the prestigious restaurant-bar terrace, is the pride of the Peninsula Paris hotel. This magical place welcomes you on the sixth floor of the Parisian palace, with a breathtaking 360° view of the city's finest monuments, including the Eiffel Tower. [Read more]




Abbaye des Vaux de Cernay by Paris Society unveiled, discover the exceptional hotel
The Abbaye des Vaux de Cernay, located in Cernay-la-Ville (Yvelines), has undergone a metamorphosis. Bought out by Paris Society, it's a veritable luxury hotel with a host of assets, including no fewer than 4 restaurants and 2 bars. We take you on a voyage of discovery. [Read more]




Exceptional brunch in the Réfectoire des Moines at the Abbaye des Vaux de Cernay by Paris Society
The Abbaye des Vaux de Cernay has reopened, and with it no fewer than 3 restaurants (soon to be 4). One of these is the Hogwarts-style Réfectoire des Moines, offering a brunch that's as gourmet as it is delicious. We take you on a tour of this historic venue with its exceptional offerings. [Read more]




Langosteria at Cheval Blanc Paris: Italy invites itself with treasures from the sea
A Langosteria restaurant is set to open at Cheval Blanc Paris in September 2021, with the desire to offer the best of Italian fish, seafood and shellfish in one of Paris's finest hotels. [Read more]




Boubalé, the Ashkenazi restaurant of Michelin-starred chef Assaf Granit, in the Le Grand Mazarin hotel
Boubalé, the restaurant of the Hotel Le Grand Mazarin, is the new gourmet address in the heart of the Marais! Boubalé reinvents Ashkenazi cuisine with a contemporary twist, under the guidance of Michelin-starred Chef Assaf Granit, in an authentic setting combining traditional glamour and a soothing winter garden. Discover a unique and festive culinary experience, combining tradition and creativity, in a setting of moving elegance. [Read more]




OMA, chef Ji-Hye Park's delicious Franco-Korean restaurant in the Château des Fleurs hotel
Nestled in the heart of the Château des Fleurs hotel, the OMA restaurant unveils a short, Franco-Korean-inspired menu, at the crossroads of chef Ji-Hye Park's two cultures. An address that certainly deserves to be better known. [Read more]




Bloom Garden, chef Olivier Streiff's restaurant in the Bloom House hotel
Chef Olivier Streiff, a former Top Chef contestant, arrives in Paris at the Bloom Garden restaurant in the Bloom House hotel. [Read more]




Le 19.20 by Norbert Tarayre, the Prince of Wales's restaurant
Alert, the 19.20 restaurant by Norbert Tarayre at the Prince de Galles Paris, opens its doors! On the menu, a fine French bistro menu in a friendly atmosphere. You'll love its jungle decor and locally sourced products, worked with Norbert's pep. [Read more]




Opening of L'Espadon restaurant at the Ritz Paris, headed by Eugénie Béziat
The famous Ritz Paris opens its brand-new restaurant, l'Espadon, in collaboration with talented chef Eugénie Béziat. A unique gastronomic experience awaits you in a sumptuous setting overlooking the hotel's Grand Jardin. [Read more]




La Fantaisie, hotel, rooftop bar, restaurant and SPA
La Fantaisie, the new jewel nestled in the heart of Paris's 9th arrondissement, unveils its charms in September 2023. The fruit of an association between the Leitmotiv group and talented chef Dominique Crenn, the hotel promises a gourmet and relaxing immersion on Rue Cadet. [Read more]




Did you know? The Intercontinental Paris le Grand boasts a sublime ballroom and glass roof.
In the heart of Paris, the Intercontinental Paris Le Grand, formerly known as "Le Grand Hôtel", is a unique place that opened in 1862 and reveals exceptional historical treasures. Be sure to discover its hidden ballroom and sublime glass roof for a timeless break! [Read more]




Kitchen by Stéphanie Le Quellec, the Hôtel Madame Rêve restaurant
Discover "Kitchen by Stéphanie Le Quellec", the new restaurant at the Hôtel Madame Rêve invested by the two-star chef, located at 48 rue du Louvre. [Read more]




Discover the ECLA coliving residences experience!
Sponsored - ECLA homes offer a real living experience: residences with premium accommodation, from Studio to T5, fully equipped close to Paris, with premium common areas such as movie theaters, gyms or coworking spaces, for stays ranging from one night to several months. Meet, share and join the ECLA community! [Read more]




Restaurant j'Adore, a gastronomic, romantic and festive restaurant in the heart of Les Batignolles
At Restaurant j'Adore, French gastronomic excellence comes to life in an intimate, elegant setting in the heart of the eponymous Batignolles hotel. Between marble, velvet and ostrich feathers, the romantic décor creates the perfect harmony to revel in the pleasures of refined cuisine, during a unique sensory experience, punctuated by music, shows and games ... [Read more]




La Chambre Bleue, the gastronomic restaurant by Dani Garcia at the Maison Delano Paris
La Chambre Bleue is the name of this new gourmet restaurant by Dani Garcia, which opened on April 1, 2023 in the new Maison Delano Paris hotel, which is housed in an 18th century mansion. With a menu focused on seafood, Spanish and Mediterranean dishes, as well as a wine and cocktail list inspired by Picasso, La Chambre Bleue awaits you for great discoveries, all in a friendly and festive atmosphere. [Read more]




Trente-Trois, a discreet Michelin-starred restaurant hidden away in the Maison Villeroy hotel
Discreetly tucked away within the Maison Villeroy hotel, chef Sébastien Sanjou's Trente-Trois restaurant has earned a Michelin star for its well-executed yet classic French cuisine. [Read more]




Les Caryatides, Alfred Sommier's confidential and historic terrace restaurant
In the 8th arrondissement of Paris, near the Madeleine, lies the historic Hôtel Alfred Sommier. This sublime 19th century private mansion houses Les Caryatides, a confidential and hidden terrace restaurant, which is worth a visit. [Read more]




Sève, the festive restaurant and affordable cocktail bar of the Kube Hotel
This spring, the Kube Hotel unveils its new restaurant, Sève. A festive address where the plates are mainly turned towards the vegetable, as the cocktails which are served there. A relatively affordable address for the kind and especially qualitative. [Read more]




Nectar, bistronomic plates and chimeric cocktails in the Maison Mère hotel
Between bistronomy and mixology, Nectar is a little beehive in the heart of the Maison Mère hotel that succeeds in everything it undertakes. [Read more]




Living Kitchen at Zoku Paris: the rooftop not to be missed!
Let's go and discover the brand new Living Kitchen, the trendy rooftop spot of Zoku Paris, which unveils restaurant, bar and festive terrace in the 17th district. [Read more]




Le Grand Contrôle starred restaurant - Airelles Château de Versailles: Test & Review
How about a royal lunch overlooking the Orangerie at the Château de Versailles? Head for the Grand Contrôle restaurant and its Michelin-starred dining room, where you can step back in time for a magical meal in one of the sublime dining rooms or on the beautiful terrace in fine weather. [Read more]




Bistrot 51: bistronomy invites itself to the Moxy Paris Val d'Europe hotel
Bistrot 51 is the new bistronomic restaurant at the Moxy Paris Val d'Europe hotel, where chef Grégory Foussier-Chavigny revisits the classics of French cuisine with audacity and refinement. A friendly place just a stone's throw from Disneyland and the Vallée Village. [Read more]




Martin Simolka wakes up the Rivages, the bistronomic restaurant of the Scribe Paris Opéra
Rivages, the sublime, luminous and cozy restaurant of the Sofitel Le Scribe Paris Opéra, welcomes two new talents to delight us: Martin Simolka and Roberto Catalano for a unique bistronomic and mixological experience. We'll be there day and night to enjoy a good time with friends, colleagues or as a duo. [Read more]




Le Grand Mazarin, a hotel inspired by the literary salons of yesteryear
Le Grand Mazarin, the new Paris hotel from the Maisons Pariente group, has just opened its doors in the heart of the Marais district. An exceptional new address, like an interlude of luxury and elegance in a district that's vibrant day and night. [Read more]




Feuille de Chou, the organic and modern broth of MOB House, in Saint-Ouen
Located next to the famous Saint-Ouen flea market, the Mob House is the latest (large) Parisian hotel from Cyril Aouizerate, the co-founder of Mama Shelter: in this welcoming place, which is reminiscent of the comfort of a house (hence the "house"), the design is by Philippe Starck. [Read more]




Nonos, Paul Pairet's restaurant-grill at the Hôtel de Crillon
Chef Paul Pairet has completely redesigned the former Brasserie d'Aumont in the Hôtel de Crillon and unveiled Nonos, a restaurant-grill, and Comestibles, a grocery store. The conclusion is clear: you can't help but enjoy it. [Read more]




Bonnie : the bar-restaurant and club perched in the SO/Paris hotel
A new spot with a perched terrace opened in Paris on September 6, 2022. Here is Bonnie, the restaurant-bar and club signed Paris Society which takes its quarters on the 15th and 16th floors of SO/Paris, the trendy hotel on the quays of the Seine in the Marais district. [Read more]




Too Restaurant, we tested the sublime panoramic restaurant of Paris, menu and pictures
TOO Restaurant, it's the name of the restaurant that madness which opened its doors last October. We went to discover this restaurant with an exceptional panoramic view on the Seine, the Sacré-Coeur, Notre-Dame or the Eiffel Tower. [Read more]




Hotel Dame des Arts, new restaurant and panoramic rooftop bar in Paris
The Hôtel Dame des Arts, located in the 6th arrondissement in the heart of the Latin Quarter, has opened its doors! Discover this arty, yet confidential hotel that's sure to win you over. We're sure you'll love the restaurant's reinterpreted French dishes, and the rooftop bar where you can rub shoulders with Notre Dame de Paris. [Read more]




Le Dali, the elegant gastronomic restaurant of Le Meurice
In the heart of the Le Meurice palace, the Le Dali restaurant and its imposing decor signed by Philippe Starck invites you to relax and enjoy a delicious meal, without the fuss. Chef Amaury Bouhours unveils a seasonal French cuisine, which ends with a farandole of pastries signed by Chef Cédric Grolet. [Read more]




Akira Back Paris, the Prince of Wales's modern Japanese restaurant gets a makeover
Akira Back, the modern Japanese restaurant in the Prince of Wales, is celebrating its first anniversary. An opportunity to (re)discover the place with some nice new dishes on the menu. [Read more]




99 Haussmann, the chic and bistronomic restaurant of the Bowmann hotel
At the foot of the elegant Bowmann Hotel, with its historic stone building, is Le 99 Haussmann, a bistronomic restaurant with chef Charly Salierno at the head of the kitchen. Originally from Lyon, he offers a semi-gastronomic cuisine in which he works a lot with sauces. [Read more]




Buckwheat, the gourmet crêperie at Hôtel Normandy Le Chantier
Calling all pancake lovers! Head for Buckwheat, a restaurant located in the Hôtel Normandy Le Chantier, offering a tasty menu with a West Coast flavour! Wheat or buckwheat pancakes... Take your pick! [Read more]




Les Parisiens, a generous bourgeois cuisine with no false notes signed by Thibault Sombardier
The chef Thibault Sombardier signs the menu of the restaurant Les Parisiens, within the hotel Pavillon Faubourg Saint-Germain. On the menu, a bourgeois cuisine that honors French traditions and a floating island... gargantuan! [Read more]




Le Corot, the Michelin-starred gourmet restaurant at Etangs de Corot, gets a makeover
Le Corot, a Michelin-starred restaurant ideally located between Paris and Versailles, is a haven for epicureans. Recently renovated and completely redesigned, the restaurant is sure to please. Surrounded by greenery, come and discover Rémi Chambard's cuisine, which showcases the treasures of local farm produce. [Read more]




Mozami, our test of the simple and modern canteen of the Novotel Paris Belleville
Notice to gourmets and gourmands! Mozami, the chic canteen of the Novotel Paris Belleville, invites you to discover its beautiful bistronomic menu, for a moment of delicacies in the heart of the 20th district. Beef tataki chimichurri, gratin of coquillettes with ham, salads... something to delight the palates of the curious. We tested, we tell you! [Read more]




TiTi Palacio, the huge festive bar-restaurant of La Félicité is unveiled
TiTi Palacio is the huge 500 m2 bar-restaurant that opened its doors in the hotel-auberge The People Paris Marais, itself installed in the new eco-neighborhood of Félicité Paris Sully-Morland. [Read more]




Cléo, sparkling and affordable gastronomy by Bruno Aubin at Narcisse Blanc
Discover Cléo, the restaurant of the Narcisse Blanc, and the gastronomic cuisine, as sparkling as it is affordable, of chef Bruno Aubin. [Read more]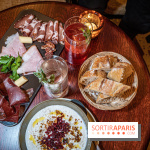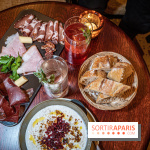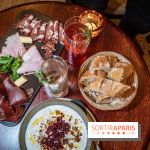 Café Aristide, bar, restaurant and hidden terrace in Montmartre
Café Aristide opens its doors and welcomes you to its charming Bohème restaurant for a delicious moment at any time of the day. From breakfast to aperitif, through dinner or lunch on its hidden terrace, this is a hidden spot that should seduce you. [Read more]




Café M, Hyatt Paris Madeleine hotel's gourmet restaurant
Running Café M - aka 5-star hotel Hyatt Paris Madeleine restaurant - chef Sébastien Roux serves a range of very accurate and high-quality cuisine, always inspired by nature and herbs. His signature recipes are avaialble for lunch, during the week, in the "Le Marché du Chef" menu. [Read more]
So, which hotel's table should we head for?