Published by La rédaction · Photos by My B. · Published on 19 May 2022 at 12h29
Wanting to admire the Eiffel Tower while sipping a delicious drink on eating up a nice dish? Discover the best spring-summer 2022 terraces with incredible views on the Eiffel Tower.
Every year, it attracts all looks and millions of tourists. Sometimes envied, but often admired, the Eiffel Tower leaves no one untouched, especially at nightfall, when the tower shines as bright as a diamond!
So, is there anything better than relaxing on a terrace, enjoying unobstructed views on the iconic Eiffel Tower, the very landmark of Paris? We help you find the most beautiful terraces providing splendid views on the Eiffel Tower to enjoy a movie-worthy experience! Whether it involves perched spots, terraces at the foot of the Eiffel Tower and more exclusive spots, come along and discover the best places to have a break and enjoy this Parisian emblem!
Stay tuned as this guide is updated over the course of our discoveries! To make sure you miss none of our article, do not hesitate to check this page again regularly.
The best terraces with views on the Eiffel Tower in Paris for spring-summer 2022:




Cabanon Perché, summery rooftop by Terrass Hotel and fantastic views on Paris and the Eiffel Tower
Cabanon Perché is the summer rooftop by Terrass" Hotel. On the menu, an exotic terrace taking us to the South since May 19, 2022. Seaside vibe, gin cocktails and seafood, the beach is back! [Read more]




Bambini, Palais de Tokyo's Italian canteen and its sheltered terrace
Dolce vita is coming to Palais de Tokyo with the Italian trattoria, Bambini, where you can enjoy some aperitivo and Italian flavored cocktails on the large terrace, under sunshades. [Read more]




Peninsula Paris plant-based rooftop bar serving gorgeous views
Looking for a beautiful rooftop in Paris? Peninsula Paris terrace bar – open to all without prior booking – is now available. It is time to go touch the clouds and enjoy a delicious cocktail with veggie tapas while enjoying the city. [Read more]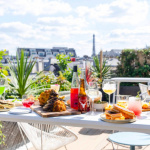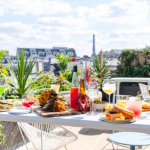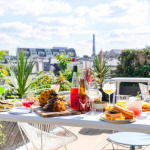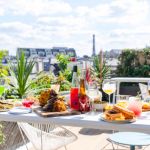 PLEY Hotel unveils its rooftop for spring-summer 2022
PLEY Hotel unveils its spring-summer 2022 rooftop. Well hidden, it can only accommodate a limited number of guests! for this new season, the PLEY Hotel rooftop looks like a Californian terrace. [Read more]




Canopy Trocadero by Hilton unveils their rooftop
This spring-summer 2022, hotel Canopy unveils a very great rooftop. Wide, very lush with views on the Eiffel Tower, serving cocktails, beers, and tapas, this terrace has it all. [Read more]




Villa M rooftop, the latest terrace in Paris
Looking for the most beautiful rooftop terraces in Paris? Villa M Rooftop – set in Paris 15th arrondissement – is about to open, on Friday May 20, 2022. How about getting up in the air? [Read more]




Créatures: the rooftop restaurant on Galeries Lafayette terrace is back in Paris
Dear vegetarian friends, a very coveted place is coming back this summer! Créatures, managed by chef Julien Sebbag, opens on Galeries Lafayette Paris-Haussmann terrace, and this is fantastic news! [Read more]




Les Petites Mains restaurant in Palais Galliera garden: Spring cuisine by Justine Piluso
Palais Galliera garden houses again a temporary restaurant called Les Petites Mains feaaturing Top Chef France contestant Justine Piluso behind the stove for fresh and spring cuisine, and pastry chef Jeffrey Cagnes for the sweet part. The perfect spot to enjoy the sun across the Eiffel Tower. [Read more]




Laho: Gare de Lyon railway station rooftop serving views
Laho – Paris rooftop with unobstructed 360° views - returns for the summer. Go and enjoy this splendid spot set within walking distance from the Gare de Lyon railway station, with its verdant setting, unique sunset and yummy menu... Perched 60 meters in the air! [Read more]




Hanami Paris: the temporary and mouthwatering terrace across the Eiffel Tower is back
Feel like discovering a new summer terrace inducing to travel? Head to Hanami. Set on the parvis of the Paris aquarium, this restaurant-terrace provides us with a delicious immersion in the country of the Rising Sun thanks to the yatai concept, and a very yummy street-food menu. [Read more]




Printemps' new panoramic terrace: 7e Ciel
Printemps unveils a new terrace at the top of the "Femme" building. Head to the 7e Ciel, on the 7th floor, to discover a new rooftop to have a seat, a drink, and enjoy greats views on Paris and the Eiffel Tower. [Read more]




Le Tout-Paris, Cheval Blanc Paris brasserie with views on the Seine
Le Tout-Paris welcomes you all day long on the 7th floor of Cheval Blanc Paris on the terrace serving breathtaking views on the Seine and the capital city's emblematic monuments, or in the garden above the Paris roofs. From breakfast to dinner, or for a cocktail, this contemporary Parisian brasserie will arouse your taste buds and your conscious with horizon as far as the eye can see. [Read more]




Sequoia, Kimpton St Honoré Paris's new rooftop bar
Let us run to Kimpton St Honoré Paris's 10th floor to discover SEQUOIA, the brand-new rooftop bar with 360° views on Paris rooftops and beautiful monuments. Opening from Monday August 23, 2021! [Read more]




Francette: Terrace on the Seine and underwater wine cellar, the latest trendy and indulging spot in Paris
You do not want to forget this name: Francette, and you are likely to hear a lot about this new summery place in Paris. Moored just across the Eiffel Tower, this XXL boat offers you to chill all summer long thanks to three mouthwatering areas: a penthouse, open in soft opening mode for now, a restaurant shining a light on French gastronomy to discover very soon, and an underwater wine cellar! [Read more]




L'Oiseau Blanc: The Peninsula's high quality restaurant
L'Oiseau Blanc, this prestigious restaurant-bar makes hotel Peninsula Paris proud. This magical place welcomes you on the sixth floor of the Parisian palace featuring breathtaking views, 360° on the most beautiful monuments of the city, including the Eiffel Tower. [Read more]




Shangri-La Paris La Bauhinia's hidden garden-terrace
For the first time, Shangri-La Paris's magnificent landscaped garden opens to welcome us on La Bauhinia's terrace. If you are looking for an exclusive and verdant terrace with views on the Eiffel Tower, you have knocked on the right door. And with Christophe Moret's delicious food, is there more to expect? [Read more]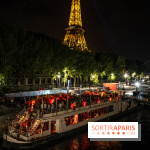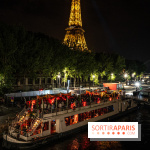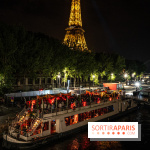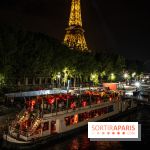 Chez Mila, the terrace-barge at the foot of the Eiffel Tower
Trendy terrace at the foot of the Eiffel Tower Chez Mila is back for the 2021 summer season. For the summer, come and dance, chill and enjoy delicious bruschetta toasts and boards to share by the water. [Read more]




Perruche: the bar-restaurant on Printemps Haussmann rooftop
Perruche, this is the name of the cocktail bar and restaurant perched on Printemps Haussmann rooftop. This place provides you with a wonderful panorama over the French capital. [Read more]




Les Piaules, a second youth hostels at the Place de la Nation
In 2021, the Les Piaules team will open a second youth hostels at the Place de la Nation in Paris. [Read more]




MUN, Champs-Elysées's magnificent rooftop
MUN, this is the name of the Parisian rooftop on everyone's lips for months. Set on the Champs-Elysées, this new restaurant inspired by Japan, designed by Paris Society, reopens the restaurant and the terrace for the summer 2021! [Read more]




Pedzouille La Grange: Novotel Paris Porte de Versailles altitude inn
This summer, Pedzouille team takes you to cloud nine or rather to the eighth floor of Novotel Paris Porte de Versailles thanks to the opening of La Grange. To be discovered from May 19, 2021, this new rooftop set in Paris 15th arrondissement is likely to delight fans of beautiful views, as well as lovers of hearty and typically French dishes. [Read more]




Café Jacques opens its terrace at the Musée du Quai Branly, Paris
Café Branly dies, long live the Café Jacques! In the middle of the Musée du Quai Branly, it's the new place to be to rest and enjoy fresh, trendy and healthy cuisine! And good news, the green terrace is open! [Read more]
It has it all to have a fantastic night with the Iron Lady!