Published by Manon C. · Photos by My B. · Published on 1 July 2022 at 08h25
Confidential and tastefully decorated, hotel restaurants are the solution to have an indulging moment in a smart setting, far from the Parisian hustle and bustle.
Paris hotel restaurants are not only for their guests. In Paris, as a tourist or a foodie, you can definitely go to these places enjoying one, two, three, four or even five stars, and discover what waits for foodies and curious people when it comes to food.
Usually thoroughly decorated, hotel restaurants sometimes even enjoy a large terrace, a confidential patio or a rooftop with views on Paris roofs. And on the places, all cravings and folies go strong, whether you crave mind-blowing French gastronomy, fantastic bistronomy or brilliant world's cuisines, whether they are Chinese or Italian.
You get it, coming to a Paris hotel to have a meal is being sure you will have a fantastic moment far from the Parisian streets' hustle and bustle. A moment untouched by time likely to satisfy all cravings. Keep reading to find out more about great locations on the Right and the Left Riverbanks!
Tasty and beautiful hotel restaurants in Paris:




Cléo, Bruno Aubin's lively and affordable restaurant at Le Narcisse Blanc
Come along and discover Cléo, Chef Bruno Aubin's exquisite restaurant at Le Narcisse Blanc serving lively, gourmet and affordable cuisine. [Read more]




TiTi Palacio, La Félicité's huge festive bar-restaurant is up
TiTi Palacio is a huge 500sqm bar-restaurant recently opened within hotel-inn The People Paris Marais, itself set in the latest eco-district of La Félicité Paris Sully-Morland. [Read more]




La Félicité, opening of a local building with swimming pool, hostel and rooftop - pictures
La Félicité is the brand-new urban site in the 4th arrondissement likely to be the talk of the town. The former Paris administrative facilities give way to an innovative local building first called Morland Mixité Capital. Winner of the "Réinventer Paris" project, this 40,000sqm site unveils a swimming pool, a great hostel, the SO/ Paris hotel, offices and a 360° rooftop with views on Paris. [Read more]




Shangri-La Paris La Bauhinia's hidden garden-terrace and Asian-inspired menu
For the second year, Shangri-La Paris's magnificent landscaped garden opens to welcome us on La Bauhinia's terrace. Chef Christophe Moret cooks Asian-inspired dishes you can enjoy whilst gazing at the Eiffel Tower. [Read more]




Buckwheat, Hôtel Normandy Le Chantier's newest creperie
Calling all crepe lovers! Head to Buckwheat, a restaurant set within Hôtel Normandy Le Chantier, serving a delicious menu inspired by the western French coast! Wheat or buckwheat pancakes… make your choice! [Read more]




Rivages, Sofitel Le Scribe Paris Opéra's latest restaurant
Sofitel Le Scribe Paris Opéra unveils a brand-new restaurant with a lovely setting: Rivages and its cuisine with Mediterranean twists by Denis Rippa. [Read more]




Salvaje Paris, the magnificent Japanese restaurant and festive cocktail bar with an African vibe
Salvaje comes to Paris and expects you all in the 8th arrondissement in its restaurant and immersive bars to enjoy superb Japanese cuisine topped with crazy cocktails in a wild Douanier Rousseau like atmosphere with music and show every evening. [Read more]




A tacos bar comes to the rooftop of a beautiful Paris hotel!
A summery wind blows on the Sequoia, rooftop of hotel Kimpton Saint-Honoré. This summer, this Parisian location unveils a delightful tacos bar and magnificent views on the Eiffel Tower, Opéra Garnier and more Parisian landmarks. [Read more]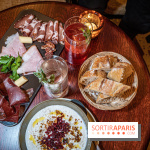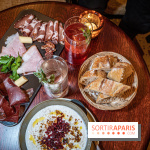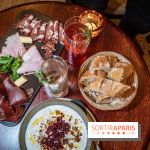 Café Aristide, the hidden bar, restaurant and terrace in Montmartre
Café Aristide opens and welcomes you in their lovely bohemian restaurant for a delicious moment at any time of the day. From breakfast to pre-dinner drink, to dinner or lunch on the hidden terrace, here is a hidden gem likely to delight you. [Read more]




Café M, Hyatt Paris Madeleine hotel's gourmet restaurant
Running Café M - aka 5-star hotel Hyatt Paris Madeleine restaurant - chef Sébastien Roux serves a range of very accurate and high-quality cuisine, always inspired by nature and herbs. His signature recipes are avaialble for lunch, during the week, in the "Le Marché du Chef" menu. [Read more]




New Mama Shelter La Défense's rooftop restaurant-bar and its menu by Pierre Chomet
A restaurant-bar on a roof, on the 14th floor? Here is what to expect at Mama Shelter La Défense. On the menu, enjoy Asian dishes created by Pierre Chomet. [Read more]




Italian cuisine by Giovanni Passerini under the splendid glass roof of the Hôtel des Grands Boulevards
The Hôtel des Grands Boulevards hides a flavorsome Italian restaurant set under a splendid glass roof and the menu was created by chef Giovanni Passerini. [Read more]




Bonnie: lofty bar, restaurant and club with terrace by Paris Society
A new sot with lofty terrace is coming to Paris this summer. Here is Bonnie, the restaurant-bar and club by Paris Society settling on the 15th and 16th floors of SO/ Paris, the trendy hotel by the Seine, in the Marais area. [Read more]




LiLi, Hotel Peninsula's Cantonese restaurant
Cantonese LiLi restaurant pays tribute to the Asian heritage of the Peninsula hotels with dim sum, and Cantonese dishes based on seafood. The place to be to taste the best of Chinese cuisine in a splendid setting. LiLi, Hotel Peninsula's Cantonese restaurant [Read more]




The sublime Madame Rêve Café
At the heart of the recently renovated Poste du Louvre stands Madame Rêve Café on the ground floor of Hôtel Madame Rêve. 8-meter-high ceiling, 300sqm, all this in a chic period setting, it has it all to delight us. Go and discover this magnificent café-restaurant that will blow you away. [Read more]




La Bauhinia restaurant
La Bauhinia, here is the name of the Shangri-La Paris magnificent restaurant named after a tropical flower. Under the aegis of Chef Christophe Moret and pastry chef Maxence Barbot, one can enjoy a menu inspired by French regions with Asian twists, while seated under the gorgeous glass roof designed by architect Maurice Gras. [Read more]




Hilton Opéra bar-café restaurant and its historic setting
Have you heard about the Grand Salon of the Hilton Opéra, right by the Saint-Lazare railway station? Under this huge and historic glass roof, where gilts, frescoes and crystal chandeliers expect you, one can come all day long to enjoy breakfast, exotic dishes or even custom-made cocktails. [Read more]




Le V, hotel Vernet's idyllic and chic restaurant in the heart of the 8th arrondissement
Set in Paris 8th arrondissement, Hotel Vernet serves a 100% indulging menu within its Le V restaurant by chef Richard Robe. Between pies, jumbo shrimps and risotto, foodies are enjoying themselves. Shall we go, then, friends? [Read more]




Le Royal Monceau Raffles Paris restaurant Il Carpaccio rises with two new chefs
Le Royal Monceau palace's gourmet Italian restaurant Il Carpaccio reopens with two new chefs in the kitchen. The duo Alessandra Del Favero-Oliver Piras takes the helm of Il Carpaccio. [Read more]




Les Confidences: the wonderful gourmet restaurant of hotel San Regis
Owned by the Georges family for over 35 years, Hotel San Regis, a discreet and charming place of the Golden Triangle, entrusts chef Romain Leydier with the kitchen of restaurant Les Confidences. A very delightful gourmet restaurant when it comes to dishes or the setting in itself. [Read more]




The Bachaumont hotel unveils its modernized French cuisine restaurant
The hotel Bachaumont set in Paris 2nd arrondissement completely renewed its restaurant. New décor, new management encouraged by Guillaume Guedj. In the kitchen, chef David Baptiste completes French-inspired cuisine, while pastry chef Sophie Coulombel is entrusted with magnificent desserts. [Read more]




L'Envolée, the restaurant in the heart of 5-star hotel La Demeure Montaigne's winter garden
Set in 5-star hotel La Demeure Montaigne's winter garden, the L'Envolée restaurant shines a light on French classicism with wonderful produces from the French territory. [Read more]




Edmond, old-fashioned gastronomy on the rooftop of the Terrass" Hotel
Edmond is the perched spot in upper Montmartre expecting you at the Terrass" Hotel. With their new chef, Julien Goriot, the restaurant makes you jump back in time by giving pride of place to the gastronomy from the early 1900's. [Read more]




Gourmet restaurant Jean Imbert au Plaza Athénée opens
Calling all fine gastronomes, Plaza Athénée's gourmet restaurant opens from Wednesday January 5, 2022. Erase the board and enjoy a fully renovated restaurant and menu. [Read more]




The 99 Haussmann – Hotel Bowmann's bistronomic restaurant
At the foot of the elegant Hôtel Bowmann and its historic cut stone building stands the 99 Haussmann, a bistronomic restaurant with chef Matthieu Garrel at the helm. Coming from Brittany he shines a light on seafood produces and ingredients from his region among others. [Read more]




Le Gabriel, chef Jérôme Banctel's magnificent 2-star hotel within the La Réserve Hotel & Spa
Chef Jérôme Banctel's 2-star restaurant within the 5-star La Réserve Hotel & Spa, Le Gabriel, invites you to gastronomic perambulation beyond the seas. [Read more]




Plénitude, our review of Arnaud Donckele's gourmet restaurant at Le Cheval Blanc Paris
Le Cheval Blanc Paris is finally opening along with Plénitude, a gourmet restaurant managed by Michelin-starred chef Arnaud Donckele. Set on the first floor of the 5-star hotel, here is – in a nutshell – what one of the greatest new restaurants this Fall 2021 has to offer. [Read more]




La Finca's hotel Mediterranean-inspired restaurant, La Mésita
Recently inaugurated in Paris 11th arrondissement, the La Finca hotel unveils its restaurant, La Mésita. Mediterranean-inspired, this restaurant is all about sharing and gives pride of place to hearty tapas and mezzes. [Read more]




La Plume, Madame Rêve hotel's panoramic restaurant
This November 25, 2021, Madame Rêve – the latest hotel in Paris city center – opens their restaurant La Plume. Le Plume is a restaurant featuring panoramic views on Paris and a tree-filled patio serving gastronomy inspired by Japan and desserts by Pierre Hermé. [Read more]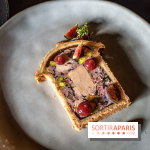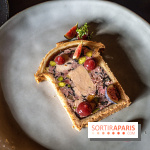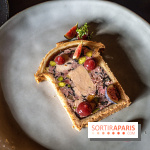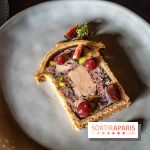 Brasserie Urbaine, Molitor's restaurant revisiting brasserie classics
Paris 16th arrondissement Molitor restaurant Brasserie Urbain has reopened for the winter season. The new chef, Martin Simolka, revisits great French brasserie classics with a modern twist, from croque-monsieur to truffle elbow pasta. It is modern, creative, delicate. We love it. [Read more]
So, which hotel are you going to for lunch?