Published by Manon C. · Photos by Manon C. · Published on 29 July 2022 at 22h40
Go and discover Paris from the past through the oldest restaurants in the city where ate some iconic characters in the History of France.
France is undoubtedly the birthplace of gastronomy. And in Paris, there are plenty of restaurants that have been existing for centuries. The oldest restaurant in Paris is the Tour d'Argent, by the Seine, inaugurated in 1582 (!), as France was still ruled by king Henry III. Rumor has it the king even discovered the use of the fork there. As a matter of fact, this is in this prestigious restaurant the tool – already used in a few Italian houses – first appeared in France.
Other restaurants in Paris are tightly related to the History of France, like the Procope, the unmissable restaurant set in the Odéon district and opened in 1686, where ate some major names such as Voltaire, Diderot, Rousseau and Robespierre.
To have a prodigious journey back to the past, and have a blast, have a look at the oldest restaurants in Paris, iconic in many ways!
The oldest restaurants in Paris:




Au Petit Riche, timeless French bourgeoise cuisine
Since it opened in 1854, Au Petit Riche has been indulging Paris to timeless French bourgeoise cuisine. [Read more]




The renewal of Maison Fournaise, Chatou's Ile des Impressionnistes restaurant
Maison Fournaise – the guinguette that inspired Renoir's "Luncheon on the Boating Party" – rises again with a new décor, a new chef and a new menu. Treat yourselves to a bucolic break by the water. [Read more]




Le Café de la Paix: the magnificent historic restaurant with a renovated setting in Paris
Le Café de la Paix, this world-famous restaurant listed as Historic Monument, undoubtedly is one of the most beautiful restaurants in Paris. The iconic Parisian restaurant – ideally set on the wonderful Place de l'Opéra – now welcomes you in their two bright and wide rooms, entirely re-designed in 2021 by architect Pierre-Yves Rochon. [Read more]




Au Pied de Cochon, cheeky cuisine in the Halles area by day and by night
By day and by night, brasserie Au Pied de Cochon delights Parisian and tourists with traditional, very hearty French cuisine. An iconic venue to visit at least once in your life. [Read more]




Escargot Montorgueil, the Parisian institution still indulges, 200 years later
Set in the Halles neighborhood, Escargot Montorgueil shines a light on Burgundy Snails in original recipes, and brilliantly prepares timeless French gastronomy classics. [Read more]




The Auberge Nicolas Flamel with Grégory Garimbay at the helm
Genuine institution in Paris, the Auberge Nicolas Flamel welcomes a new cook, chef Grégory Garimbay. The oldest inn in Paris made the most of the past couple of months to get a makeover, very soft. And the plates unveil gourmet cuisine that does not deny its classic roots but shooting at the stars. [Read more]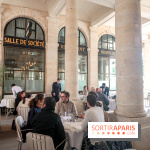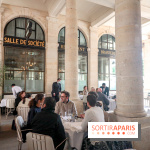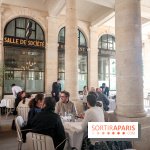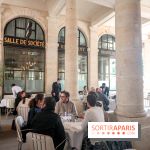 Michelin starred restaurant Le Grand Véfour renews as a bistro, our test and pictures
Le Grand Véfour signs a new page in its story. Goodbye 2 Michelin stars, hello affordable menu with market produces on the great terrace, safe from the rain and sun, across the Palais Royal garden. The team is still settling in, but the historic house is starting the year auspiciously. [Read more]




Gallopin, the restaurant for traditional French dishes
Brasserie Gallopin is an unmissable restaurant in Paris if you love traditional French cuisine. Set by the Place de la Bourse, this iconic address with sumptuous decoration provides us with bourgeoise cuisine made by the book. [Read more]
As well as: La Coupole, Brasserie Lipp, Lapérouse, Bouillon Chartier, Bofinger, A la petite chaise, Au chien qui fume, la Closerie des Lilas, Au rocher de Cancale...