Published by La rédaction · Photos by Laurent P. · Published on 16 August 2022 at 10h26
The Parisian summer is about to be packed with good deals. Here are the free exhibitions expecting you in the summer season in Paris to improve your knowledge without breaking the bank!
In Paris, the summer is synonym to good deals and great open-air outings. We must say it is hard to resist the call of the sunny weather! If you are almost broke, well this is the occasion to save money and make the most of the city without breaking the bank. Yes, going out and about in Paris does not always mean you have to spend money: there are bargains to look for too.
If you love cultural outings, if you are always looking to improve your knowledge or enjoy discoveries, this is time to go and discover the free exhibitions of the summer 2022 in Paris. They have it all to improve your knowledge without having you to pay for it. On your own or with friends, you will love this hunt to bargains expecting you in the city.
We have therefore gathered a selection of 100% free exhibitions waiting for you all summer long in Paris. And stay tuned: this guide is updated accordingly. To make sure you miss none of the cultural outings free of charge in Paris, we recommend you keep this page and check it out again soon!
The free exhibitions of the summer 2022 in Paris: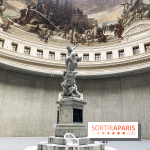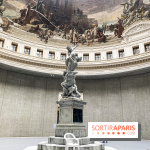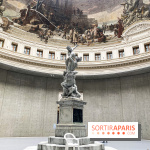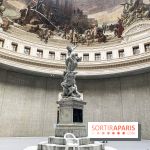 Free late-night opening on Saturday September 3, 2022 at the Bourse de Commerce
Feel like visiting the collections of the Bourse de Commerce? Enjoy the free late-night opening held on Saturday September 3, 2022 to discover this new and unmissable art place in Paris. [Read more]




Free museums and monuments this Sunday September 4, 2022 in Paris
Which museum can you visit for free on the 1st Sunday of the month, namely Sunday September 4, 2022, in Paris? We are delighted to enjoy our early month ritual: discovering a museum or monument free of charge! [Read more]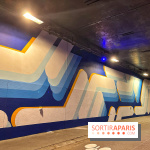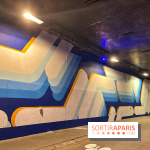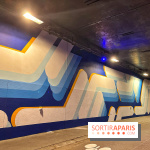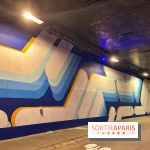 Street-art to soon cover the Paris Tunnel des Tuileries
The Tunnel des Tuileries goes very colorful! For two weeks, a dozen artists cover the Parisian tunnel reserved to soft mobilities in colorful murals to see until July 2023. [Read more]




September 2022's free exhibitions in Paris
Feel like enjoying a beautiful and free exhibition this September 2022, in Paris? How perfect, museums and art galleries are back! Come and discover new exhibitions in Paris and Île-de-France. [Read more]




Historical reenactment weekend 2022 at the Musée de la Grande Guerre
For the weekend - September 3 and 4, 2022 - the Musée de la Grande Guerre welcomes a huge WWI military camp. For two days, let us meet over 250 passionate re-enactors sharing their knowledge with us. The highlights? A never-before-seen show and a hike. [Read more]




Immersive exhibition inspired by the Lantern Festival at Paris Korean Culture Center - Our pictures
To celebrate the Taste Korea festival, the Centre culturel coréen – or Korean Culture Center – nestled in Paris 8th arrondissement concocts an exclusive immersive and free exhibition inspired by the famous lantern festival. Meet from June 30 to September 9, 2022, to enjoy this fabulous journey! [Read more]




Summer Garden 2022 at Paris Musée du Quai Branly: when nature comes to PAris!
Sponsored - You do not need to leave Paris to enjoy quiet and wilderness... From July 3 to August 28, 2022, summer comes to Quai Branly garden. A free and playful event for all themed on nature, environment and the living! [Read more]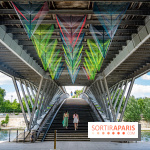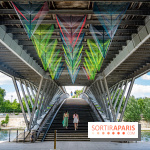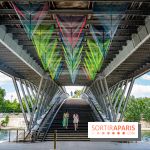 Sens dessus dessous: when art takes over Paris bridges on the Seine riverbanks
In the summer, the Seine riverbanks are a great place for Parisians and tourists to take a walk. From June 23 to September 23, 2022, these riverbanks are even more appealing thanks to installations by five artists. The "Sens dessus dessous" route is to be discovered now and free of charge! [Read more]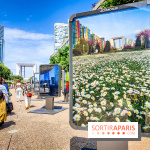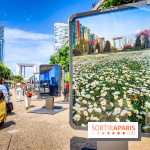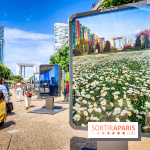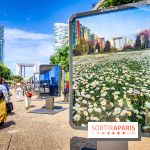 Les Extatiques 2022, the free open-air exhibition at La Défense and La Seine Musicale, our pictures
Les Extatiques, the monumental open-air exhibition at La Défense is back from June 22, to October 2, 2022, for the 5th edition. This year again, enjoy wonderful installations set between La Défense and the gardens of La Seine Musicale. [Read more]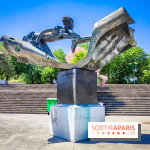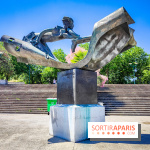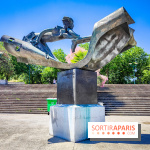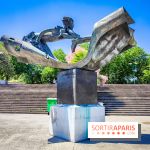 The open-air sculpture museum: a free art stroll in the heart of Paris
Have you heard about the open-air sculpture museum? Set in the Square Tino Rossi in the 5th arrondissement, this small museum provides us with a free cultural stroll by the Seine, in a gorgeous bucolic setting. [Read more]




From La Hune with love, Melody Gardot's (free) photo exhibition
Melody Gardot expresses her talent through music and photography just as well. The American jazz singer displays her photographs at the La Hune gallery. A free exhibition called "From la Hune with love", running from May 24 to September 30, 2022. [Read more]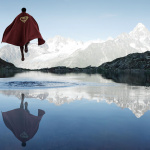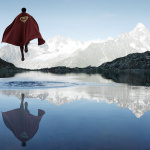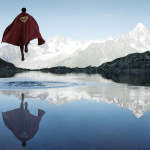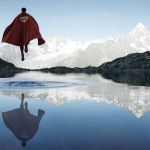 Pop Icons, the open-air photo exhibition at Bercy Village
And what if characters from the Star Wars saga were to strike a pose in front of the Eiffel Tower? Artist Benoît Lapray shows us more about his surprising universe mixing two worlds, through a free photo exhibition running at Bercy Village. From May 19 to September 18, 2022, come and admire Pop Icons. [Read more]




Europa Experience, a free and immersive European Union-inspired exhibition in Paris
From Saturday May 14, 2022, enjoy Europea Experience, a fun and free concept coming to Paris. On the menu, a 1,500-sqm exhibition inspired by the European Union delivering immersive, interactive and fulfilling experiences. Through a multimedia tour, including augmented reality installations and 360° movie theater, travel all around the European Union… from Paris. [Read more]




Paris Musée du Parfum Fragonard: a gem set a stone's throw from the Palais Garnier
The Musée du Parfum Fragonard is an iconic museum enchanting the senses by introducing us to the art of perfume. Make the best of this uncommon museum telling you more on this history of perfumery. You do not want to miss free tours surrounded by these incredible fragrances. [Read more]




Free museums and monuments in Paris and Ile de France
Looking for a free museum in Paris? Musée des Beaux-Arts, Musée d'Art Moderne, Musée de l'Aviation, Musée des Arts Asiatiques, over 20 museums are free of charge, all year round, so, discover them! [Read more]




The new Korean Culture Center opens in Paris
When art meets culture: the Korean Culture Center is a new space devoted to Korea and opens in the chic PAris 8th arrondissement on 20 rue de la Boétie. To discover from November 21, 2019. [Read more]