Published by La rédaction · Photos by Rizhlaine F. · Published on 12 May 2022 at 17h26
Looking for a restaurant serving views on Paris? Come along and discover the best places where you can treat yourselves to a fantastic dinner or lunch while enjoying beautiful panorama on the city!
Paris is an open-air museum! By day or by night, the city delivers a magnificent landscape we cannot get tired of. If you are looking for the perfect place to enjoy good food and unobstructed views on the City of Lights, we have good news! We have gathered here some scrumptious locations serving great panorama on the city. Whether you come from views on the Eiffel Tower or to be above the roofs of Paris, you have plenty of options! Many restaurants expect you so you can enjoy the city as it should be!
For lunch or dinner, discover these cafés, restaurants, bars, terraces, rooftops, and even gourmet boats offering us the occasion to have a delicious time while admiring the beauty of Paris. How could we say no?
Careful, we update this guide over the course of our discoveries. Do not hesitate to save this page to miss none of the updates!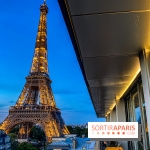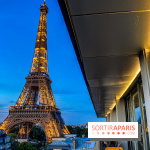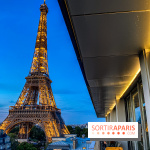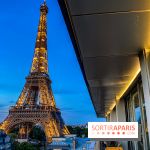 10ème Ciel, the temporary tapas and rooftop bar across the Eiffel Tower
How about getting on a one-on-one date with the Eiffel Tower? 10ème Ciel, here is the name of the temporary tapas bar, provided from April 29 to May 9, 2022, by the Pullman Tour Eiffel. [Read more]




Acte II (former Au_Top): the hidden rooftop in Paris serving Japanese food
Acte II (formerly known as Au_Top) is a mouthwatering rooftop hidding in the heart of Paris with a surprising 360° view. In this restaurant managed by Jean Philippe de la Perle, discover views on Paris rooftops while enjoying dishes cooked by Masahide Ikuta, serving Japanese gastronomy up in the air. [Read more]




Bleu Coupole, Le Printemps's new restaurant and terraces for rent
Bleu Coupole, so is the name of the new restaurant of Printemps Haussmann, opening this March 19, 2022, and set beneath the 6th floor cupola of Printemps Femme. Forget the dark brasserie that used to stand there, please welcome a glassed restaurant featuring views on Paris, and several terraces for rent, so you can enjoy Elvira Masson's delicious dishes. [Read more]




Bonnie: lofty bar, restaurant and club with terrace by Paris Society
A new sot with lofty terrace is coming to Paris this summer. Here is Bonnie, the restaurant-bar and club by Paris Society settling on the 15th and 16th floors of SO/ Paris, the trendy hotel by the Seine, in the Marais area. [Read more]




Valentine's Day 2022: romantic restaurants in Paris
If there is one day in the year when you can be the most romantic version of yourself it is February 14, 2022. To blow her/him away and show how much you love her/him, here are some romantic addresses in Paris. [Read more]




La Halle aux Grains, elegant gastronomy by Michel and Sébastien Bras at the Bourse de Commerce
Michelin-starred chefs Michel and Sébastien Bras have settled in a historic venue, the Bourse de Commerce, to open the La Halle aux Grains, a timeless restaurant where grain lent cachet. [Read more]




Edmond, old-fashioned gastronomy on the rooftop of the Terrass" Hotel
Edmond is the perched spot in upper Montmartre expecting you at the Terrass" Hotel. With their new chef, Julien Goriot, the restaurant makes you jump back in time by giving pride of place to the gastronomy from the early 1900's. [Read more]




La Plume, Madame Rêve hotel's panoramic restaurant
This November 25, 2021, Madame Rêve – the latest hotel in Paris city center – opens their restaurant La Plume. Le Plume is a restaurant featuring panoramic views on Paris and a tree-filled patio serving gastronomy inspired by Japan and desserts by Pierre Hermé. [Read more]




Quindici Trattoria, Denny Imbroisi's latest restaurant at the Novotel Paris Vaugirard Montparnasse
Reopening after undergoing renovations, the Novotel Paris Vaugirard Montparnasse gets a new restaurant, Quindici. To create this trattoria, the hotel called in Denny Imbroisi. The Italian chef has come up with a mouthwatering menu serving Italian classics. Dishes pairing Italian cocktails by Matthias Giroud. [Read more]




Le Tout-Paris, Cheval Blanc Paris brasserie with views on the Seine
Le Tout-Paris welcomes you all day long on the 7th floor of Cheval Blanc Paris on the terrace serving breathtaking views on the Seine and the capital city's emblematic monuments, or in the garden above the Paris roofs. From breakfast to dinner, or for a cocktail, this contemporary Parisian brasserie will arouse your taste buds and your conscious with horizon as far as the eye can see. [Read more]




L'Oiseau Blanc: The Peninsula's high quality restaurant
L'Oiseau Blanc, this prestigious restaurant-bar makes hotel Peninsula Paris proud. This magical place welcomes you on the sixth floor of the Parisian palace featuring breathtaking views, 360° on the most beautiful monuments of the city, including the Eiffel Tower. [Read more]




Les Piaules, a second youth hostels at the Place de la Nation
In 2021, the Les Piaules team will open a second youth hostels at the Place de la Nation in Paris. [Read more]




Coeur Sacré, the Montmartre rooftop, bar-restaurant and designer store
Coeur Sacré, this is the name of the latest living place in the heart of the Butte Montmartre. On the menu, a duplex gathering designer store, delicatessen, bakery, exhibition area, coffee shop and wait for it: a rooftop with lounge bar and restaurant! [Read more]




MUN, Champs-Elysées's magnificent rooftop
MUN, this is the name of the Parisian rooftop on everyone's lips for months. Set on the Champs-Elysées, this new restaurant inspired by Japan, designed by Paris Society, reopens the restaurant and the terrace for the summer 2021! [Read more]




Pedzouille La Grange: Novotel Paris Porte de Versailles altitude inn
This summer, Pedzouille team takes you to cloud nine or rather to the eighth floor of Novotel Paris Porte de Versailles thanks to the opening of La Grange. To be discovered from May 19, 2021, this new rooftop set in Paris 15th arrondissement is likely to delight fans of beautiful views, as well as lovers of hearty and typically French dishes. [Read more]




Le Perchoir Porte de Versailles, the rooftop returns to Paris from May 19
Le Perchoir comes for the second time to the left bank, and more extacly on the rooftop of the Pavillion 6 of the Parc des Expositions de la Porte de Versailles! The insatiable group – already behind five other places in Paris – has decided to set up their latest concept in the heart of the biggest urban farm on a rooftop in the world. Meet from Wednesday May 19, 2021 if the health conditions enable so. [Read more]




Café de l'Homme: Trocadero terrace-restaurant with views on the Eiffel Tower!
In summer, Café de l'Homme is one of tourists' favorite spots. Within the Parisian Palais Chaillot, facing the Eiffel Tower, the restaurant delights taste buds and eyes. This restaurant, opened in 2004, got a makeover in 2015 with a new décor designed by Gilles & Boissier, a new layout. As for the terrace, it enjoys a new setting since September 2020. Rediscover the new Café de l'Homme now! [Read more]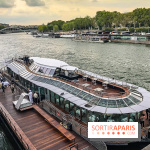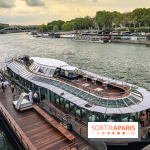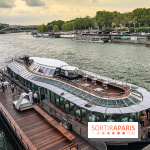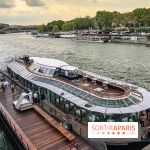 Ducasse sur Seine, Alain Ducasse's gourmet restaurant boat, is back
Open since September 2018, Alain Ducasse's floating restaurant called Ducasse sur Seine invites you to travel and discover new flavors for lunch and dinner-cruises aboard an electric boat built especially for him. [Read more]