Published by Julie M. · Photos by My B. · Published on 21 May 2022 at 06h58
What do to this Monday May 23, 2022? Sortiraparis comes along with you every day to tell you more about outings to enjoy on your own or with your family in Paris and Île-de-France. Keep reading to find out more about what to do on Monday May 23, 2022.
This Monday May 23, 2022:
Unmissable




Fêtes Galantes 2022, a fancy-dress evening at the Palace of Versailles
The Fêtes Galantes returns to the Palace of Versailles! For a night, on Monday May 23, 2022, put on the shoes of a marquis or princess, take part in dance, and games of this crazy celebration, beautifully ending with a firework show! [Read more]
Exhibitions




Europa Experience, a free and immersive European Union-inspired exhibition in Paris
From Saturday May 14, 2022, enjoy Europea Experience, a fun and free concept coming to Paris. On the menu, a 1,500-sqm exhibition inspired by the European Union delivering immersive, interactive and fulfilling experiences. Through a multimedia tour, including augmented reality installations and 360° movie theater, travel all around the European Union… from Paris. [Read more]




The Musée de Cluny, Paris Middle-Ages museum and its ancient treasures – our pictures
Set in the heart of the Latin Quarter, the Musée de Cluny is set within the hôtel des Abbés de Cluny, dating back to the 13th century, and it houses even works of art older than that! From May 12, 2022, come and visit this Middle-Ages museum in Paris! [Read more]




Le Monde de Steve McCurry, Musée Maillol's compelling photo exhibition - extra time
From December 9, 2021 to July 31, 2022, the Musée Maillol is home to a large-sized retrospective of the most beautiful photographs taken by renown contemporary press photographed Steve McCurry. [Read more]




Fugues in Color, the exhibition at the Louis Vuitton Foundation
The Luis Vuitton Foundation gathers five international artists for an uncommon exhibition testing these painters' creativity. From May 4 to August 29, 2022, come and discover "Fugues in Color". [Read more]




7 secret museums to discover in Paris when lockdown is lifted
In Paris, there are major museums, but also more confidential places worth the trip. Feel like discovering hidden gems? Here are 7 secret museums to discover in Paris as soon as possible! [Read more]
Restaurants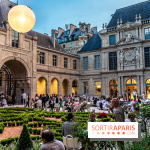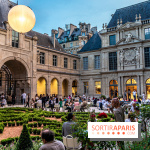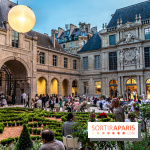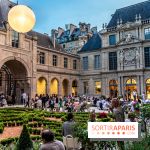 Fabula, Thibaut Spiwack's ephemeral restaurant at Paris Musée Carnavalet
Fabula, here is the name of Top Chef France contestant Thibaut Spiwack's ephemeral restaurant settling from May 6, 2022 to October within the Musée Carnavalet. [Read more]




L'Oyat Paris restaurant, bistronomy in the Marais neighborhood
Sponsored - Set by the Marais, Restaurant L'Oyat serves bistronomic cuisine based on fresh quality ingredients, favoring short-delivery systems. The menu is paced by seasons and inspired by the chef's travels. This is in a cozy and warm place one can enjoy cuisine made by the French book. [Read more]




Tamara, Clément Vergeat's delicate and genius gourmet table
Two years later, here we are, back at Tamara aka Clément Vergeat's delicate and inventive table. A gourmet peregrination that went straight to our hearts. [Read more]




Peppe, Europe's best pizzeria 2022 aka Giuseppe Cutraro's pizzeria
Peppe restaurant by chef Giuseppe Cutraro in the Saint-Blaise area in Paris 20th arrondissement has been named Europe's best pizzeria 2022. Let's go and enjoy delicious pizzas facing the Saint-Germain de Charonne church. [Read more]




Europe's Best Pizzeria 2022 and Best Pizzaiolo Chef 2022 to be found in Paris!
Good news for Italian food lovers, a Parisian restaurant has been named Europe's Best Pizzeria 2022: Peppe Paris, aka Giuseppe Cutraro's restaurant who has been named Best Pizzaiolo Chef 2022! [Read more]
Coffee & tea time




Expres'so Tea, the boba tea break in Châtelet-Les Halles
Sponsored - A few steps from the Halles, Expres'so Tea is a tearoom specialized in organic boba tea serving a refreshing afternoon tea. [Read more]




Ciao Roue: the very indulging concept devoted to wheel cake in Paris 3rd arrondissement
Are you looking for new travel-inducing flavors? Run to Paris 3rd arrondissement and discover Ciao Roue and their indulging concept focusing on wheel cake, the famous Taiwan cake! [Read more]




Pablo Cheese Tart, the first Japanese tart store in Paris
Pablo Cheese Tart, the famous and successful Japanese store comes to Paris. Forget American style cheesecake tarts, Pablo Cheese Tart serves jiggly tarts coming in plenty of flavors, as well as boba teas to discover. [Read more]




A dessert and ice cream train comes to a Big Mamma Food Court in Paris!
This summer in Paris, the Big Mamma group unveils an uncommon concept at the Felicità: a dessert and ice cream train is now here to help sweet-toothed patrons in this scrumptious food court! [Read more]




La Tour d'Argent ice cream parlor returns this summer 2022 with ice creams and sorbets
How about enjoying some exceptional ice cream in Paris? Good? Then La Tour d'Argent ice cream parlor comes for the summer and once again teams up with MOF – Best Crafstman in France – David Wesmaël. [Read more]
Bars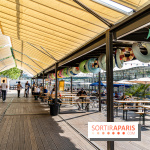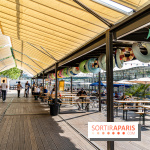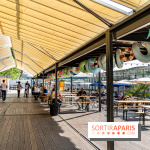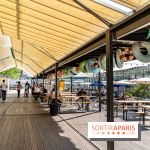 Rosé Piscine, the brand-new festive and sporting guinguette by Rosa Bonheur
Rosé Piscine – the latest Rosa Bonheur bar-guinguette – opens on Tuesday May 18, 2022. While waiting for the Arche Javel to open in July just across the venue – promising a huge barge swimming pool – go have relax, dance, have great food and work out with a fabulous program! [Read more]




OFF Paris Seine, the floating hotel unveils its summer terrace on the quay
The OFF Paris Seine is a floating hotel moored port d'Austerlitz. In addition to the bedrooms looking on the Seine, this spring-summer 2022, the hotel unveils a new terrace on the quay! [Read more]




Cabanon Perché, summery rooftop by Terrass Hotel and fantastic views on Paris and the Eiffel Tower
Cabanon Perché is the summer rooftop by Terrass" Hotel. On the menu, an exotic terrace taking us to the South since May 19, 2022. Seaside vibe, gin cocktails and seafood, the beach is back! [Read more]




Peninsula Paris plant-based rooftop bar serving gorgeous views
Looking for a beautiful rooftop in Paris? Peninsula Paris terrace bar – open to all without prior booking – is now available. It is time to go touch the clouds and enjoy a delicious cocktail with veggie tapas while enjoying the city. [Read more]




Petit Toit, the intimate rooftop hidden in Paris 16th arrondissement
Petit Toit is the confidential rooftop expecting you in Paris 16th arrondissement. Perched on the rooftop of restaurant Le Petit Victor Hugo, this sunny terrace provides you with an intimate and bucolic setting in a merry spirit. [Read more]
Show and fairs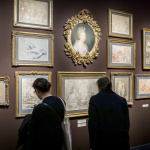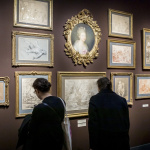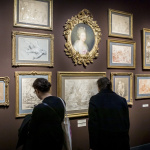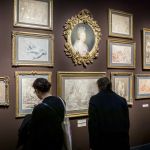 Drawing Fair 2022 at Paris Palais Brongniart
The Drawing Fair that is coming to Paris Palais Brongniart from March 23 to 28, 2022 to welcome many collectors, searchers, experts... and you! Come along and discover over 1000 ancient or modern drawings in this international fair. [Read more]
Sport & wellness




Antoine B., pop hair salon & repairing and relaxing Tokio Inkarami care
At the Antoine B. hair salon, discover innovative hair cares including the Tokio Inkarami care giving strength and shine to your locks. [Read more]




"Aventure Floreval" the tree climbing site and outdoor activity center
Aventure Floreval is the tree climbing site welcoming children and adult adventure in the forest, 30km south of Paris and that makes the preservation of the environemnt its top priority! Aventure Floreval provides over 300 workshops scatters on 20 trails, from 3 years old to super athlete, via family level. Outdoor escape room, mini golf, petting farm, and food expect you. To discover from March 26 to October 30, 2022. [Read more]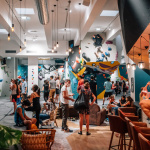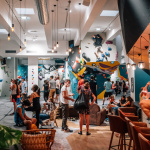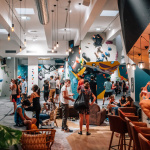 Vertical'Art Paris Chevaleret, the biggest indoor climbing gym in Paris
Sponsored - Ideally set 109.36 yards from Statin F in Paris 13th arrondissement, the city's biggest indoor climbing gym, Vertical'Art Paris Chevaleret, welcomes you in a 200sqm area every day of the year. [Read more]




Dancefloor Paris, the studio mixing fitness and dance in the 11th arrondissement
In Paris 11th arrondissement, a "feel good" dance studio opened. Dance classes with varied styles are provided, perfect to have fun and work out while learning with renown teachers. [Read more]




Yoga Room opens a new studio in Paris 17th arrondissement
Already set in Lyon, Yoga Room recently opened several yoga classes in Paris. Its complete, varied and affordable offer is to be discovered in the warm venue set in Paris 17th arrondissement. [Read more]
Shopping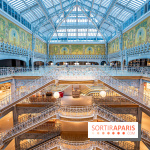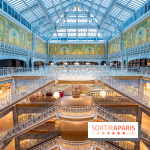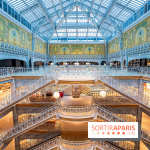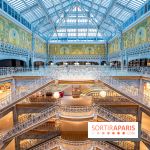 La Samaritaine goes to the seaside in Paris: entertainments calendar!
A summer wind blows on the La Samaritaine! From May 18 to August 30, 2022, the Parisian department store takes you to the sea with a great calendar of holiday-inspiring free entertainments. Sand sculpture, photocall and giant deckchair, here is what to expect! [Read more]




Nature takes back her right at Galeries Lafayette Champs-Elysées!
Sponsored - For sunny days, the Champs-Elysées Galeries Lafayette invite nature to the city in a radical and contemporary spirit held until May 29! [Read more]




Mazette, the first DIY creative lab in Paris
Mazette is the new place to be for creative people in Paris! DIY fans, you will be happy with this creative lab where you can try your hand at crocheting, knitting, drawing and jewel-making! [Read more]




Herbarium, the first botanic concept-store to discover in the heart of the Marais
The Herbarium brand will open their first botanic store on April 9, 2022, in the heart of the Marais, providing DIY workshops, know-how and a store corner, in a very green spirit! [Read more]




Bouclette.co, the hair salon elevating your wavy, curly and kinky hair
If you have wavy, curly or kinky hair, I know you may be running away from hair salons for years! But Bouclette.co is here to attend to your locks as they deserve, in the heart of the Halles area. [Read more]
Outings:




Parc Floral, a magnificent green setting in Paris
Did you know? By the Bois de Vincennes, the Parc Floral is a super great place for children and grown-ups. On the menu, strolls surrounded by peacocks and beautiful plants, open-air games for children, miniature gold, four-wheeled bicycle rides, botanical wonders and more! [Read more]




Parks with splash pads and water misters in Paris
Are you looking for water sprays or splash pads to cool off when it is hot in Paris? Sortiraparis gives you the list of spots where it feels good to run through the water and have fun with the water games. [Read more]




Square Médéric's Japanese Garden in Colombes
The square Médéric, this lovely local park in Colombes, unveils a charming 3,800sqm Japanese garden displaying bamboos, maple trees, cut trees, azaleas and pagoda. Run there to have a rest and enjoy this change of scenery. [Read more]




Val-de-Marne rose garden, an enchanting spot to discover urgently
How about going on a walk through wonderland? Come along to L'Haÿ-les-Roses in Val-de-Marne to discover a fabulous rose garden worth the trip! It expects you until September 18, 2022. [Read more]




Parc Monceau, the romantic and uncommon park in Paris
Parc Monceau is undoubtedly one of the most flowery parks in Paris, nestled between the 8th and 17th arrondissements. This is an original and uncommon park featuring ruins, sculptures and lush greenery. Come along and discover its story and special features. [Read more]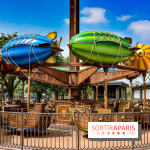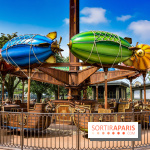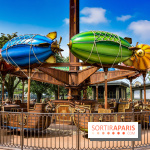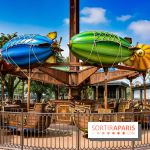 Jardin d'Acclimatation, the theme park in the heart of Paris
Paris Jardin d'Acclimatation welcomes you for moments of fun and relaxation. This family-friendly theme parks provides 40 rides for toddlers starting from 1, a petting zoo, and restaurants by the Bois de Boulogne at the gates of Paris. [Read more]




The Louvre opens the Studio, a new place for children and families
Calling all young art lovers, the Louvre opens the Studio for exclusive workshops about the ongoing exhibitions. Alone or with their families, children can discover many art practices and have fun while learning a lot. [Read more]
See you tomorrow for more outing ideas!