Published by La rédaction · Photos by My B. · Published on March 25, 2023 at 07:02 p.m.
As soon as autumn-winter settles in Paris, the quest for cozy cafés and other muffled coffee shops begins again. Here are the good plans for a maximum of comfort!
As soon as the weather turns cold and gloomy in the capital, you have two options: stay at home and snuggle under a blanket with a cup of hot tea, watching Netflix, or get out of your den and face the low temperatures. Yes, it's not easy to put your nose outside once the mercury drops in the thermometer.
And yet! So many beautiful things are waiting for you in the streets of Paris this season... So why not go to a cozy café in Paris to warm up for a while, before taking your mop back?
So, to help you in your quest for a cozy café with comfortable armchairs that will welcome your backside, we invite you to discover these cozy cafés in the capital where you can hide out during thefall-winter season, to have a comforting hot drink while enjoying a pastry. From original cafés to trendy coffee shops to the most chic addresses in Paris, there's something for everyone!
The cozy cafés of Paris, our good addresses:




Sain Gravilliers, bakery and tea room in Paris
Sain is opening a new bakery in Paris on rue de Gravilliers in the 3rd arrondissement. And surprise, the place, more spacious, unveils a tea room to enjoy. Sourdough bread, rare and forgotten ancient flours, good healthy products and sustainability are the codes of this new spot with a bohemian spirit, we tell you everything... [Read more]




The best tea rooms in Paris, the good plans
Are you looking for a great tea room in Paris for a sweet break? Go to one of our favorite tea rooms... What to titillate your taste buds and spend a pleasant moment in the capital! [Read more]




Café Studio, a vegan spot with a flea market feel that offers creative workshops
Head to Café Studio, in the 10th arrondissement of Paris, to learn how to sew, embroider or apply makeup, while enjoying a good vegan cookie, in the middle of upcycled objects that you will want to take home! [Read more]




Treize au Jardin, the hybrid tea room just a few steps from the Jardin du Luxembourg
How about a gourmet tea room just a step away from the Jardin du Luxembourg in Paris? We take you to Treize au Jardin, a good picturesque address where you can enjoy sweet and salty delicacies made from organic products. [Read more]




We tested the fabulous tea time at the Airelles Château de Versailles - Le Grand Contrôle
It is in the enchanting and historical setting of Les Airelles Château de Versailles, Le Grand Controle, the hotel located within the Château de Versailles, that we leave to discover the famous Marie-Antoinette's afternoon tea orchestrated by the talented pastry chef Aymeric Pinard. Come and slip into the skin of a queen and a king to live an enchanted interlude of the most gourmet. [Read more]




The Café Contresort, coffee-shop and esoteric tea room with bewitched pastries
The Café Contresort is a real enchanted parenthesis in the 18th district of Paris. Vegetable pastries, witches' elixirs, and card draws are mixed in this magical den from which one comes out changed. [Read more]




Cakepart, the unique Parisian coffee shop specialized in sweet and savory cakes
Feel like going back to childhood? Head to Cakepart, in the 11th arrondissement of Paris, for a 100% sweet or savory cake experience, with original flavors! [Read more]




The Chat Mallows Café, the cosy and greedy place to cuddle cats
To meet the cutest cats in the 15th arrondissement of Paris, head to the Chat Mallows Café, a super cozy cat café! Enjoy cuddles, donuts and hot feline drinks. [Read more]




La Main Noire, the Coffee shop Brunch canon
La Main Noire is the hot Coffee Shop that hides on rue Cavalotti in the 18th district. Just like the real Australian Coffee shops, this spot imagined by 3 French-Australian friends, has what it takes to seduce you. At the same time brunch, healthy products and home-made alternative drinks, the whole in the respect of the environment, we have everything good. [Read more]




The Place To : restaurant, bar and coworking, a space according to your desires in the 10th in Paris
The Place To is the new coffee shop where to linger in the 10th district of Paris! Little brother of the first address of the brand on avenue de Wagram, the restaurant welcomes you from early morning until nightfall, with a complete and gourmet offer from breakfast to dinner, including lunch and Happy Hour. The good thing: several spaces, several atmospheres, ideal for coworking! [Read more]




Lynn's Paris, the cosy and gourmet bubble tea coffee shop in Belleville
Lynn's Paris is the new coffee shop - tea room, cozy and warm, which opened its doors in the Belleville district. It's the ideal spot to have brunch all week or to offer yourself a bubble tea with a good pastry. [Read more]




Le Café Vert du Printemps Haussmann, the new coffee shop, green and greedy tea room
Printemps Haussmann continues to introduce new products and unveils its new green café called Café Vert. Every day from 10am to 8pm, you can enjoy hot drinks with sweets, lunch with fresh and gourmet dishes and enjoy an aperitivo with friends. [Read more]




Le Café de la Paix: the sublime historic restaurant in Paris with a renovated setting
The Café de la Paix, this world-famous restaurant classified as a historical monument, is without a doubt one of the most beautiful restaurants in Paris. The emblematic Parisian restaurant, ideally located on the magnificent Place de l'Opéra, welcomes you since its renovation in its two bright and airy spaces, entirely redesigned by the architect Pierre-Yves Rochon in 2021. [Read more]




Pingwoo, the flowery restaurant-cafe with crunchy cat lattes
Pingwoo is the name of this charming little restaurant - coffee shop in the rue Saint-Lazare in the 9th district of Paris. A cafe-cum-branch with a Saturday brunch option, very flowery and offering a real home-made fusion cuisine and beautiful pastries to be tasted with its famous cat lattes so cute. [Read more]




La Pasticceria Cova, pastry shop, tea time and beautiful Italian terrace
La Pasticceria Cova is the new café-tea room that has taken its place in the corner just in front of the Samaritaine. This mythical Milanese institution with its refined decor and creative pastries now opens its arms to us in Paris. You can sit down all day long, from breakfast to tea-time, including aperitivo, inside or on the large terrace overlooking the department store and the quays. [Read more]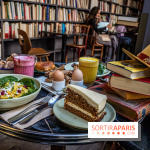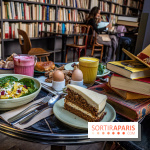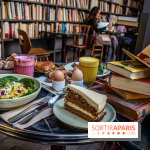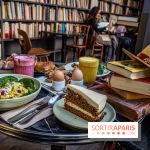 Used Book Café, the literary coffee shop
The Used Book Café is the coffee shop library of the Merci Concept Store. A coffee shop like no other since it offers you the possibility to read while enjoying a simple and home-made menu. [Read more]




Le Jardin de Mademoiselle, the gourmet tea room that changes with the seasons
Fancy a snack in wonderland? We take you to discover the Jardin de Mademoiselle, a tea room as pretty as a heart and which changes its decoration and menu with the seasons. You can enjoy gourmet drinks and cakes in a bright and bucolic atmosphere. [Read more]




The sublime Madame Rêve Café
In the heart of the newly renovated Poste du Louvre, we find the Madame Rêve Café on the first floor of the Hôtel Madame Rêve. 8 meters high in 300 m2 of space, all in a chic period decor, here's what seduces us. We rush to discover this sublime café-restaurant which puts us in full eyes. [Read more]




The Bar-Café Restaurant of the Hilton Opera and its historical setting
Do you know the Grand Salon of the Hilton Opera next to the Gare Saint-Lazare? Under this sublime historical glass roof where gilding, frescoes and crystal chandeliers await you, you can sit down all day long to enjoy breakfast, exotic dishes or even custom-made cocktails. [Read more]




@unreve, the sublime French-Asian café and tea room
@unreve, that's the name of the new coffee shop, tea room and pastry shop that has set up shop on Avenue Parmentier in the 11th district of Paris. Imagine a nice marriage between the best of coffee shops and Asian flavors and you are in the tone. [Read more]




Café Kitsuné Louvre transforms itself into an evolving pastry bar
Café Kitsuné Louvre, the sublime café at the gates of the Jardin du Palais Royal, is evolving and becoming a new spot for pastry lovers. With the recent reopening of its floor, overlooking the beautiful fountain of the French Theater, we take the opportunity to go and enjoy a gourmet moment with lattés and sweets as a bonus. [Read more]




The Salon des Manufactures, Alain Ducasse's restaurant and tea room
On the first floor of his chocolate factory, rue des Petits Champs, Alain Ducasse opens his Salon des Manufactures where you can enjoy a healthy menu with amazing food and ice cream pairings. The meeting place of all the know-how of the starred chef. [Read more]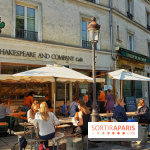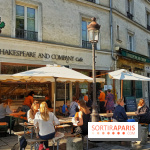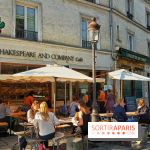 Shakespeare and Company, the most English-speaking bookstore in Paris
Opposite Notre-Dame de Paris, the Shakespeare and Company Café adjoins the historic English-language bookstore founded by George Whitman. Gourmets and literary souls, you have found your paradise! [Read more]




Elan café, the famous pink tea room from London to Paris, at Galeries Lafayette
The famous girly tea room El&n café has just opened its doors in Paris, at Galeries Lafayette! Pronounced Ilan, Elan café aims to be the most Instagrammable café in the world since it opened in London in 2019. After 10 addresses in England and Qatar, Elan has landed in Paris with delicious drinks, brunch dishes and desserts to fall, to enjoy from 10am to 7pm. We approve! [Read more]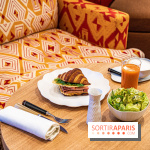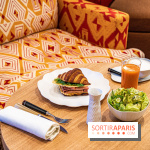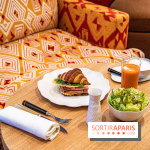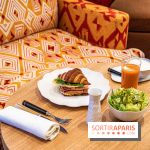 Limbar, the tea room of Cheval Blanc Paris by Maxime Frédéric
Let's go and discover the Limbar, the new daytime tea room of the Cheval Blanc Paris that turns into a bar in the evening. From breakfast to afternoon tea, you can enjoy pastries, a beautiful sweet and savory bakery menu and a magical snack, all created by the talented chef Maxime Frédéric. Closed for the summer, head to the rooftop Summer Garden for the summer period. [Read more]




Maison Alaena: a temple of well-being with spa, yoga and tea room perched on a rooftop in Paris
Maison Alaena is the unusual wellness address that opened its doors in summer 2021 in Paris. Perched above the rooftops of the capital, this spot unveils a spa, a tea room, yoga classes and consultations to feel good about yourself. [Read more]




T'Xuan : tea room, tea time and Chinese pastry shop in Paris
T'Xuan is a Chinese tea room in Paris that offers you to taste unknown specialties and gourmet pastries. Notice to the culinary adventurers and lovers of Asian flavors, here is your next favorite. [Read more]




Smith & Son Coffee unveils its Cream Tea
The famous WHSmith bookstore, now Smith&Son, located on Rue de Rivoli, has renovated its spaces and unveiled its new café - tea room. Feel like enjoying some good scones with a good tea? Just a step away from the Tuileries Gardens, we take a break for a gourmet break. [Read more]




The Ritz pastry shop by François Perret
Ritz Paris Le Comptoir is the name of the new pastry shop and tea room at the Ritz by François Perret. Let's go to 38 rue Cambon to discover pastry bars, pastry drinks, all kinds of madeleines and of course the famous pastries of the chef that we love so much. [Read more]




Maison Plume Pâtisserie - Coffee shop without sugar and gluten
Let's go and discover Maison Plume, this pastry shop - coffee shop - tea room, which offers sugar-free and gluten-free cakes and sweets. Something to delight gluten intolerant people, diabetics and all those who watch their glycemic index. [Read more]
And for even more sweetness :




Coffee Shop in Paris, 10 coffee nuggets to enjoy
Looking for a good and new coffee shop in Paris? We reveal you the new addresses to discover absolutely for a gourmet break, for a latte that rocks or a divine lunch or brunch in duo or with friends. [Read more]




Where to drink the best hot chocolates in Paris? The nuggets we love
Discover the best hot chocolates in Paris! From the big houses to the coffee shops and unusual tea rooms, not forgetting the real chocolatiers, there is plenty to enjoy! [Read more]
A dose of comfort for you!