Published by La rédaction · Photos by My B. · Published on 12 May 2022 at 17h13
Feel like making your taste buds travel? We have found the best Japanese bakeries in Paris!
You no longer need to travel to Japan to enjoy Japanese treats. Paris is packed with Japanese bakeries where on can enjoy made in Japan cakes, as well as French pastry classics revisited the Japanese way by talented chefs.
So, if you feel like enjoying wagashi, dorayaki, or gobbling up black sesame éclairs or Japanese strawberry cakes, keep reading this 100% mouthwatering guide!
The best Japanese bakeries in Paris:




Pablo Cheese Tart, the first Japanese tart store in Paris
Pablo Cheese Tart, the famous and successful Japanese store comes to Paris. Forget American style cheesecake tarts, Pablo Cheese Tart serves jiggly tarts coming in plenty of flavors, as well as boba teas to discover. [Read more]




Jade Genin & La Maison du Mochi unveil a divine May mochi
A mochi by Jade Genin in partnership with La Maison du Mochi? For one month, Jacques Genin's talented daughter Jade Genin is invited by La Maison du Mochi to sell a signature mochi smelling of chocolate and jasmine. [Read more]




Taozi: the Asian all-thing mochi bakery in Paris 8th arrondissement
Sweet and savory Asian flavors, run to Taozi, the latest indulging spot in Paris 8th arrondissement! Set within walking distance from the Champs-Elysées, this bakery shines a light on the staple mochi, as well as sponge cakes. Shall we give it a go? [Read more]




Benchy: the coffee shop dedicated to sandos in Paris 6th arrondissement
Sando, this famous Japanese sandwich, can now be enjoyed in Paris 6th arrondissement thanks to the opening of the Benchy coffee shop. Savory or sweet, you cannot resist it, as it is often paired with delicious matcha latte! [Read more]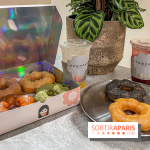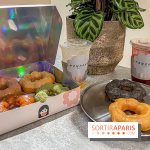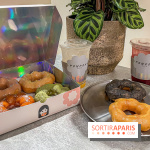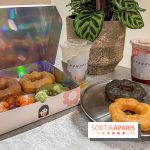 Ponpon, the first mochi donut store in Paris
Indulging food alert! The first mochi donut store has opened in Paris! Ponpon Café, here is the name of this spot already meeting great success attracting everyone in Paris. We tried it and loved it! [Read more]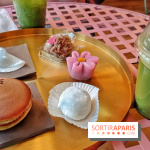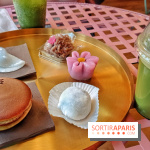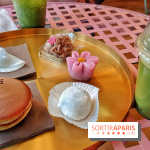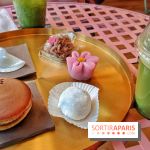 Le Renard Café, the Japanese culture-devoted bookstore-café in Paris
A stone's throw from the Le Renard Doré bookstore in Paris 5th arrondissement opened the Le Renard Café shining a light on the Japanese culture, between manga, bubble tea and quality pastries. [Read more]




Kafé Buki in Paris: the delicious coffee shop taking us to Japan
How about taking the time to unwind while sipping on genuine coffee and nibbling on delicious Japanese pastries? Come along, we take you to Kafé Buki, a very friendly and indulging Japanese coffee shop. [Read more]




Mochi Mochi Aki, Aki Paris's latest indulging store
Mochi Mochi Aki, here is the name of the latest and recently open store by Aki Paris. After Aki Boulangerie, and Aki Café, Mochi Mochi Aki has just settled in rue Saint-Anne to delight fans of mochi, melon pain burgers, and other delights. Discover what to expect. [Read more]




Shodai Matcha: restaurant and tea house for matcha lovers in Paris
Calling all matcha lovers, here is a spot likely to make your head spin. Shodai Matcha is a restaurant and a tea house highlighting this famous green tea in pastries and drinks made by the book. [Read more]




L'Osmanthe, the French-Asian patisserie revisiting classics
Have you heard about L'Osmanthe? This great pastry set by Daumesnil offers us to try French-Asian creations that are super-tasty. Matcha opera, mille-crêpes, sesame éclair, and exclusive pastry, this is a spot breaking the rules for foodies' greatest joy. [Read more]




Sabō: the Japanese tearoom at OGATA Paris
For an incredible and relaxing trip to Japan, meet at Sabō, OGATA Paris's famous tearoom, nestled in the 3rd arrondissement. Unplug and enjoy. You are off to some unique experience to the universe of tea. [Read more]




Fu Castella opens its terrace
Have you heard of castella? This small pastry from Portugal is finally coming to Paris at Fu Castella. We bet you'll love this fine and soft cake! To adapt to the situation, Fu Castella opens its terrace starting Tuesday June 2, let's go and enjoy a sweet treat. [Read more]




Aki Boulanger, French-Japanese bakery and pastry store
At Aki Boulanger, we discover new flavors: matcha tea, adzuki paste donuts, yuzu cornet cream… It's hard not to succumb for absolutely everything! [Read more]




Les 3 Chocolats, Japanese patisserie and chocolate shop in Paris
Les 3 Chocolats is the perfect combo between a patisserie and a chocolate shop. We can enjoy desserts with sweet Japanese flavors made with much delicatessen by chef Emiko Sano. [Read more]




Tomo, the French-Japanese patisserie expert in dorayaki
Tomo is THE French-Japanese patisserie in Paris where you can enjoy dorayaki: these delicious and super-light Japanese pastries. [Read more]




Wagashi, these traditional Japanese pastries to enjoy at Toraya
Wagashi, namagashi, monaka, yokan, manju… If you're not familiar with all those terms, you better have a go to Toraya to discover their Japanese pastries made by the book. [Read more]




Aki Café: The Japanese tea salon in Paris
Aki Café is the brand-new café set in rue Sainte-Anne. This Japanese café-tea salon is the perfect place for a gourmet and original break in the center of Paris! [Read more]