Published by La rédaction · Published on 12 May 2022 at 17h26
Who never dreamt of excelling in high society by finding the perfect restaurant to rent ? When you are in a group and looking for a bit of privacy, it is not always easy to find the place ticking all the boxes and able to fit you all in Paris. Here are the best restaurants to rent in Paris.
Whether you are with friends, family or colleagues, for a birthday, a date or a business event, there is always a great occasion to rent a restaurant. So, as the offer is wide in Paris and Île-de-France, we have decided to sort it out for you. Yes, here are the best restaurants to rent in Paris.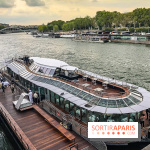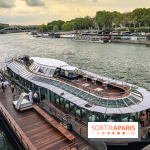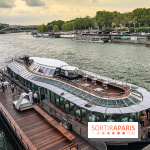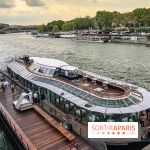 Ducasse sur Seine, Alain Ducasse's gourmet restaurant boat, is back
Open since September 2018, Alain Ducasse's floating restaurant called Ducasse sur Seine invites you to travel and discover new flavors for lunch and dinner-cruises aboard an electric boat built especially for him. [Read more]




Polichinelle, vegetable buffet by Christophe Michalak and Steve Burggraf
Christophe Michalak and Steve Burggraf came up with a place where vegetable is king, where cooking follows the seasons, is local and delicious, the whole served on a buffet. It is called Polichinelle and it is open since 2019! [Read more]




Brasserie Vaudeville: Traditional and seafood cuisine for the centenary-old Parisian brasserie
There are not many Parisian brasseries that can say they are 100 years old. It's the case of the Le Vaudeville brasserie, a true institution set in Paris 2nd arrondissement, facing the Parisian Stock Exchange. With its classic Parisian brasserie dishes, seafood and crustaceans, Brasserie Vaudeville isn't over fulfilling our taste buds. [Read more]
And near the capital city:




Polpo, the seafood brasserie by the Seine
Polpo is this ultra-trendy barge like a seafood brasserie that moored by the Seine in Levallois-Perret. A spot that looks like the Croisette and covering 600-sqm with a wonderful view on the Île de la Jatte. [Read more]




Café la Jatte and its Corsican summer menu
This summer 2019, Café la Jatte switches to Corsica mode. Let's discover this huge restaurant with a top décor and terrace, ideally set on the Ile de la Jatte for a change of scenery filled with sun. [Read more]




L'Or Q'Idée, Naoëlle d'Haunaut's Michelin-starred restaurant in Pontoise
Top Chef France 2013 winner Naoëlle d'Hainaut opened in 2017 her own restaurant, L'Or Q'idée in Pontoise. This past January, she's been awarded her first Michelin star. [Read more]




L'Inédit, Kevin Kowal's new restaurant
After working at Taillevent and being the chef at Champeaux by Maison Ducasse, Kevin Kowal takes over L'Inédit, the famous chic and cozy restaurant in Pringy. He reveals a fresh, gourmet and creative cuisine so that you can keep things interesting while enjoying yourself in the French countryside. [Read more]
With this very handy list, you are sure to find the perfect venue for your gatherings!