Published by Manon C. · Photos by Manon C. · Published on 6 December 2021 at 12h03
Craving fried chicken? Go for it and discover the best soul food restaurants in Paris, a popular and hearty cuisine originating from the south of the United States!
Have you heard about soul food? Originating from the South of the United States, especially from Luisiana and cities such as New Orleans, this traditional popular and family cuisine has been created by Black Slaves at the end of the 17th century.
Influenced by dishes from Western Africa, soul food also has staple dishes, starting with fried chicken & waffle, a piece of fried chicken placed on a sweet waffle covered in maple syrup.
Hearty cuisine available in Paris too! Discover now the best venues to enjoy soul food in Paris, and the best places serving fried chicken in town!
The best of soul food and fried chicken restaurants in Paris




Gri-Gri small soul food restaurant in Barbès
At Gri-Gri in the Barbès area, enjoy soul food classics – this African American cuisine from South of the United States. Jambalaya, Po'Boy and of course, the staple fried chicken & waffle will deliver all their secrets. [Read more]




Baba Zulu, the American "soul food" restaurant to discover in Paris asap
Let us head to the United-States to enjoy a regressive gustatory journey with Baba Zulu. Meet on Faubourg Saint-Antoine in Paris 11th arrondissement to enjoy indulging dishes based on waffles and chicken. Intrigued? Let us tell you more… [Read more]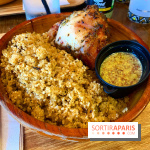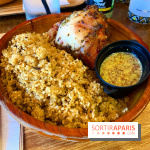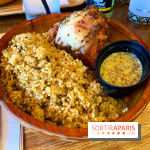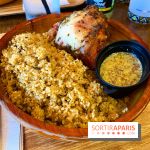 New Soul Food opens Le Maquis, a temple of African-European street food
Famous food truck New Soul Food opens its first "real-life" restaurant, a stone's throw from the Canal Saint-Martin. At Le Maquis, enjoy exclusive and really enjoyable African-European street food. [Read more]




Street BKK Fry & Beer, the spot devoted to Malaysian food and fried chicken
Street BKK Fry & Beer provides you with recipes from the Malaysian gastronomy, and especially one dish everybody loves: fried chicken, mild or spicy. [Read more]