Published by Cécile D., Laurent P. · Photos by Cécile D. · Published on 22 December 2021 at 15h17
In December 2021, there is a lot to see in Paris. Between art galleries, the decorated monuments and the Christmas lights, Paris is a treat for the eyes! To make sure you are not missing something, one solution, following our guide about the exhibitions and the arty events...
The Holidays in Paris in December make the city magical. Snow is covering the top of museums and monuments and we finally have enough time to enjoy the exhibitions that are starting during the Holidays.
We let you discover the arty events likely to fill in your days/nights and weekend this December 2021.
Main events and exhibitions to enjoy in December 2021 in Paris:




Vogue exhibition at the Palais Galliera, enjoy 100 years of Vogue
The Palais Galliera presents "Vogue Paris 1920-2020", an exhibition celebrating the iconic fashion magazine 100th anniversary. It features photographs, drawings, magazines, archives and movies showing the importance of the magazine supporting Parisian fashion, haute-couture and young designers. Meet from October 2, 2021 to January 30, 2022 to discover this historic moment. [Read more]




Cinemode, our pictures of the Jean-Paul Gaultier exhibition at Paris Cinémathèque
Jean-Paul Gaultier is invited from October 6, 2021 to January 16, 2022 by the Cinémathèque for a compelling display of the movie costumes he has designed for several iconic movies! [Read more]




The Napoléon exhibition is up at the Grande Halle de la Villette
The Napoléon exhibition is up from May 28 to September 19, 2021 at La Grande Halle de la Villette. Enjoy the first French Emperor's history as part of the bicentenary of his death. Discover Napoleon's incredible destiny. [Read more]




Thierry Mugler: Couturissime, the exhibition at the Mad - our pictures
Event alert! Paris Musée des Arts Décoratifs welcomes the Thierry Mugler : Couturissime exhibition. Save the date, get some days off, get your camera ready... This exhibition offers us an overview on the genius designer's career, an absolute icon in the fashion world. Originally scheduled from October 2020, it has been postponed to September 30, 2021 to April 24, 2022. [Read more]




Enfin le cinéma!, our pictures of the exhibition about the seventh art at the Musée d'Orsay
The Lumière brothers give rise to cinema in 1895. Two centuries later, the Musée d'Orsay go back to square one of this invention that changed art and the world for ever. The "Enfin le cinéma!" exhibition runs from September 28, 2021 to January 16, 2022. [Read more]




Soutine/De Kooning, the exhibition at the Musée de l'Orangerie - Our pictures
The Musée de l'Orangerie has painters Chaïm Soutine and Willem de Kooning talk in a new exhibition. From September 14, 2021 to January 10, 2022, explore the works by these two expressionist artists and rediscover these two great painters from the post-war years. [Read more]
Artsy events in December 2021:
Coming soon
Retrospectives in December 2021:




Vivian Maier, the tribute exhibition at the Musée du Luxembourg
She is one of the greatest photographers from the 20th century, even though her talent has only been acknowledged too recently: Vivian Maier is paid tribute in an exhibition running from September 5, 2021 to January 16, 2022 at Paris Musée du Luxembourg. [Read more]




Dali, l'énigme sans fin: the exhibition is up by night too at the Atelier des Lumières
You know his works, but do you really know what hides behind? Come and discover the secrets of one of the greatest painters of his generation at the Atelier des Lumières. "Dali, l'énigme sans fin" – Dali, the endless enigma – is on from May 19, 2021 to January 2, 2022. (Re)discover the exhibition by night, from December 17, 2021 to January 2, 2022. [Read more]




Gaudí, the Architect of the Imaginary: pictures of the exhibition at the Atelier des Lumières
The Atelier des Lumières pays tribute to architecture genius Gaudí, whose works of art have been listed as UNESCO World Heritage. From May 19, 2021 to January 2, 2022, come and enjoy the "Gaudí, the Architect of the Imaginary" exhibition. Starting from December 17, you can enjoy the exhibition until late in the night. [Read more]




Georgia O'Keeffe: first retrospective in France at Centre Pompidou - Our pictures
For the first time, Georgia O'Keeffe's work is gathered for a retrospective in France. This is an event you do not want to miss! Head to Centre Pompidou in Paris from September 8 to December 6, 2021 to discover the paintings of this American abstraction leader. [Read more]
Contemporary art exhibitions in December 2021:




Martin Margiela, the exhibition at Lafayette Anticipation - Our pictures
Art and fashion lovers are expected at the Fondation Lafayette Anticipations from October 20, 2021 to January 2, 2022 to discover an exhibition about Martin Margiela's work. An exhibition focusing here on Martin Margiela as an artist and not the fashion designer. [Read more]




Australia Now 2021: Jonathan Jones exhibition at Paris Palais de Tokyo - new dates
As part of Australia Now 2021, and from November 26, 2021 to February 20, 2022, the Palais de Tokyo welcomes Jonathan Jones's very first exhibition in France called Untitled (transcriptions of country). [Read more]




Paris Palais de Tokyo presents its new season: Six Continents ou Plus
Contemporary art fans are expected from November 26, 2021 to March 20, 2022 to discover Palais de Tokyo's latest season called Six Continents ou Plus – or Six Continents and More. [Read more]




The Collection Morozov, Modern art icones, at Paris Fondation Louis Vuitton - Extra time
The Fondation Louis Vuitton invites you from September 22, 2021 to April 3, 2022, to discover a super exhibition focusing on the collection Morozov. An exhibition focusing on French and Russian works of art gathered in the early 20th century by two Moscow patrons and collections, Mikhaïl and Ivan Morozov. [Read more]




The Banksy exhibition back to Paris Lafayette-Drouot in early June 2021
"The World of Banksy: The Immersive Experience" exhibition reopens in June 2021 at Paris Espace Lafayette-Drouot. Extended to December 31, 2020, this exhibition in sut is devoted to the world-famous street artist, and reveals about 100 works on 1200sqm. [Read more]




Cherry Blossoms, the Damien Hirst exhibition at the Fondation Cartier
The Fondation Cartier invites British artist Damien Hirst from July 6, 2021 to January 2, 2022 to unveil his latest painting series called Cherry Blossoms (Cerisiers en Fleurs). A series of paintings that is part of the continuity of his researches, also showing the pleasure to meet – thanks to painting – the artist's gesture again. [Read more]
Photo exhibitions in December 2021:
Coming soon
Themed exhibitions in December 2021:




"Tadjikistan, au pays des fleuves d'or" exhibition at Musée Guimet
Musée Guimet invites us on an oneiric journey to Tajikistan, the country of golden rivers. From October 13, 2021 to January 10, 2022, come aboard a never-before-seen cruise to discover a country with little-know richness. [Read more]




Julie Manet, our pictures of Musée Marmottan Monet's impressionist exhibition
Muse and symbol of a dazzling impressionist era, Julie Manet is given pride of place in an exhibition in Musée Marmottan Monet. From October 19, 2021 to March 20, 2022, discover "Julie Manet", a fascination exhibition about a multi-faceted woman. [Read more]




Grandeur Nature, the photo exhibition on the roof of the Grande Arche de la Défense
Beautiful photograph lovers are expected on the Grande Arche rooftop- reopening from July 1 - to discover an exhibition by two photographers, Olivier Löser and Laurent Monlaü, called Grandeur Nature. [Read more]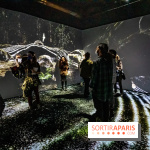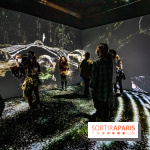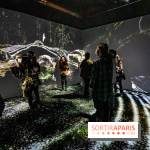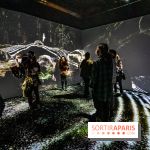 L'Odyssée Sensorielle, the compelling immersive exhibition at Paris Museum of Natural History - Last days!
More than an exhibition, Paris Museum of Natural History offers a never-before-seen compelling immersive display: from October 23, 2021 to July 4, 2022, dive into the "L'Odyssée Sensoriel" and discover the living world as you have never experienced it before! [Read more]




Exhibition at Musée Cernuschi, "Peindre hors du monde" - Our pictures
The Musée Cernuschi invites Asian art fans to discover their latest exhibition running from November 5, 2021 to March 6, 2022 and called "Peindre hors du Monde, Moines et lettrés des dynasties Ming et Qing". A never-before-seen dive into the heart of three centuries of Chinese paintings and calligraphies, displayed in Europe for the very first time. [Read more]




The Limits of Humanity, the exhibition at Paris Musée de l'Homme
Here is a question tormenting philosophers and scientists for centuries: what is human? The Musée de l'Homme takes you to this investigation looking for a meaning, to the borders of human, for a fantastic journey. Meet from October 13, 2021 to May 30, 2022 to answer this question as old as humankind… [Read more]




Picasso-Rodin, double exhibition at Paris Musée National Picasso - Extended time
Paris Musée National Picasso and Musée Rodin team up and offer an exceptional double-exhibition about Picasso and Rodin. From May 19, 2021 to March 6, 2022, discover two exhibitions on the bonds between the two artists in their own Parisian museums. A great first you do not want to miss! [Read more]




Picasso-Rodin, Musée Rodin's exhibition – our pictures
This is the event you do not want to miss: the double Picasso-Rodin exhibition is extended within the Musée Rodin and Musée Picasso. From May 19, 2021 to January 2, 2022, come and discover the unique story as told by these mixing masterpieces. [Read more]




Le Paris de Dufy, the exhibition at Paris Musée de Montmartre, our pictures
Paris lovers and art buffs can head to the Musée de Montmartre to discover – for the reopening starting from May 19 – the magnificent exhibition focusing on Raoul Dufy's works called "Le Paris de Dufy". An exhibition that has no ending date so far as it may be extended. [Read more]
Historic exhibitions in December 2021:




Paris – Athens, the Birth of Modern Greece: the Louvre exhibition, our pictures
The Louvre offers us a wonderful travel in time, a journey from Paris to Athens, discovering modern Greece. From September 30, 2021 to February 7, 2021, get on board for an extraordinary adventure celebrating the bicentenary of the independence of Greece. [Read more]
Playful exhibitions in December 2021:




Bio-inspirée, the new permanent exhibition at the Cité des Sciences et de l'Industrie
There it is! The latest permanent exhibition that will fascinate us endlessly. "Bio-inspirée" is coming from September 18, 2020 to the Cité des Sciences et de l'Industrie. A wonderful introduction to environment and sustainable solutions for children and older ones. [Read more]
Free exhibitions in December 2021:
Coming soon