Published by Manon C. · Photos by My B. · Published on 5 July 2022 at 23h32
To satisfy your meat craving, we have got you covered with 10 tasty steakhouses to enjoy outside in Paris.
For all meat-eaters, sunny days also mean loooooooooong lunches on terraces are back, and of course, they include nice and perfectly cooked meat cuts. Roasted whole lamb's shoulder, beef or pork roast, grilled rib steak, shallot beef skirt, ribs to dip in barbecue sauce, or beef tail burger for the boldest ones…
As many great pieces served and immediately eaten – in a wheeze of pleasure! And yet, we are not telling you meat is a must for a great meal, but every now and then, in a reasonable fashion, a nice piece of meat is fantastic!
Keep reading to find THE perfect location likely to satisfy your tasty meat craving! We have found a few steakhouses in Paris welcoming lovers of great pieces to enjoy outside as soon as possible!
Steakhouse restaurants to enjoy outside in Paris:




Carni, the delicious meat restaurant in Paris 9th arrondissement - Our pictures
Meat eaters, this new restaurant was made for you! Carni is the new meat restaurant in Paris 9th arrondissement providing meat cooked over bbq or low temperature. We gave it a good go and let us tell you more about it! [Read more]




Melt and its barbecued meats and cocktails goes to the 15th arrondissement
The smell of barbecued meat will soon fill the air of rue Cambronne… Melt – specialized in barbecued meats and Texan BBQ – opens their third restaurant in Paris, in the 15th arrondissement. The smokehouse and BBQ are lit on January 25, 2022. [Read more]




Le Beef, Le Marais latest meat restaurant
Meat lovers, here is a restaurant likely to delight you: Le Beef. This Le Marais restaurant mostly serves meat, especially cured beef cooked several ways. Get your most beautiful fork out! [Read more]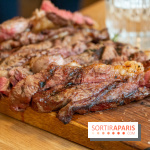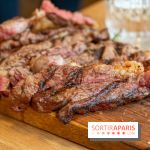 Lombem: grilled meat restaurant in Paris
Dear meat-eating readers, let's run to Paris 2nd arrondissement to discover the new restaurant specialized in meats cooked in a wood-fired oven: Lombem. [Read more]




Mamie Bidoche, lovely meat restaurant in Paris 11th arrondissement
Meat eating friends, a new 100% tasty meat spot has just opened in Paris 11th arrondissement, and Mamie Bidoche is delicious! [Read more]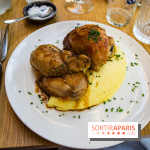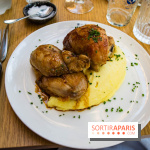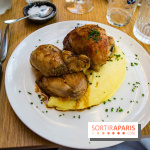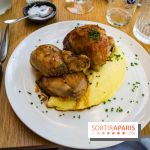 Bien Ficelé, a quality meat restaurant in Paris
Bien Elevé team has opened in September a second address: Bien Ficelé! Set in Paris 11th arrondissement, Bien Ficelé presents – like its big brother – to its patrons the best of made in France meats: suckling pig, poultries, home-cured beef… An address to recommend to meat lovers! [Read more]




Les Fines Lames, meat restaurant in Paris 18th arrondissement
Meat-eating friends, let's head to Les Fines Lames, the meat restaurant set in Paris 18th arrondissement to enjoy a whole bunch of delicious meats and classics of the French bistronomy. [Read more]




Freddy's BBQ, the smoked meat eatery like in the US
Freddy's BBQ is the new smoked meat the American way restaurant that has opened in rue Saint Denis. Dive into a Texan atmosphere and go for these meats slowly cooked overnight for an unparalleled taste and texture. We go there to discover the various meats with fitted cookings, tasty burgers and typical and well-seasoned specialties. [Read more]
So, which steakhouse – meats – your expectations?