Published by La rédaction · Photos by My B. · Published on 16 March 2022 at 11h35
Do you love burgers? We do too! This is why you are coming along with us to discover the best places in town to enjoy these famous American sandwiches in their classic or revisited versions! A great deal for foodies!
If to the question "what do you want to eat?" you are the first one to answer "BURGER!", then this is a fact, you are a fan of this American sandwich. Today, we must say it is hard to choose among all these great places popping here and there in the city. From the most classic burger to revisited versions with exotic flavors, fast-foods no longer have monopoly on this guilty pleasure and must now share the stage with finer spots.
Now, we no longer want one burger, but burgerS. From the American classic to Smash burger, to Bao burgers, and even more uncommon recipes, you will enjoy here a great selection of restaurants in Paris dedicated to this street-food staple.
And if you are a die-hard fan, do not hesitate to save this page: it is updated over the course of our discoveries! Stay tuned and enjoy these places serving great burgers in Paris. Get your notebooks, here is our selection of burger restaurants in Paris!




Quality vegetarian, vegan and meat burgers at Goiko Oberkampf
In the Oberkampf area, Goiko is THE place to go for lovers of (very) tasty and (very) cheeky burgers. And good news, new recipes are available including vegetarian and vegan burgers! [Read more]




Umami Burger, the first EU venue of the Californian restaurant comes to Paris
After Los Angeles, San Francisco, and New York, the first Umami Burger in Europe opens in Paris, in the heart of the Pullman hotel Montparnasse. What to expect, then? [Read more]




Dumbo opens another smash burger venue in Paris
This is not a dream: Dumbo is opening another venue in January 2022 where you can enjoy delicious smash burgers in Paris 10th arrondissement! [Read more]




Shiso Burger, the bao burger restaurant in Saint-Michel
Calling all bao and burger fans! Shiso Burger is the great place to give a shot now. This restaurant serving bao burgers expects you in Saint-Michel to indulge the Latin Quarter in a great décor! [Read more]




Baagaa Burger, the indulging restaurant serving affordable Wagyu beef burgers
Calling all gourmet burger fans, come along by the Trocadero to give a go to Baagaa Burger, a surprising restaurant serving Wagyu beef burgers. Mouthwatering, isn't it? [Read more]




Naked Burger, the vegan smash burger spot in Paris
Naked Burger – recently inaugurated in Paris 6th arrondissement – bets on vegan Californian street-food. On the menu of this pink restaurant? Vegan smash burgers. [Read more]




Yannick Alléno opens his burger restaurant, "Burger Père & Fils", in Paris
This summer 2021, Michelin-starred chef Yannick Alléno gets into burgers with his son, Antoine. In his "Allénothèque" set in Beaupassage, the chef has decided to propose two reinterpretations of the burger, starting this Friday May 14, 2021. Burger Père & Fils is to be enjoyed every day of the week, from noon to 2 p.m. and from 6 p.m. to 7 p.m., available to takeaway or on the terrace from May 19! [Read more]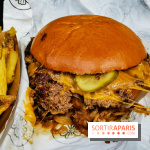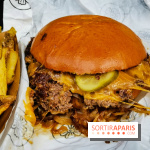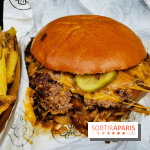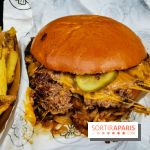 Blossom Burgers & Beers: the latest burger spot in Paris
New spot alert! Blossom Burgers & Beers is THE latest burger spot and the talk of Paris over the past weeks. Especially because Jarvis Scott ("Top Chef France" 2021) has created a pork-based burger recipe. But also because of the delicious smash and cheese burgers. [Read more]