Published by Manon C. · Photos by My B. · Published on 9 August 2022 at 15h48
Do you happen to be in Paris in August 2022? Be happy! This is the occasion to roam around the streets in peace and enjoy a quality restaurant. For yes, several eateries in Paris have decided to stay open all summer and we are very delighted! Here are Paris restaurants open in August!
Although some people fear August in Paris, others are highly excited about it… And for good reason, this is the occasion to (re)discover the city in a new way, roam around the beautiful streets emptied of cars, enjoy a museum or a movie, as well as bars and restaurants without queuing for hours!
As a matter of fact, be rest assured: some restaurants are open all August long in Paris; and your taste buds will be very happy!
Whether you crave French cuisine or world cuisine, gastronomy or bistronomy, a sandwich on the go, or a nice sweet touch to light up your day, you will find something to treat yourselves to in the list below!
Here are great ideas for those staying in Paris in August and dreaming of a feast with friends!
Restaurants open in August 2022, in Paris:




Ladurée's 160th anniversary teatime on the flowered terrace
How about indulging us to a lovely and delicious teatime on a terrace? Head to the new flowered terrace of the historic Maison Ladurée store on the Champs-Elysées for a scrumptious break mixing pastries and macarons to enjoy this summer. [Read more]




Opéra Garnier's restaurant-terrace CoCo's smart brunch
How about enjoying a chic and elegant Parisian brunch? Head to Coco, set within the Opéra Garnier, to enjoy a very indulging brunch at weekends, inside the historic venue or on the magnificent terrace with views on the iconic building. [Read more]




Iluma, the latest Iberian restaurant and festive tapas bar
Iluma alma iberica, here is the latest Iberian restaurant serving Spanish and Portuguese specialties, tapas bar style, in Paris 2nd arrondissement. A lively bar-restaurant providing fabulous moments of sharing whether it comes to drinks or food. [Read more]




Au Petit Riche, timeless French bourgeoise cuisine
Since it opened in 1854, Au Petit Riche has been indulging Paris to timeless French bourgeoise cuisine. [Read more]




The Place To: restaurant, bar and coworking, a place fitting your needs in Paris 10th arrondissement
The Place To is the latest lively venue to linger in, in Paris 10th arrondissement! The restaurant welcomes you from dawn to nightfall with a complete and indulging offer from breakfast to dinner including lunch and happy hour. The asset: several areas, several atmospheres, perfect for coworking! [Read more]




The Avocado Show, the eco-friendly restaurant serving all-thing avocado
The Avocado Show unveils their first venue in France, in Paris, in the Etienne Marcel area. This surprising restaurant takes up the challenge to make us enjoy avocado in all shapes and sizes whilst being eco-friendly. On the menu, a brunch menu to discover every day of the week! [Read more]




Yaya Halle Secrétan's indulging Greek brunch
Come and enjoy a cool and Greek brunch on Sundays from 12 p.m. to 4 p.m. at Yaya Halle Secrétan! on the menu, mezzes, Greek specialties and a Bingo Drag! [Read more]




Les Fous de l'Île: the Île Saint-Louis institution's renewal
Nestled on the Île Saint-Louis, Les Fous de l'Île enjoys a new lease of life with a new chef at the helm of the kitchen: Jonathan Lafon. [Read more]




Madame Brasserie by Thierry Marx, the restaurant on the 1st floor of the Eiffel Tower is open
Madame Brasserie is the name of the new restaurant by Thierry Marx on the first floor of the Eiffel Tower. Enjoy unobstructed views on Paris whilst having creative French cuisine shining a light on local produces. Here is what to expect. [Read more]




Ralph's restaurant opens their sublime hidden terrace with Sunday brunch
A lovely verdant terrace to make the most of summer with cocktails, authentic American cuisine and indulging brunch... This is what Ralph's provides for the reopening of their patio. Anywya, this is the perfect place to enjoy a quiet break without leaving the French capital. [Read more]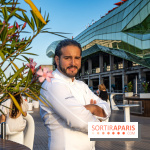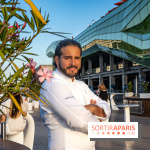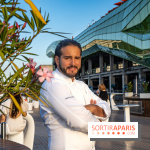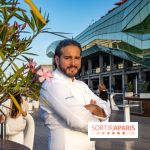 Babor by Mohamed Cheikh, the Diamant Bleu's festive dinner cruise on the Seine is on
Friends! This summer, the Le Diamant Bleu boat welcomes Babor, Mohamed Cheikh's temporary restaurant for a festive dinner cruise on the Seine on Saturdays from June to October 2022. For the night, enjoy Top Chef France 2021 winner's dishes whilst admiring the greatest landmarks of the city. [Read more]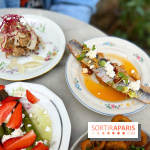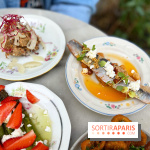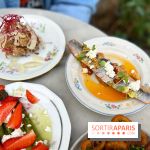 Bichettes, small friendly canteen serving old-fashioned recipes
At Bichettes, on the terrace, let us share old-fashioned recipes with guests, based on local and seasonal ingredients in a very friendly atmosphere. Simple comfort food! [Read more]




The Rôtisserie d'Argent reopens its terrace on Quai de la Tournelle
For the third time, the Rôtisserie d'Argent unveils its summer terrace on Quai de la Tournelle! Enjoy great Parisian classics that made the fame of the House, on white and red checkered tablecloths. [Read more]




Vesper, Lucas Felzine's amazing Nikkei restaurant
Vesper, here is the name of the brand-new restaurant shaking things up in Paris 7th arrondissement with Nikkei food by Lucas Felzine and its magnificent setting with two atmospheres for festive nights. [Read more]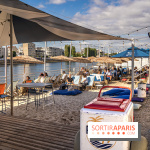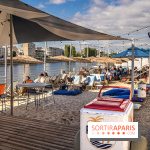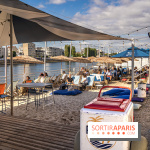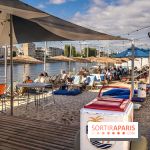 Polpo Plage, the beach-terrace on the Sseine
Craving a beautiful fine sandy beach to sip a drink in the sun, an oyster in hand? Let us run to Polpo Plage expecting us from Thursday to Sunday to take it easy. [Read more]




Peppe, Europe's best pizzeria 2022 aka Giuseppe Cutraro's pizzeria
Peppe restaurant by chef Giuseppe Cutraro in the Saint-Blaise area in Paris 20th arrondissement has been named Europe's best pizzeria 2022. Let's go and enjoy delicious pizzas facing the Saint-Germain de Charonne church. [Read more]




Créatures: the rooftop restaurant on Galeries Lafayette terrace is back in Paris
Dear vegetarian friends, a very coveted place is coming back this summer! Créatures, managed by chef Julien Sebbag, opens on Galeries Lafayette Paris-Haussmann terrace, and this is fantastic news! [Read more]




Les Petites Mains restaurant in Palais Galliera garden: Spring cuisine by Justine Piluso
Palais Galliera garden houses again a temporary restaurant called Les Petites Mains feaaturing Top Chef France contestant Justine Piluso behind the stove for fresh and spring cuisine, and pastry chef Jeffrey Cagnes for the sweet part. The perfect spot to enjoy the sun across the Eiffel Tower. [Read more]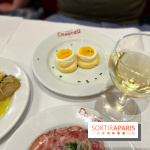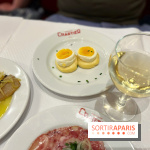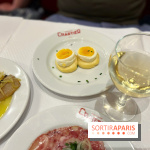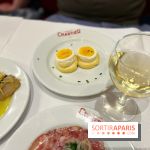 A new Bouillon Chartier across Paris Gare de l'Est
Good news for your budget: a new Bouillon Chartier recently opened across Paris Gare de l'Est. On the menu, as per usual, (very) affordable French bistro classics. [Read more]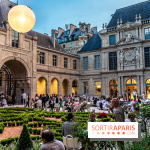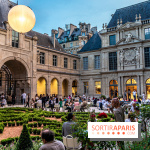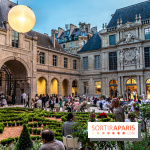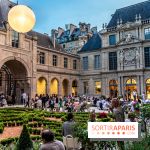 Fabula, Thibaut Spiwack's ephemeral restaurant at Paris Musée Carnavalet
Fabula, here is the name of Top Chef France contestant Thibaut Spiwack's ephemeral restaurant settling from May 6, 2022 to October within the Musée Carnavalet. [Read more]




Bouillon Pigalle, major French classics for a small cost
From midday to midnight, Bouillon Pigalle serves French bistro classics non-stop for a small cost. The perfect bargain if you are on a budget. [Read more]




Au Pied de Cochon, cheeky cuisine in the Halles area by day and by night
By day and by night, brasserie Au Pied de Cochon delights Parisian and tourists with traditional, very hearty French cuisine. An iconic venue to visit at least once in your life. [Read more]




New Mama Shelter La Défense's rooftop restaurant-bar and its menu by Pierre Chomet
A restaurant-bar on a roof, on the 14th floor? Here is what to expect at Mama Shelter La Défense. On the menu, enjoy Asian dishes created by Pierre Chomet. [Read more]




MOOM MAM, the chic Thai restaurant in Paris 9th arrondissement
Sponsored - The Moom Mam is a fantastic Thai restaurant in Paris mixing chic setting and gourmet Thai cuisine in the department store area, a stone's throw from the Théâtre Mogador in the 9th arrondissement. [Read more]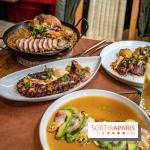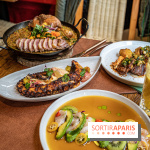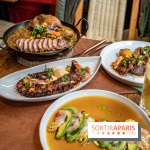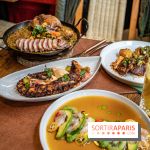 Selva, the incredible South-American restaurant-cocktail bar in Paris and its seasonal menu
Selva, this is the name of this South-American restaurant in Paris. Head to the 5th arrondissement, across the Musée de Cluny to enjoy original Latino dishes filled with spices and cooked over charcoal. [Read more]




Janet by Homer, Lobster king Moïse's Wagyu Corned Beef sandwich
Lobster Roll World's Champion Moïse Sfez opens Janet by Homer, a street food place serving real corned beef sandwich, New York style, based on Wagyu beef. Let us run and discover this new and indulging spot. [Read more]




Sequoia, Kimpton St Honoré Paris's new rooftop bar
Let us run to Kimpton St Honoré Paris's 10th floor to discover SEQUOIA, the brand-new rooftop bar with 360° views on Paris rooftops and beautiful monuments. Opening from Monday August 23, 2021! [Read more]




Abstinence, the new restaurant serving naughty dishes
Abstinence is chef Lucas Felzine's new restaurant delighting taste buds with cheeky dishes to share with friends to celebrate life returning to normal after months of abstinence! [Read more]




The best uncommon ice creams and sorbets
Think out of the box and enjoy very original and super surprising ice cream and sorbet flavors to be found in Paris ice cream parlors! [Read more]
Stay tuned to find out more restaurants open in August 2022 in Paris and make sure you check the restaurants you want to go to is open by calling ahead!