Published by La rédaction · Photos by Rizhlaine F. · Published on 29 November 2022 at 12h24
It is possible to eat well and cheap in Paris! And to prove it, we have selected some of our favorite restaurants where you can eat for under €15.
Paris is the capital city where food from all over the world can be eaten in all shapes and sizes, but sometimes, to discover the tasty restaurants of the city, you might fear you might go over budget. And yet, you can eat well and cheap in Paris! Here is a proof of it with a selection of indulging and affordable eateries where you can have a great meal for less than €15.
Where to eat under €15 in Paris:




Affordable bistronomic restaurants with lunch menus for €30 including starter/main/dessert
There are lots of very well-made bistronomic restaurants in Paris, serving lunch menus for €30 and including starter/main/dessert. Here are these great places! [Read more]




Affordable restaurants in Paris: the best places with the best quality-price ratio
Looking for an affordable eatery in Paris? Come along and discover indulging places providing an excellent quality-price ratio in the Paris area. Street-food, gourmet restaurants, and local gems, great spots for all expect you! [Read more]




Wrap'n Roll Sushi, the Japanese restaurant of hearty, fun and very affordable rolls
Connoisseurs are already aware, but good deal fans will be delighted to discover it: Wrap'n Roll Sushi is THE Japanese restaurant in the Saint-Lazare area serving lots of fun and affordable maki rolls. [Read more]




Le Shack, majestic restaurant and cocktail bar in the former Calmann-Levy printing works
Both a restaurant, cocktail bar, coworking area and place dedicated to wellness, the Le Shack is a unique venue set within the former Calmann-Levy printing works. Chef Albane Auvray unveils vegetable and seasonal food, local and complying with the environment convincing everyone tasting it. [Read more]




Légumes des Jours, the vegetarian and locavore restaurant: comforting cuisine breaking clichés
Légumes des Jours is a local restaurant waiting for you in the 20th arrondissement of the city, to indulge you to hearty vegetarian and vegan cuisine inspired both by French and world's gastronomy. The asset? This place is part of a green and locavore approach. [Read more]




Amonē, the first ham and cheese escalope-special bar in Paris
This is not a dream: a ham and cheese escalope (or Cordon-bleu in French) counter is opening in Paris. It is called Amonē and it is located in Montmartre! [Read more]




Le Comptoir des Résistants, restaurant & wine bar with ecofriendly values and dishes
Les Résistants keep on fighting for good and beautiful produces, complying with the planet and men, at Le Comptoir des Résistants, their latest bistro doubling up as a wine bar. [Read more]




Junk Burger, the gourmet and affordable smash burger counter in Paris
A gourmet smash burger under €10 in Paris? This is the challenge launched by Junk Burger, a scrumptious takeout counter expecting you rue Montmartre. Perfect for a meal on-the-go to the rhythm of your Parisian rambles! [Read more]




Little Havana, Cuban street food in the Sentier area
Little Havana recently opened in the Sentier area. On the menu, Cuban street food, colorful bocadillos and fresh guacamole! [Read more]




Les Frères des Batignolles comes to Barbès with their old-fashioned kabobs
Les Frères des Batigbolles comes to Barbès with their old-fashioned kabobs, marinated spit and good mood. [Read more]




Meshuga, the latest deli on the Left Bank
The Left Bank welcomes a new deli, within walking distance from the Luxembourg garden: Meshuga and its New-York-style sandwiches! [Read more]




Les Ilots de Chaillot, the gourmet and affordable restaurant with views on the Eiffel Tower
Good deal alert! We have found a fantastic restaurant with views on the Eiffel Tower, nestled in the heart of the Théâtre de Chaillot. Committed quality cuisine, a historic setting and a warm service, here is what makes Les Ilots de Chaillot a game changer for foodies craving for a fantastic experience. [Read more]




Mozami, our test of the chic and modern canteen at Novotel Paris Belleville
Calling all foodies and gourmands! Mozami – Novotel Paris Belleville's chic canteen – invites you to discover now the great bistronomic menu for an indulgent moment in the heart of the 20th arrondissement. Beef tataki and chimichurri, ham elbowed pasta dish, salads… it has it all to satisfy curious people's palates! We gave it a go and here is what we thought! [Read more]




OKKO Hôtels group opens Noccio, an Italian restaurant in the business district in Nanterre
Noccio is the latest Italian restaurant enlivening the Nanterre business district. Nestled on the ground floor of the latest OKKO Hôtels group location, Noccio welcomes you for lunch or dinner, in a Milan-inspired décor, at the very borders of design and elegance. [Read more]




Bonhomme, local bistronomy, friendly table and childhood memories
Three friends, two affordable menus, an inspired chef, this is Bonhomme's winning combo, a new bistronomic eatery in the Poissonnière area. [Read more]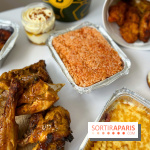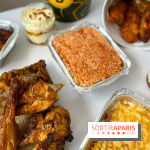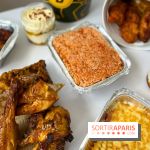 PB Poulet Braisé – the affordable grill house with golden poultries
At PB Poulet Braisé, chicken is Breton and is served over and over again. A quick, hearty and affordable bargain for families and groups of friends. [Read more]




YO' Mac and Cheese, the French mac' and cheese restaurant from New York to Paris
YO' Mac and Cheese is undoubtedly the best mac' and cheese restaurants in the capital city! In the middle of a hip-hop universe thought up to the very details, enjoy hearty portions of these American pastas! [Read more]




Ramdam, incredible fuss-free bistronomy
The new Ramdam restaurant makes a big hooha in the Barbès area by serving bistronomic dishes to share (or not!). [Read more]




Lüks, gourmet kabobs based on unusual and creative recipes
At Lüks, kabobs are gourmet, hearty and original! Bingo! [Read more]




Carni, the delicious meat restaurant in Paris 9th arrondissement - Our pictures
Meat eaters, this new restaurant was made for you! Carni is the new meat restaurant in Paris 9th arrondissement providing meat cooked over bbq or low temperature. We gave it a good go and let us tell you more about it! [Read more]