Published by La rédaction · Photos by My B. · Published on 4 July 2022 at 20h59
Being bored in Paris is impossible: every day, dozens of events wait for us! This week, from July 4 to 10, 2022, is no exception: between exhibitions, concerts, restaurants, shows and family-friendly outings, you will find what you need to have fun. Are you looking for your next outing? Keep reading to enjoy this week's best outings!
Uncommon outings, highly-anticipated events, great places and fabulous spots to discover now... All year around, Sortiraparis unearthes the best outings in Paris and Île-de-France, so you can have a great time with your families! Every week, we select the best of outings among all those available. From July 4 to 10, 2022, lots of events wait for you.
Well, have you selected the outings you want to enjoy this week of July 2022 in Paris? If not, you have knocked on the right door: keep reading the guide and select events that will rock your stay! The return of Paris Plages, candlelit dinners at Vaux-le-Vicomte, the K-Food festival, the choice is all yours!
Unmissable events:




What to do in Paris when it is hot?
The warmer weather is finally there and you may be looking for the best spots to avoid the heat. Between air-conditioned musuems, beautiful rooftops al fresco, there are lots of ideas to drop the heat and feel good. [Read more]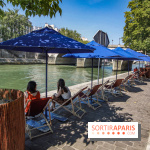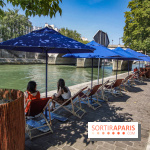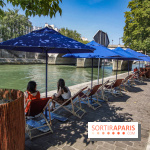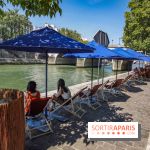 Paris-Plages 2022, dates and program
Paris-Plages is back this summer, from July 9 to August 21, 2022, by the Seine and at the Bassin de la Villette. Entertainments, deckchairs, swimming sessions and relaxation await for a great summer in Paris. [Read more]




White picnic 2022 at the Domaine de Chantilly, a magical night to experience - postponed
A magical sunset, music, festive spirit: no doubt, the domaine de Chantilly's white picnic is back! Initially scheduled on Saturday June 25, 2022,, the picnic has been postponed to July 9, 2022, at nightfall to be part of this smart and laid-back event. [Read more]




Candlelit evenings 2022 at the Châteaux de Vaux le Vicomte with firework show!
Château de Vaux le Vicomte's candelit evenings promise a magical moment to experience with your close ones. On the menu, a nighttime tour lit by 2,000 candles, water displays, romantic stroll in the gardens to baroque music, and even a firework show! An enchanting break to enjoy from May 14 to October 1, 2022. [Read more]




Harry styles live in July 2022 at Paris Accor Arena: tickets to go on sale this week
Harry Styles will come to France for his "Love on Tour"! Save the date, the British artist made famous with One Direction is now flying solo and expects you on Tuesday July 5, 2022, for an exclusive show scheduled at Paris Accor Arena! [Read more]




K-Food Festival 2022 at the Carrousel du Louvre
K-Food festival is back on July 8 and 9, 2022, in Paris, at the Carrousel du Louvre. For two days packed with discoveries, go and discover Korean gastronomy thanks to tasting, cooking classes, K-Pop shows and entertainments. [Read more]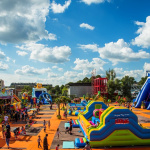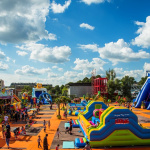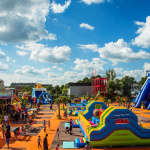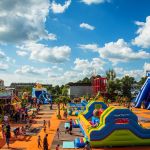 Europa Kids: inflatable playground at the Parc de la Villette in Paris
If you were to go to only one place this summer, you must run to Europa Kids. From June 25 to August 28, 2022, the Parc de la Villette provides the famous inflatable village again to entertain children and adults. Inflatable castles, huge slide, trampoline, water jets... What else would you ask for? [Read more]




Summer 2022: iced coffee, iced tea and iced chocolate… our favorite places in Paris
Coolness alert! As a heatwave is striking Paris, we all dream of a very fresh drink to reload. Coffee shop or tearoom, there are plenty of places serving something to cool off and a bit. Iced coffee, iced tea or iced chocolate… what will you have? [Read more]




Where to cool off this summer 2022 in Paris and Île-de-France?
Heatwave alert in Paris! It is hot in Paris, very hot, and in our own corner we looked the best spots to cool off in Paris. Movie theaters, swimming pools, beaches as well as bars and restaurants, we offer you the best of what Paris has to give in the summer. [Read more]
Walks:




10 free or cheap rooftops to get a breath of fresh air and the best views in Paris
A free (or almost) and fabulous rooftop? Whether you are looking for fresh air during a heatwave or simply looking for one of the most beautiful viewpoints to admire Paris without breaking the bank, here are 10 great ideas to have the best spots overlooking the city without ending up broke. [Read more]




Paris Plages 2018 at La Villette pool, free activities
For Paris Plages and from July 7 to September 2, 2018 La Villette Bassin is full of life. Swimming in the pool, paddle boat, sports, a wonderful opportunity to introduce your children and teens for free to water sports or having a quirky stroll by the Canal. [Read more]




Paris-Plages 2018 along the Seine river, free activities
For Paris-Plages, from July 7 to September 2, 2018, the Bassin de la Villette is full of life. Bathing in the pool, paddle boat, sports, a beautiful opportunity to introduce your children and teens to nautical sports for free or to stroll on the canal waves. [Read more]




This summer 2022's open-air exhibitions in Paris and Île-de-France
How about treating ourselves to an open-air exhibition this summer 2022 in Paris? What is best with summer in Paris – and the Paris area – is the wonderful strolls to enjoy in the streets and parks, to discover the current open-air exhibitions. Here are this summer's best places to enjoy art and sun. [Read more]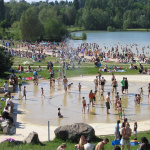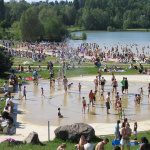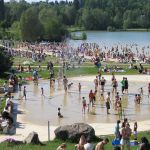 Where to swim for free in Paris and Ile de France this summer 2022?
Heat is hitting hard and you are looking for a beach where to sunbathe and bathe for free? To feel like on vacay without paying at all, discover the greatest spots where you can take your family and friends in Paris and Ile-de-France. [Read more]




Île-de-France heritage: a bucolic walk from bridge to bridge in the Vallée de Chevreuse
At the end of RER B, the village of Saint-Rémy-lès-Chevreuse is the starting point of several walk routes in the Vallée de Chevreuse. Among them, the small bridge hike. [Read more]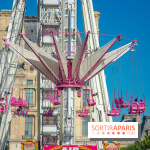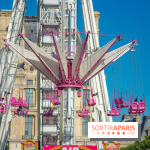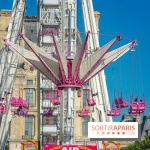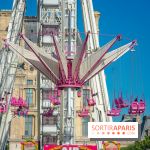 Tuileries funfair 2022, dates of the funfair in the heart of Paris
The Tuileries funfair, the famous human-sized family-friendly funfair in the heart of Paris within the Tuileries garden, is back from Saturday June 25, to Sunday August 28, 2022. Did you miss merry-go-rounds and donuts? This is time to treat yourself! [Read more]




Randopolitain, 100 hikes to discover Ile-de-France before the 2024 Summer Olympics
Feel like discovering Ile-de-France in a new fashion? Randopolitain offers you to discover the region from Sunday June 26, 2022, with 100 "cultural olympic games" labelled hikes until the 2024 Summer Olympics. [Read more]




Parks with splash pads and water misters in Paris
Are you looking for water sprays or splash pads to cool off when it is hot in Paris? Sortiraparis gives you the list of spots where it feels good to run through the water and have fun with the water games. [Read more]
Restaurants and bars:




Dante, Rebecca Beaufour's elegant first restaurant
Trained by the greatest, chef Rebecca Beaufour opens her first restaurant in Paris, Dante, shining a light on tasty products and sharing. [Read more]




Cléo, Bruno Aubin's lively and affordable restaurant at Le Narcisse Blanc
Come along and discover Cléo, Chef Bruno Aubin's exquisite restaurant at Le Narcisse Blanc serving lively, gourmet and affordable cuisine. [Read more]




Les Fous de l'Île: the Île Saint-Louis institution's renewal
Nestled on the Île Saint-Louis, Les Fous de l'Île enjoys a new lease of life with a new chef at the helm of the kitchen: Jonathan Lafon. [Read more]




Seveste – Montmartre's Théâtre de l'Atelier terrace-restaurant
Seveste is the name of the terrace-restaurant taking over the square of the Théâtre de l'Atelier. Set in Montmartre, within walking distance from the Sacred heart, discover siblings Alexis and Josselin Flocon's lovely bistro cuisine. [Read more]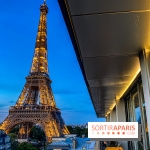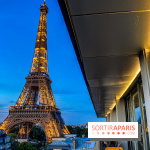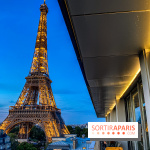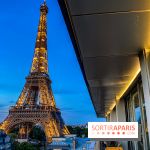 10ème Ciel, the temporary tapas and rooftop bar across the Eiffel Tower is back
How about getting on a one-on-one date with the Eiffel Tower? 10ème Ciel, here is the name of the temporary tapas bar, provided from July 9 to August 21, 2022, by the Pullman Tour Eiffel. [Read more]




Sofitel Paris Le Faubourg's summer lush terraces, exotic tapas and creative cocktails
This summer, Hotel Sofitel Paris le Faubourg unveils a verdant hacienda-inspired terrace for you to enjoy exotic tapas and creative cocktails. [Read more]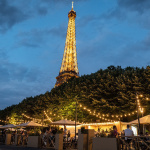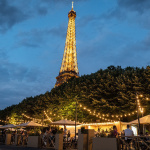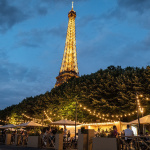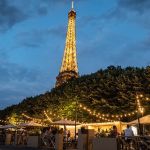 Bal de la Marine, the guinguette-restaurant by the Seine at the foot of the Eiffel Tower
The Bal de la Marine, a festive guinguette by the Seine mixing music and restaurant, expects you again for the summer. The occasion to chill out and dance all week long by the water, in a unique setting and a friendly atmosphere. [Read more]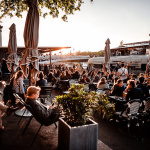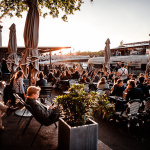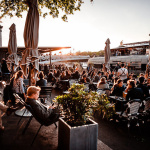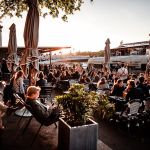 The Flow at Paris: the restaurant-bar-terrace, club and rooftop barge by the Pont Alexandre III
The Flow is a festive venue ideally set by the Seine, by the Pont Alexandre III with views on the Grand Palais and the Eiffel Tower. Doubling as a restaurant, bar, show venue, club and rooftop, this lively guinguette has it all to provide you with great nights by the water. [Read more]




Gamelle, the bar, bowling and foosball within walking distance from the Gare de Lyon
Looking for a place to play bowling whilst nibbling on delicious boards to share? Head to Gamelle, a bistro in Paris 12th arrondissement, set within walking distance from the Gare de Lyon, serving a great selection of tapas, and bowling tracks and foosball tables. Perfect if you are into sport and aperitif in a laid-back fashion! [Read more]
Museums and exhibitions:




"Shocking! Les mondes surréalistes d'Elsa Schiaparelli", the fashion exhibition at MAD Paris
Bold, inspiring, avant-garde, shocking! Fashion designer Elsa Schiaparelli has been called many names… And how about making your own mind thanks to the "Shocking! Les mondes surréalistes d'Elsa Schiaparelli" exhibition running from July 6, 2022, to January 22, 2023, at the Musée des Arts Décoratifs in Paris? [Read more]




Immersive exhibition inspired by the Lantern Festival at Paris Korean Culture Center - Our pictures
To celebrate the Taste Korea festival, the Centre culturel coréen – or Korean Culture Center – nestled in Paris 8th arrondissement concocts an exclusive immersive and free exhibition inspired by the famous lantern festival. Meet from June 30 to September 9, 2022, to enjoy this fabulous journey! [Read more]




Exhibitions closing in July 2022, in Paris
Alert exhibitions coming to an end this month! Are you sure you visited all the exhibitions you wanted? To make sure you miss out nothing and organize your outings as well as possible, have a look at our guide listing exhibitions living their last days in July 2022. [Read more]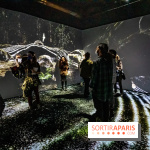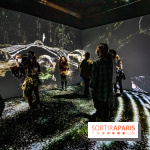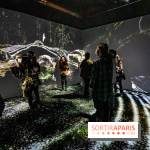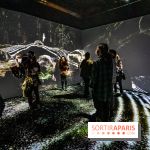 L'Odyssée Sensorielle, the compelling immersive exhibition at Paris Museum of Natural History - Last days!
More than an exhibition, Paris Museum of Natural History offers a never-before-seen compelling immersive display: from October 23, 2021 to July 4, 2022, dive into the "L'Odyssée Sensoriel" and discover the living world as you have never experienced it before! [Read more]




Les femmes portent le monde: Lekha Singh's photo exhibition at the Musée de l'Homme, our pictures
The Musée de l'Homme offers us to discover Lekha Singh's works – a photographer who traveled the world to meet women carrying the world. To discover from June 29, 2022 to January 2, 2023. [Read more]




The Horizon of Khufu, an immersive nighttime journey in a pyramid to experience at the Arab World Institute
The Arab World Institute invites you to complete a unique journey, a virtual reality immersive experience taking you to one of the world's seven wonders. From June 14 to October 2, 2022, come and discover "The Horizon of Khufu". This July 2, enjoy an exceptional nighttime opening to discover this unusual experience. [Read more]




July 2022's best exhibitions in Paris and Ile-de-France
Which exhibition should we visit this July 2022, in Paris? This summer, make the most of long sunny days and vacations to enjoy the wonderful exhibitions currently running in Paris, as well as unmissable art events. [Read more]




Free museums and monuments in Paris and Ile de France
Looking for a free museum in Paris? Musée des Beaux-Arts, Musée d'Art Moderne, Musée de l'Aviation, Musée des Arts Asiatiques, over 20 museums are free of charge, all year round, so, discover them! [Read more]




La Galerie Dior, the exhibition about the history of Maison Christian Dior at the 30 Montaigne museum
La Galerie Dior is a venue you do not want to miss if you love fashion. Set in the heart of 30 Montaigne, this exhibition area takes us to the very heart of the Maison Christian Dior's universe. Go and discover his inspirations and history through a series of magnificent stagings in this uncommon museum. [Read more]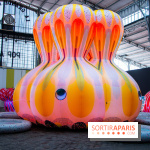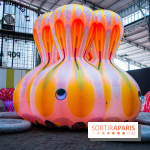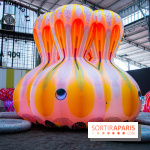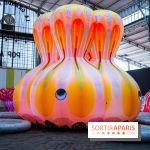 Pop air, the inflatable and immersive experience at the Grande Halle de la Villette: Our pictures
From April 14 to August 21, 2022, the Grande Halle de la Villette houses an exclusive and playful inflatable experience, Pop Air, made in partnership with Rome's Balloon Museum. [Read more]
Sports and leisure:




Lightsaber French open 2022 at Paris Stade Charléty
On July 8 and 9, 2022, come and attend the world's greatest lightsaber tournament at Paris Stade Charléty. On the menu, epic fights and many 100% pop culture entertainments for Star Wars fans! [Read more]




Quai 54, the biggest streetball championship returns to Paris
Quai 54 - the world's biggest streeball tournament - returns on July 9 and 10, 2022, to Paris, in front of the Eiffel Tower. On the menu? Several teams from all over the world, professionals, amateurs and NBA players, as well as surprise concerts by major artists from the French and international hip-hop scene. [Read more]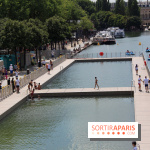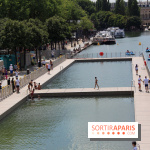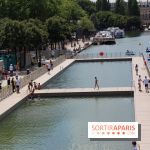 Paris Plages 2022: free open-air swimming pools at the Bassin de la Villette
It is official, the Bassin de la Villette is back for Paris Plages 2022, from July 9 to August 21! We will enjoy summer with 2 pools and 2 paddling pools of different depths set within the Bassin de la Villette by the Quai de la Loire. Swim to relax or to work out, in a summery atmosphere, and for free from 11 a.m. to 8:30 p.m. for free. [Read more]




Haute Couture Fashion Week: Dior opens a temporary Spa on the Seine
From June 29 to July 13, 2022, Dior opens an elegant spa aboard a boat on the Seine. A never-before-seen and privileged wellness experience among the magnificent Parisian panorama to enjoy by the water. [Read more]




Tour de France 2022: the route is here!
The route for the Tour de France 2022 has just been uncovered! 3,328 kilometers, leaving from Copenhagen, 6 magnificent mountain stages and 2 individual time-trials... A big show is coming! [Read more]




The Meïsō oasis, the relaxing floating center
For an exceptional moment untouched by time, go and have a bath in the salted water of Meïsō's floating baths, enjoying a sensory isolation in their latest wellness center by Olympiades. Perfect to clean your head for a while! [Read more]




Club Circus Paris hosts a poker festival from July 5 to 10
Sponsored - Set in Paris 16th arrondissement, the Club Circus Paris is a gaming club enabling to meet for a night in a casino atmosphere. Poker fans are happy with a beautiful cash game offer and tournaments. Traditional games are available as well such as Punto Banco, ultimate poker and poker 21. For people filling for a free loyalty card, the first admission is free of charge. To do some, please say you come from Sortir à Paris. [Read more]




Bowling Mouffetard, the bowling and billiards complex in Paris 5th arrondissement
Are you in Paris 5th arrondissement and looking for a fun activity to enjoy with family or friends? For bowling fans, we have it all: head to Bowling Mouffetard set rue Mouffetard, as its name suggests. The place provides eight tracks to hit strike after strike, as well as billiards tables and video game arcade cabinets. [Read more]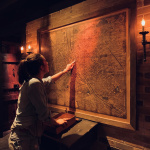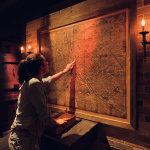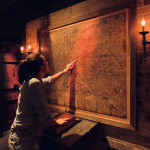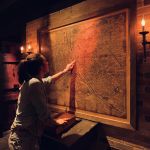 The best escape rooms and immersive experiences in Paris
Cannot get enough of the Adventures of Sherlock Holmes or solving mysteries of any sort? Have you dreamed of solving your own mystery in a haunted manor? Escape rooms let you experience these adventures for one hour with your family or friends. Use your cleverness, team spirit and your observation to help you win! [Read more]




Club Barrière: a casino experience in the heart of the Champs-Elysées
Sponsored - Feel like going to the casino in the very heart of Paris? Head to Club Barrière 104 Champs Elysées! Set on the world's most beautiful avenue, the place is a game club enjoying a soft setting. Poker fans will enjoy a great cash game and tournament offers. Counterpart sport fans can gamble at the tables for Punto Banco, ultimate poke and poker 21 (Parisian blackjack). [Read more]
Movies:




Elvis: Baz Luhrmann's biopic starring Austin Butler and Tom Hanks: review and trailer
Famous movie maker Baz Luhrmann is back with a new movie. Called "Elvis", this biopic about the King starring Austin Butler, Tom Hanks and Olivia DeJonge is expected in French theaters on June 22, 2022. [Read more]




The Black Phone, the horror movie starring Ethan Hawke: review and trailer
"The Black Phone", the latest production by the Blumhouse studios opens on June 22, 2022 in France. In this horror movie, Ethan Hawke plays a disturbing magician abducting children. A fantastic movie starring children as heroes. [Read more]




Fête du Cinéma 2022 and movies for €4 for all
From July 3 to 6, 2022, Fête du Cinéma is back for the 37th edition. Once again, this is the perfect occasion to enjoy movies for €4. [Read more]




Sing-along Mamma Mia at Paris Grand Rex is back in 2022
"Mamma Mia!" live karaoke is back in Paris in 2022. Next sessions from May 13 to December 16, 2022, at Le Grand Rex. [Read more]
Shows, concerts and parties:




The Killers live at La Seine Musicale - Postponed to July 2022
The Killers are back! American rock band delights us with a show on Tuesday July 5, 2022 at La Seine Musicale in Boulogne-Billancourt just outside Paris. [Read more]




Deep Purple live at La Seine Musicale - Postponed to July 2022
Because of the coronavirus crisis, Deep Purple's show initially planned on June 30, 2020 at La Seine Musicale in Boulogne-Billancourt is postponed to Wednesday July 6, 2022. [Read more]




Alicia Keys live at Paris Accor Arena - postponed to July 2022
Because of the health crisis, Alicia Keys must delay her Parisian tour initially planned on Wednesday July 1, 2020 to Wednesday July 7, 2022 at Paris Accor Arena. The occasion for the "queen of soul" to present her new album simply called "Alicia". [Read more]




Red Hot Chili Peppers to play an extra show in July 2022 at the Stade de France
The Red Hot Chili Peppers are back on stage in 2022! Their stadium tour is to stop by France and especially the Stade de France. They will perform on July 8 and 9, 2022 and this is a major event, of course. [Read more]




The Magic of Motown live at Paris Le Grand Rex in July 2022
For the 60th anniversary of cult label, English band "The Magic of Motown" will exceptionally perform their show at Paris Le Grand Rex on July 9, 2022. [Read more]




The Lion King musical at Paris théâtre Mogador extended for a 2nd season
Hakuna Matata! The Lion King musical is back to Paris théâtre Mogador, 10 years after its latest performance at the theater. Even though the show was said to start from September 2020, because of the coronavirus epidemic, it is postponed to Fall, 2021. The show has been extended for a second season already and will be performed until December 31, 2022. [Read more]




Polnarêves: Michel Polnareff's immersive experience at the Le Palace theater
Another immersive experience awaits you all at the Le Palace theater. This time, Michel Polnareff has decided to give it a go and provide you with "Polnarêves", a visual and musical 360° experience. Meet from June 2, 2022 to March 1, 2023, to discover Michel Polnareff's dreams in Paris. [Read more]
Sweet treats:




Shangri-La Hotel Paris divine teatime by Maxence Barbot
Calling all gourmands, it is time to go and enjoy Maxence Barbot's new teatime at Shangri-La Hotel Paris. Enjoy this indulging and magnificent afternoon tea comfortably seated under La Bauhinia's gorgeous glass roof. [Read more]




Kem Glaces, the craft ice cream pop-up back on the Printemps Haussmann Femme rooftop
Craving craft ice cream? Run to 7e Ciel to discover Kem Glaces creations, set in a pop-up store, from June 22 to September 25, 2022, on the rooftop of Printemps Haussmann Femme. The ideal way to cool off on these hot summer days. [Read more]




Our favorite Japanese tearooms
Calling all Japanese tea and pastry fans, here are our favorite tearooms in Paris we tried and approved. Enjoy the best spots to enjoy a Japanese cup of tea made by the book or some tasty matcha cakes and mochis. [Read more]




The best tearooms to enjoy tasty pastries in Paris
A tearoom, for sure, but an indulging tearoom, please! Discover the best cafés and tearooms to enjoy delicious pastries and cakes in Paris, those not giving indulging creations a miss so one can pair their tea or coffee as they should. [Read more]




Printemps Haussman's Café Vert, the new lush and indulging coffee shop
Printemps Haussmann keeps unveiling novelties with this new lush café called Café Vert. You are expected every day from 10 a.m. to 8 p.m. to enjoy warm beverages served with sweet treats, or lunch with fresh and scrumptious dishes, or a pre-dinner drink with friends. [Read more]




La Quequetterie's cheeky ice creams and indulging milkshakes
How about enjoying some unusual iced pussy or very scrumptious milkshake? For sure, these are the most unusual ice creams in Paris, foodporn-worthy milkshakes and waffles covered in ice creams and toppings likely to be a delicious treat when temperatures are rising. [Read more]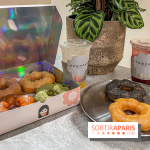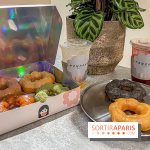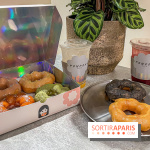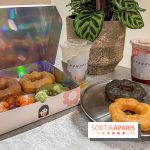 Guide to donuts and fried cakes in Paris
Do you crave donuts stuffed with chocolate or jam? Let us walk you through the best spots in Paris to have a blast! [Read more]




Japanese bakeries in Paris, our favorite locations
Feel like making your taste buds travel? We have found the best Japanese bakeries in Paris! [Read more]




The best tearooms in Paris
Are you looking for a great tearoom in Paris for a sweet break? Head to one of our favorite tearooms... It will tickle your taste buds and you will have a very delightful time in the French capital! [Read more]
Fairs and Shopping:




Stranger Things: a never-before-seen temporary pop-up store this summer on Paris Champs-Elysées, our pictures
This is the biggest series at the moment, a series fascinating worldwide: Stranger Things is on everyone's lips and screens! And from June 24, 2022, the series comes to the Champs-Elysées with a never-before-seen pop-up store! [Read more]




Shopping idea: Where to shop some good deals in Paris?
Looking for a good shopping deal in Pairs? We have brought together the best addresses where to get good deals! Thrift store, clearance store or outlet, low-cost fashion is that way! [Read more]




Outlet stores in Paris and around: guide to bargain places
There is nothing quite like outlet stores in Paris to enjoy bargains! In these factory outlets, find clothes by brands for a smaller cost all year around. Shall we go on a smart shopping spree? [Read more]




Rayon Noir, the tattoo parlor with modern and welcoming design in the 12th arrondissement
Behind an intriguing façade in Paris 12th arrondissement hides Rayon Noir, a new generation tattoo parlor welcoming several French and foreign artists in a modern and welcoming atmosphere. [Read more]




Summer sales 2022 in Paris: dates, tips and good deals!
Summer sales 2022 are coming! This year, they are set to take place from June 22 to July 19, 2022. This is the perfect occasion to go on a shopping spree and find heart-stopping pieces for a bargain. Here are all our tips and tricks and good deals to make the most of this fantastic sale period. [Read more]




Summer sales 2022 in Paris: shopping malls' exceptional opening hours
Summer sales are on from June 22 to July 19, 2022. On the occasion, shopping malls and department stores change their opening hours and offer animations for shoppers! [Read more]
Coming soon:




Firework shows on July 13 and 14, 2022, in Paris and Ile-de-France
Discover the most beautiful Bastille Day fireworks on July 13 and 14, 2022, in Paris and its region. This year, fabulous pyrotechnist shows are to be performed again along with entertainments such as concerts and the famous Bastille Day firemen's ball. Discover the program near you and the best spots to make the most of Bastille Day in Île-de-France. [Read more]




Avengers Campus at Disneyland Paris: opening date
There is something new about Avengers campus, the upcoming Marvel land in Disneyland Paris! The themed park dropped the opening date... Meet on July 20, 2022! Here is more on the matter! [Read more]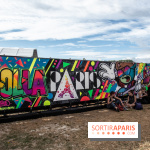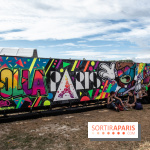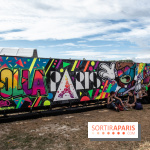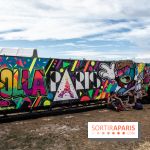 Lollapalooza Paris 2022: the complete lineup and schedule
Due to the current health context, festival Lollapalooza Paris has had to postpone their edition. The music festival expects you all for a new event held on Saturday July 16 and Sunday 17, 2022 at ParisLongchamp hippodrome to enjoy live shows by Imagine dragons, Pearl Jam, David Guetta, Måneskin, A$AP, Rocky, Fever 333, Anitta, Vald, Megan Thee Stallion and Phoebe Bridgers. Discover the show schedule and full lineup! [Read more]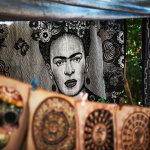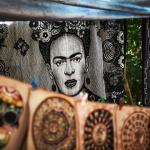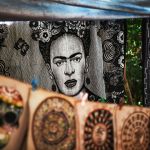 Frida Kahlo exhibit at the Palais Galliera: a retrospective showing pieces from the Casa Azul in Paris
Known as Paris fashion museum, the Palais Galliera devotes a promising exhibition to a major icon: Frida Kahlo. This retrospective – in partnership with the Museo Frida Kahlo – is to unveil over 200 pieces coming straight from the artist's childhood home, the Casa Azul in Mexico. Meet from September 15, 2022, to March 5, 2023. [Read more]




MMA: the UFC (Ultimate Fighting Championship) comes to Paris Accor Arena in September 2022
The UFC – or the American MMA league – is finally coming to France! The UFC and fighters come to Paris on September 3, 2022, for a night of fights at the Accor Arena. [Read more]
Stay up to date:




Coronavirus in Paris and Île-de-France as of Monday 4 July 2022
Discover the latest news regarding the Covid-19 pandemic spreading in Paris and Ile-de-France. As of Monday 4 July 2022, take a stock on the news in Paris and its surroundings, the latest reopening, and the evolution of the disease. The situation in Paris stagnates. Discover the latest announcements in the Paris area. [Read more]




Coronavirus in the world as of Monday 4 July 2022: latest case and death tolls in 24h per country
The whole world is facing an unprecedented health crisis caused by the Covid-19 pandemic. 548,040,710 coronavirus cases have been reported and over 6,311,348 people have died of Covid-19 worldwide. Discover the toll in countries and the evolution around the world as of Monday 4 July 2022. [Read more]