Published by Julie M. · Published on 8 August 2022 at 11h49
Sortiraparis has found the best free outing ideas or very affordable deals to enjoy this weekend, on August 12 to 15, 2022, in Paris and Île-de-France.
Many new affordable outings are available this weekend, from August 12 to 15, 2022. Sortiraparis gives you their selection of free or affordable outings to make the most of the weekend!
Sortiraparis gives you the best of good deals of the weekend, on Friday August 12, Saturday 13, Sunday 14 and Monday 15, 2022
Unmissable events of the weekend: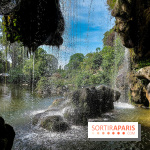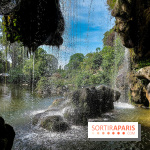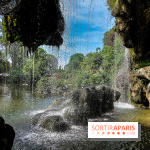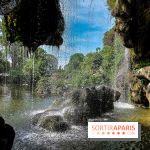 This Assumption weekend - August 12, 13, 14 and 15, 2022 - in Paris and Île-de-France
What can we do this Assumption weekend (Friday August 12, Saturday 13, Sunday 14 and Monday 15, 2022) in Paris and Ile-de-France? A great program with a gospel show, unusual tours, as well as exhibitions, walks, thrills, shopping and sport... You will have many ideas to enjoy this weekend, but please comply with health guidelines. Keep reading to find out what to do this weekend (August 12, 13, 14 and 15, 2022) in Paris and Île-de-France. [Read more]




Why is August 15th a public holiday in France? Origin and story of the Assumption
This Monday August 15, 2022 is the Assumption. Alongside other celebrations such as Christmas, the Ascension and All Saints' Day, the Assumption is celebrated by many Catholics every year. But do you know the story and origin behind this public holiday in France? Let us tell you more about it. [Read more]




What to do this Assumption weekend, August 13, 14 and 15, 2022, with children in Paris
What are we doing this Assumption weekend in Paris with children? These Saturday August 13, Sunday 14 and Monday 15, 2022, during the summer vacation. This weekend, of course, let us make the most of the entertainments held to delight children and adults. Here is how to enjoy your weekend in Paris. [Read more]




What to do this Saturday August 13, 2022, in Paris and Île-de-France
What do to this Saturday August 13, 2022? Sortiraparis comes along with you every day to tell you more about outings to enjoy on your own or with your family in Paris and Île-de-France. Keep reading to find out more about what to do on Saturday August 13, 2022. [Read more]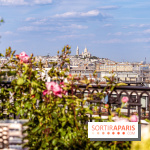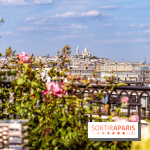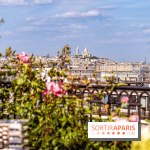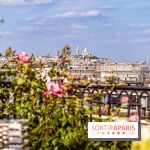 What to do this Sunday August 14, 2022, in Paris and Île-de-France
What do to this Sunday August 14, 2022? Sortiraparis comes along with you every day to tell you more about outings to enjoy on your own or with your family in Paris and Île-de-France. Keep reading to find out more about what to do on Sunday August 14, 2022. [Read more]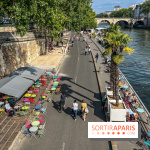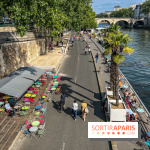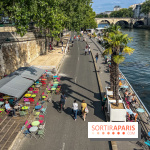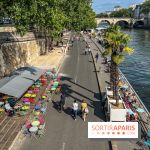 What to do on this Monday August 15, 2022, public holiday, in Paris?
What are we doing this Monday August 15 in Paris, on the Assumption? Between museums, open-air exhibitions, shopping spree, entertainments, tours and strolls or good deals, here are ideas to go out clever without ending up holding air. [Read more]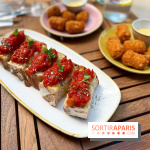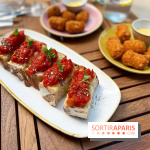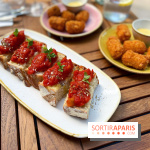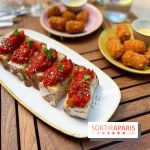 Restaurants open on August 15, 2022 in Paris: Great ideas
Calling all fans! We have found restaurants open this August 15, 2022, in Paris. Here are indulging ideas! [Read more]




What to do this Friday August 12, 2022, in Paris and Île-de-France
What do to this Friday August 12, 2022? Sortiraparis comes along with you every day to tell you more about outings to enjoy on your own or with your family in Paris and Île-de-France. Keep reading to find out more about what to do on Friday August 12, 2022. [Read more]




A free gospel show on August 15 at the Place de la Bastille
On August 15, 2022, the gospel Total Praise Mass Choir takes over the Place de la Bastille for a great open-air and free show. For the Assumption, the Paris Gospel Festival throws a Paris Summer Gospel. [Read more]




What to do this August 15, 2022, in Paris with kids?
If you happen to be in Paris on August 15, 2022, here are entertainments you can make the most of to entertain your children. Inside or outside, there is something for everyone! [Read more]
Strolls and walks of the weekend in Paris: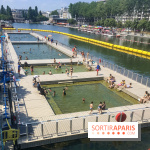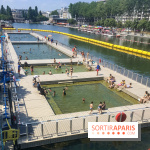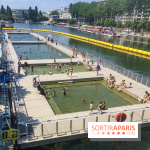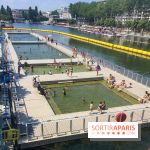 Swimming and Beach Areas in Paris and Ile-de-France this summer 2022
There are beaches and swimming areas in Paris and the region! That is why Sortiraparis has done the work for you, putting together this list of beaches along lakes, rivers, pools or any other body of water of water where you can cool off and relax in the sun this summer 20222. Paris can also be your next beach resort destination! [Read more]




Where to cool off this summer 2022 in Paris and Île-de-France?
Heatwave alert in Paris! It is hot in Paris, very hot, and in our own corner we looked the best spots to cool off in Paris. Movie theaters, swimming pools, beaches as well as bars and restaurants, we offer you the best of what Paris has to give in the summer. [Read more]




To best places to sunbathe in Paris!
It is sunny and warm, and there you are, ready to sunbathe. We saw you coming, and therefore we give you our favorite sports to sunbathe in Paris! [Read more]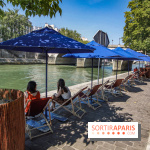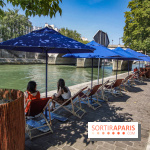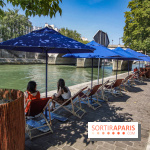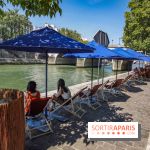 Paris-Plages 2022, dates and program
Paris-Plages is back this summer, from July 9 to August 21, 2022, by the Seine and at the Bassin de la Villette. Entertainments, deckchairs, swimming sessions and relaxation await for a great summer in Paris. [Read more]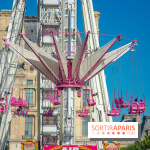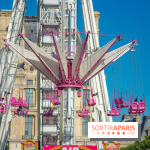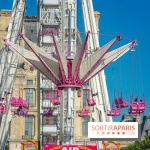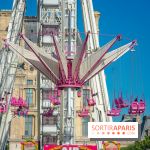 Tuileries funfair 2022, dates of the funfair in the heart of Paris
The Tuileries funfair, the famous human-sized family-friendly funfair in the heart of Paris within the Tuileries garden, is back from Saturday June 25, to Sunday August 28, 2022. Did you miss merry-go-rounds and donuts? This is time to treat yourself! [Read more]




10 free or cheap rooftops to get a breath of fresh air and the best views in Paris
A free (or almost) and fabulous rooftop? Whether you are looking for fresh air during a heatwave or simply looking for one of the most beautiful viewpoints to admire Paris without breaking the bank, here are 10 great ideas to have the best spots overlooking the city without ending up broke. [Read more]
Exhibitions of the weekend in Paris:




Unmissable exhibitions running in Paris and Île-de-France
Every month, museums and galleries in Paris and Île-de-France display always more exhibitions. To help you choose your next outing in this host of options, we have selected a few exhibitions you need to visit in June 2022. [Read more]




Free museums and monuments in Paris and Ile de France
Looking for a free museum in Paris? Musée des Beaux-Arts, Musée d'Art Moderne, Musée de l'Aviation, Musée des Arts Asiatiques, over 20 museums are free of charge, all year round, so, discover them! [Read more]




August 2022's free exhibitions in Paris and Île-de-France
In August, Paris is left out by Parisians, but cultural deals are still here! Here are free exhibitions to enjoy in August in Paris! Great outing ideas to enjoy without breaking the bank. [Read more]




2022's most awaited exhibitions in Paris
What exhibitions are waiting for us in Paris in 2022? After an uneven cultural year, we are looking forward to finding wonderful exhibitions in Paris and Île-de-France museums, and we are sure there will be many of them. Keep reading to know more about the dates of this year's exhibitions. [Read more]




Immersive exhibition inspired by the Lantern Festival at Paris Korean Culture Center - Our pictures
To celebrate the Taste Korea festival, the Centre culturel coréen – or Korean Culture Center – nestled in Paris 8th arrondissement concocts an exclusive immersive and free exhibition inspired by the famous lantern festival. Meet from June 30 to September 9, 2022, to enjoy this fabulous journey! [Read more]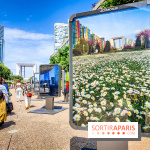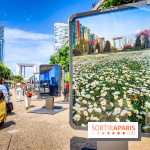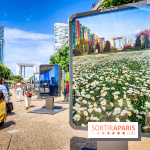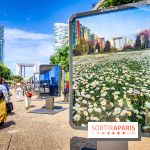 Les Extatiques 2022, the free open-air exhibition at La Défense and La Seine Musicale, our pictures
Les Extatiques, the monumental open-air exhibition at La Défense is back from June 22, to October 2, 2022, for the 5th edition. This year again, enjoy wonderful installations set between La Défense and the gardens of La Seine Musicale. [Read more]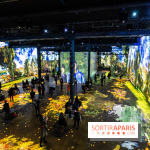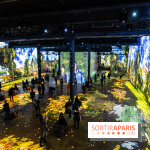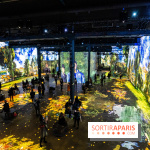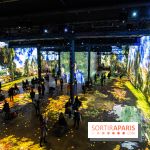 Cézanne at the Atelier des Lumières: the unmissable exhibition to enjoy now - our pictures
A door to Provence in the middle of Paris: from February 18, 2022 to January 1, 2023, the Atelier des Lumières takes us on an unusual journey through the "Cézanne, the Lights of Provence" exhibition. [Read more]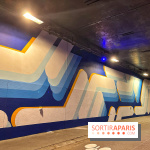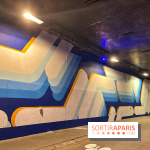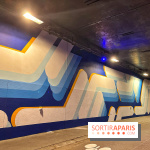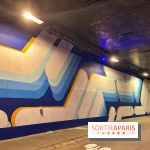 Street-art to soon cover the Paris Tunnel des Tuileries
The Tunnel des Tuileries goes very colorful! For two weeks, a dozen artists cover the Parisian tunnel reserved to soft mobilities in colorful murals to see until July 2023. [Read more]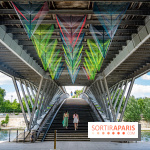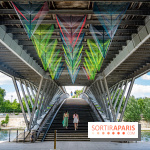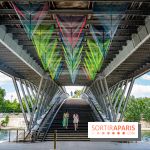 Sens dessus dessous: when art takes over Paris bridges on the Seine riverbanks
In the summer, the Seine riverbanks are a great place for Parisians and tourists to take a walk. From June 23 to September 23, 2022, these riverbanks are even more appealing thanks to installations by five artists. The "Sens dessus dessous" route is to be discovered now and free of charge! [Read more]




From La Hune with love, Melody Gardot's (free) photo exhibition
Melody Gardot expresses her talent through music and photography just as well. The American jazz singer displays her photographs at the La Hune gallery. A free exhibition called "From la Hune with love", running from May 24 to September 30, 2022. [Read more]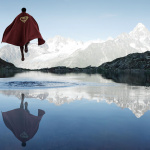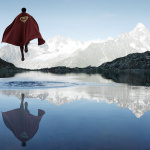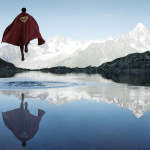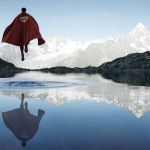 Pop Icons, the open-air photo exhibition at Bercy Village
And what if characters from the Star Wars saga were to strike a pose in front of the Eiffel Tower? Artist Benoît Lapray shows us more about his surprising universe mixing two worlds, through a free photo exhibition running at Bercy Village. From May 19 to September 18, 2022, come and admire Pop Icons. [Read more]
Concerts and shows of the weekend:




Paris Jazz Festival 2022 at the Parc Floral: lineup of the free nighttime shows
Paris Jazz Festival is back to the Parc Floral from June 29, to September 7, 2022, always featuring so many musical talents to discover in a bucolic setting. Here is the lineup of the free nighttime shows! [Read more]




Classique au Vert festival 2022: program of the free concerts in Paris Parc Floral
The Classique au Vert festival returns from June 29 to September 7, 2022, in the heart of Paris Parc Floral. Classique au Vert invites music lovers and neophytes to enjoy good tempo and great weather with famous and rising artists. [Read more]
[midroll]
Shopping in Paris this weekend:




Dior Paris 30 Montaigne, store – museum, café and restaurant, opens
The iconic Dior location set 30 Avenue Montaigne reopens and unveils a new face. Renovated and redesigned, here is a place likely to delight all fashion addicts, as well as foodies looking for an indulging café or sophisticated restaurant. [Read more]




Chercheminippes, the second-hand institution in Paris: shopping and home bargain
Chercheminippes is one of the oldest second-hand concepts you can find in Paris. With five stores along the rue du cherche-midi, you can find pieces from great brands, as well as furniture and decoration for a lesser cost. And you can even enjoy a give away your clothes to give them a new lease of life! [Read more]




Champs-Elysées Galeries Lafayette celebrate French creation with the French Touch operation
Sponsored - This summer, from July 5 to August 31, the Champs-Elysées department store shines a light on a selection of iconic or emerging French labels. From Lancel to "Fabriqué à Paris" labellized goods, Galeries Lafayette switches to blue, white, red. [Read more]
Having a drink or a bite in Paris this weekend:




Restaurants open in August 2022 in Paris: great ideas
Do you happen to be in Paris in August 2022? Be happy! This is the occasion to roam around the streets in peace and enjoy a quality restaurant. For yes, several eateries in Paris have decided to stay open all summer and we are very delighted! Here are Paris restaurants open in August! [Read more]




Where to eat for under €15 in Paris? Affordable restaurants to enjoy
It is possible to eat well and cheap in Paris! And to prove it, we have selected some of our favorite restaurants where you can eat for under €15. [Read more]




The best Italian restaurants in Paris, our heart-stopping selection!
Do you enjoy Italian cuisine? Then, grab your notebook: We tell you everything about the best Italian restaurants in Paris! [Read more]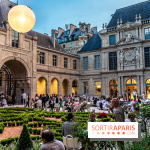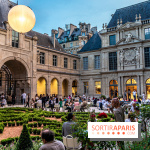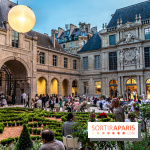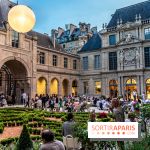 Fabula, Thibaut Spiwack's ephemeral restaurant at Paris Musée Carnavalet
Fabula, here is the name of Top Chef France contestant Thibaut Spiwack's ephemeral restaurant settling from May 6, 2022 to October within the Musée Carnavalet. [Read more]




Restaurant and café terraces hidden in gardens that we love
With the warmer weather, we want to go to the countryside and unearth great cafés and lush restaurants a tad confidential. Between museum terrace or sunny terrace nestled in a fabulous park or garden, here is our selection of great deals to relax and enjoy the sun. [Read more]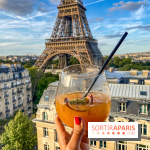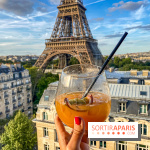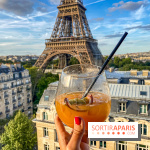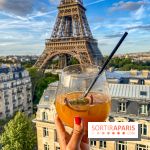 The most beautiful rooftop terraces in Paris this spring-summer 2022
In Paris, rooftops are now a must. These spots set high allow you to sip a good drink or enjoy tasty dishes while enjoying a view on the roofs of the French capital! As sunny days are back, here are the best places to enjoy this spring-summer 2022! [Read more]




August's best terraces in Paris
Are you looking for a terrace to soak vitamin D up? Let us browse the terraces in Paris open in August 2022. To have a bite or a drink, there are always great places in Paris. [Read more]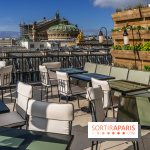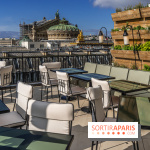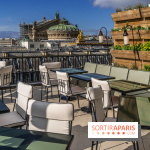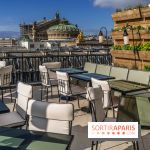 Most Beautiful Terraces in Paris this spring-summer 2022
Looking for a gorgeous terrace to make the most of the sun? This is time to go and discover the most beautiful terraces and good deals in the city. Green, with fantastic views, or secret, here are the guide to the best terraces in Paris! [Read more]




Terraces by the Seine in Paris this spring-summer 2022
In Paris, barges, open air cafés and terraces take over the Seine riverbanks as soon as sunny days are here. Let us find you the perfect spot for a drink by the water, and make the most of the spring-summer 2022, shall we? [Read more]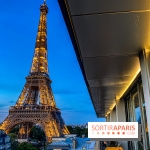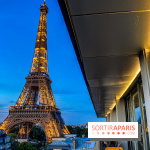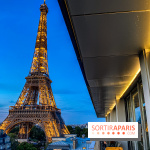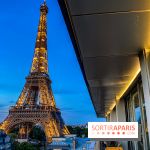 10ème Ciel, the temporary tapas and rooftop bar across the Eiffel Tower is back
How about getting on a one-on-one date with the Eiffel Tower? 10ème Ciel, here is the name of the temporary tapas bar, provided from July 9 to August 21, 2022, by the Pullman Tour Eiffel. [Read more]
Sports and wellness:




The most beautiful outdoor swimming pools in Paris and Île-de-France
Is there something more pleasant than bathing in the open air and bask in the sun when it is out? Sortiraparis gives you the list of outdoor swimming pools open in Paris and its Île-de-France. Here is a good way to relax and have fun outside and soak in vitamin D thanks to the sun. [Read more]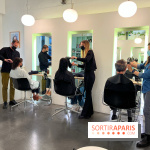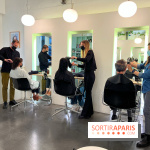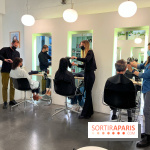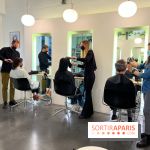 The best hair salons in Paris
Feel like getting a new hairdo? Mad at your usual hairdresser? Do not panic, we have got you covered with hair salons to meet your needs and when you will leave them, you will not be disappointed. [Read more]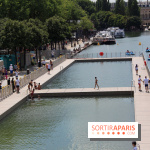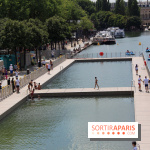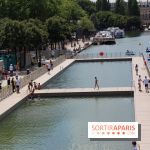 Paris Plages 2022: free open-air swimming pools at the Bassin de la Villette
It is official, the Bassin de la Villette is back for Paris Plages 2022, from July 9 to August 21! We will enjoy summer with 2 pools and 2 paddling pools of different depths set within the Bassin de la Villette by the Quai de la Loire. Swim to relax or to work out, in a summery atmosphere, and for free from 11 a.m. to 8:30 p.m. for free. [Read more]




France 2023 Rugby Tour: here is the program
From July 22 to November 12, 2022, the nine host cities of the Rugby World Cup 2023 open Rugby Villages to celebrate the event. On the menu: meet athletes, members of the Interior Ministry and from the Overseas Territories Ministry, enjoy tournaments and entertainments. [Read more]
Good deals coming up:




Fusion Concept Festival, the (mostly) free hip-hop festival returns in 2022
Fusion Concept is THE international hip hop dance festival you do not want to miss. The French capital will dance with the world's best hip hop dancers from August 25 to 28, 2022! [Read more]




Ganesh Chaturthi 2022 in Paris
Ganesh Chaturthi, the elephant-headed deity – Ganesha, celebrated every year in Paris 18th arrondissement is back on August 28, 2022. On the menu: religious celebrations and very colorful parade. [Read more]