Published by La rédaction · Photos by Rizhlaine F. · Published on 1 October 2022 at 09h46
How about a bistronomic restaurant in Paris? Here are the best tables to enjoy a flavorful, inventive and homemade cuisine.
Feel like going to a bistronomic restaurant in Paris? What a good idea! It is perfect to treat your taste buds with homemade dishes based on tasty ingredients and concocted with a nice touch of creativity and a good quality-price ratio. So, foodies, we have brought you the best tables for some fabulous bistronomic cuisine!




Seasonal Fusion Bistronomy at TO Paris 10th arrondissement restaurant
Sponsored - Within walking distance from the Canal Saint Martin in Paris 10th arrondissement, TO restaurant provides a bistronomic journey through a Fall fusion menu mixing French and Japanese cuisines. Enjoy a 6 or 8-course OKAMASE tasting menu. [Read more]




Mozami, our test of the chic and modern canteen at Novotel Paris Belleville
Calling all foodies and gourmands! Mozami – Novotel Paris Belleville's chic canteen – invites you to discover now the great bistronomic menu for an indulgent moment in the heart of the 20th arrondissement. Beef tataki and chimichurri, ham elbowed pasta dish, salads… it has it all to satisfy curious people's palates! We gave it a go and here is what we thought! [Read more]




Le Petit Rétro – Irwin Durand and Guy Savoy's latest restaurant in Paris 16th arrondissement
For gorgeous bistronomic cuisine sticking to French tradition, head to Le Petit Rétro, a restaurant in the 16th arrondissement which menu was created by Chiberta chef Irwin Durand, under the leadership of chef Guy Savoy. All foodies and gourmands unite! [Read more]




Momen, friendly bistronomy on Grands Boulevards
Grands Boulevards' latest bistronomic table, Momen, provides you with fresh and seasonal cuisine created by two friends, Louis Amen and Romain Moreau. [Read more]




Omar Dhiab, new gourmet and vegetable table by chef Omar Dhiab
Trained in the greatest Michelin-starred restaurants, chef Omar Dhiab opens his own this Fall. On the menu, vegetable-based cuisine bathed in his childhood memories. [Read more]




Géosmine, Maxime Bouttier's first raw and lively restaurant
Young chef Maxime Bouttier opens his first restaurant in Paris this Fall, and it is already very promising. [Read more]




P'tit Deux, Tiphaine Mollard and Romain Casas' new bodega
Just across their first restaurant, Tiphaine Mollard and Romain Casas open this Fall "P'tit Deux", a bodega serving tapas and French wines. [Read more]




Arboré, top chef Pauline Séné's latest restaurant at the Royal Madeleine Hotel & Spa
Let us meet from mid-September to discover Arboré, Pauline Séné's new bistronomic restaurant at the Royal Madeleine Hotel & Spa! [Read more]




Bonhomme, local bistronomy, friendly table and childhood memories
Three friends, two affordable menus, an inspired chef, this is Bonhomme's winning combo, a new bistronomic eatery in the Poissonnière area. [Read more]




Le Galopin, intuitive and clear gastronomy by Julien Simonnet
Bistronomy at lunch, gastronomy at dinner, Le Galopin has more than one trick up its sleeve. With its Japanese influences, brilliantly infused in honest dishes, chef Julien Simonnet is very moving. [Read more]




Grand Duc, the vintage bistronomic restaurant and cocktail bar at the Carreau du Temple
More than an average bistronomic restaurant, Grand Duc is a multi-faceted venue covering three stories, enjoying a cocktail bar, a wine bar and a sushi counter. A lot of surprises can be expected! [Read more]




Ramdam, incredible fuss-free bistronomy
The new Ramdam restaurant makes a big hooha in the Barbès area by serving bistronomic dishes to share (or not!). [Read more]




Dante, Rebecca Beaufour's elegant first restaurant
Trained by the greatest, chef Rebecca Beaufour opens her first restaurant in Paris, Dante, shining a light on tasty products and sharing. [Read more]




Les Fous de l'Île: the Île Saint-Louis institution's renewal
Nestled on the Île Saint-Louis, Les Fous de l'Île enjoys a new lease of life with a new chef at the helm of the kitchen: Jonathan Lafon. [Read more]




Seveste – Montmartre's Théâtre de l'Atelier terrace-restaurant
Seveste is the name of the terrace-restaurant taking over the square of the Théâtre de l'Atelier. Set in Montmartre, within walking distance from the Sacred heart, discover siblings Alexis and Josselin Flocon's lovely bistro cuisine. [Read more]




TiTi Palacio, La Félicité's huge festive bar-restaurant is up
TiTi Palacio is a huge 500sqm bar-restaurant recently opened within hotel-inn The People Paris Marais, itself set in the latest eco-district of La Félicité Paris Sully-Morland. [Read more]




Le Mouffetard, the perfect restaurant for tapas or a brunch in the Latin Quarter
Sponsored - In the heart of the Latin Quarter, Le Mouffetard is known as one of the oldest buildings in the street. This summer, the restaurant set up tapas, available daily from 4 p.m. to 11 p.m., to shine a light on exceptional cuisine for a pre-dinner drink; and at weekends and on public holidays, from 10 a.m. to 5 p.m., enjoy a brunch with seasonal products thoroughly selected by the chef. [Read more]




Ilô, the latest bistronomic French-Japanese fusion restaurant
Ilô, here is the name of the delicious bistronomic French-Japanese fusion restaurant that opened in Paris 4th arrondissement, within walking distance from the Place de la Bastille. Great, delicate and sophisticated cuisine with Japanese twists to arouse our taste buds, we love it. [Read more]




Shiro restaurant, elegant French and Japanese bistronomy
Sponsored - Set in the Saint-Germain des Prés area in Paris 6th arrondissement, SHIRO gourmet restaurant provides a chic and wide setting serving French-Japanese cuisine by chef USHIRO. [Read more]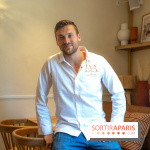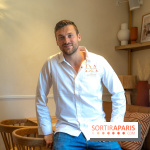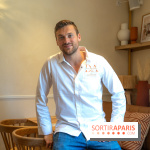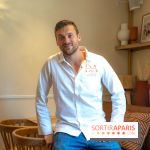 Dame Augustine, Top Chef France 2022 Lilian Douchet's affordable and delicious restaurant
Lilian Douchet – who competed in Top Chef France 2022 – recently inaugurated his new restaurant in Paris, called Dame Augustine. We went and discovered this charming restaurant. Divine cocktails, great dishes that are affordable, indulging and fuss-free. [Read more]