Published by La rédaction · Photos by My B. · Published on 24 May 2022 at 15h48
If you suddenly crave Asian food, we tell you everything about our favorite addresses in Paris. Chinese, Japanese, Korean and more, our favorite restaurants are only expecting you.
We must say that when it comes to food, Asia is filled with culinary gems. So, if you are looking for a nice Asian restaurant in Paris, here is a selection likely to make you happy. We give you all the secrets to our favorite addresses to enjoy and dream of Asian food.
Chinese restaurants




The best Chinese restaurants in Paris
Here is to all Chinese food lovers, we take you along to discover the best Chinese restaurants in Paris! Whether they provide traditional dishes or revisited flavors, here are all the good tables! [Read more]




Yi One, the Chinese restaurant serving delicious pancakes, noodles and baozis
Yi One, here is the name of the latest Chinese restaurant that opened on the Left Bank, a stone's throw from the Jardin du Luxembourg. A great spot serving delicious Jianbing pancakes, soups, noodles and dumplings, as well as warm steamed baozis. [Read more]




LiLi, Hotel Peninsula's Cantonese restaurant
Cantonese LiLi restaurant pays tribute to the Asian heritage of the Peninsula hotels with dim sum, and Cantonese dishes based on seafood. The place to be to taste the best of Chinese cuisine in a splendid setting. LiLi, Hotel Peninsula's Cantonese restaurant [Read more]




Baobar, the latest bao counter in the Marais
Baobar, this is the name of the latest restaurant by the MAHUMAHU team, a Gua Bao bar also serving more Taiwanese specialties in the Marais, likely to make you fall in love with it. Have a seat at the counter and enjoy tapas-like dishes to share, packed with flavors. [Read more]




Bleu Bao, Bao family's latest restaurant
The Bao family has a new baby! Called Bleu Bao, this new restaurant – still inspired by Chinese cuisine – is to open in February 2022 in Paris 9th arrondissement! [Read more]




Tse Yang, high quality Chinese gourmet restaurant
To enjoy a gourmet journey to China without even leaving Paris, run to Tse Yang in Paris 16th arrondissement. On the menu, high-quality Chinese cuisine between tradition and modernity. [Read more]




Only starred Chinese restaurnat Shang Palace is open!
Only Chinese Michelin-starred restaurant in France, Shang Palace reopens this fall 2021. It is time to (re)discover Chef Samuel Lee's wonderful cooking. [Read more]




Délices Lepic, the exquisite Chinese canteen in Montmartre
Délices Lepic, this is the name of the Chinese restaurant giving pride of place to fresh noodles made by hand and before your eyes. Between noodle soups, fried noodles, dumplings, and other typical Chinese dishes, you will find something to nibble on! [Read more]




La Cantine Chinoise, the exquisite Chinese restaurant in Belleville
You may have walked by it without noticing it. And yet for over 20 years, La Cantine Chinoise has been delighting Belleville neighborhood locals. We recommend you go and discover Wenzhou's specialties. Dumplings, eggrolls, tempuras, woks, kaifans, tanmians… So good! [Read more]




Steam Bar, the fantastic dim sum and steamed food restaurant
Let us run to rue du Sabot to discover Steam Bar, a hidden restaurant devoted to steamed food and Dim Sum. How about diving into a universe between Hong Kong, Tokyo and Paris? [Read more]
Japanese restaurants




The best Izakaya in Paris, the greatest Japanese tapas bars to discover
Are you fond of izakaya? You know, these Japanese bars where you can meet over tasty dishes served with sake or beer. Discover our favorite ones in Paris for a delightful break with friends or your date. [Read more]




Kibo No Ki, the Japanese ramen and pokebowl restaurant offering you to try on kimonos
Kibo No Ki is the tasty Japanese restaurant set within walking distance from the Madeleine, in Paris 9th arrondissement, serving delicious ramen and pokebowls, and offering you to try kimonos on at the end of the meal. To have a great meal and a good time, here is a place that has it all. [Read more]




Yakuza, Maison Albar Hôtels – Le Vendôme's Japanese restaurant and its express lunch menu
Japanese food fans, you want to discover Yakuza Paris, aka Maison Albar Hôtels – Le Vendôme restaurant, giving pride of place to Japanese gastronomy with a Mediterranean twist. If you are in a rush, a lunch menu is available for €45 and served in 45 minutes! [Read more]




The best Japanese restaurants in Paris: our favorite places
In the mood for a Japanese restaurant in Paris? From sushis to ramens via bentos and tapas, we tell you everything about our favorite adresses to enjoy Japanese dishes! [Read more]




Acte II (former Au_Top): the hidden rooftop in Paris serving Japanese food
Acte II (formerly known as Au_Top) is a mouthwatering rooftop hidding in the heart of Paris with a surprising 360° view. In this restaurant managed by Jean Philippe de la Perle, discover views on Paris rooftops while enjoying dishes cooked by Masahide Ikuta, serving Japanese gastronomy up in the air. [Read more]




Kokuban: the restaurant shining a light on the Japanese gastronomy's richness in Paris
Otsumami, ramen, noodles and Japanese specialty fans, head to Kokuban! Already set in Paris 9th and 8th arrondissements, this delicious brand aims at making you to travel to the Country of the Rising Sun, thanks to the Japanese flavors we love. Let us walk you through! [Read more]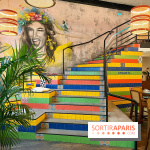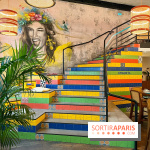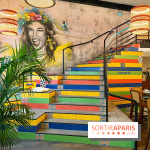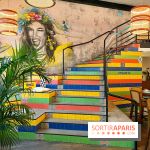 Uma Nota, Japanese-Brazilian food, exotic cocktails and wild parties
Here is a fantastic mix! Uma Nota shines a light on Japanese-Brazilian food in a colorful setting also the very theater to wild parties several nights a week. [Read more]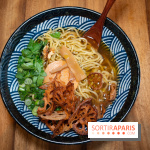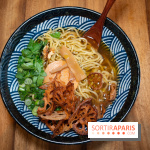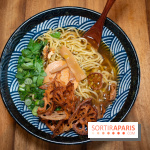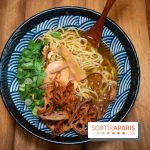 Neko Ramen Green, the traditional Japanese and vegan ramen restaurant
Neko Ramen, Japanese ramen restaurant, now has a younger and vegan sibling, Neko Ramen Green. This new Japanese and vegan canteen recently settled in Paris 10th arrondissement rue de Paradis. And it still displays a very Japanese decoration. [Read more]




SUPERBAO, the latest Japanese restaurant
Sponsored - Come and discover Japanese specialties at the SUPERBAO restaurant. Food is homemade cooked the very morning by chef Bao. You can enjoy Bao burgers with special dips, as well as bentos, a traditional Japanese full meal that is fresh, healthy and balanced, served on a tray. [Read more]




TÔ Restaurant, for a bistronomic French-Japanese experience in Paris
Sponsored - The Tô restaurant is a French restaurant with Japanese influences set a stone's throw from the Canal Saint-Martin in Paris, carrying you to chef Ryo Miyazaki's bistronomic fusion cuisine. [Read more]
Korean restaurants




The best Korean restaurants in Paris
If you happen to be dreaming of some delicious bibimbap or Korean barbecue to warm you up before the winter, we have got you covered with our favorite and best Korean restaurants in Paris. [Read more]




BigBang, master Korean barbecue restaurant in Paris
Sponsored - Bigbang restaurant offers you to travel to Korea thanks to genuine Korean cuisine. Bibimbap, bulgogi, and Korean barbecue await in two friendly eateries! [Read more]




Seoul Mama, Manoj Sharma and Sangmi Lee's latest Korean canteen at the Luxembourg garden
Chef Manoj Sharma and his wife Sangmi Lee just opened their second Seoul Mama in Paris, a stone's throw from the Luxembourg garden. On the menu, cheeky street-food, Korean-style cocktails, and delightful dishes, the perfect connection between France and Korea. [Read more]




Perception – Korean chef Sukwon Yong's first restaurant
Chef Sukwon Yong opens his first restaurant in Paris – Perception – shining a light on French gastronomy mixed with Korean hints. [Read more]




Soon Grill Champs-Elysées, the temple of Korean food
This year, Soon Grill opened a second restaurant, Soon Grill Champs-Elysées. A new temple of high traditional Korean gastronomy. [Read more]
Vietnamese restaurants




Beng Beng, the latest street food eatery serving Bánh xèo and rolls
Beng Beng, so is the name of this new restaurant, street food canteen that settled at 23 rue Louis Blanc in Paris 20th arrondissement. On the menu, 3 sorts of pancakes and rolls from different places: Bánh xèo from Vietnam, Roti Canai from India/Malaysia, and the Jian bing from China are available so you can discover them on site or takeout! [Read more]




James Bun Oberkampf, the Viet canteen
Vietnamese street food specialist in Paris James Bun opens a new spot on rue d'Oberkampf in Paris 11th arrondissement. Lovers of exotic food, this is for you. Go and enjoy some banh mi, bo bun and phô. [Read more]
Thai restaurants




MOOM MAM, the chic Thai restaurant in Paris 9th arrondissement
Sponsored - The Moom Mam is a fantastic Thai restaurant in Paris mixing chic setting and gourmet Thai cuisine in the department store area, a stone's throw from the Théâtre Mogador in the 9th arrondissement. [Read more]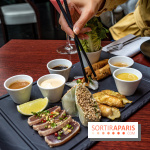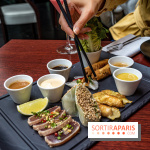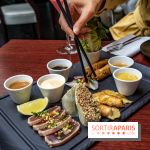 Bon Paris 16e, the restaurant with many rooms
Go and discover Bon, the restaurant set in Paris 16th arrondissement providing many bright rooms designed by Starck and serving divine Asian dishes. [Read more]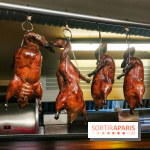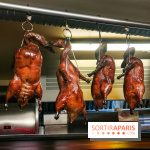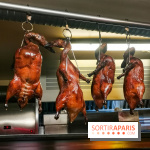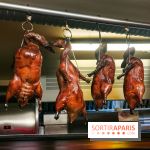 Street BKK Roast & Beer Pigalle, the latest Street Bangkok restaurant
Calling all Asian street food and meat lovers! We have found your brand-new canteen: Street BKK Roast & Beer serving Asian-style roasted meats – including some exquisite Peking duck. The restaurant recently opened by Pigalle. The menu is available for delivery and takeout while we wait for the terrace to open. [Read more]




5 Baht, the first restaurant devoted to Thai noodles said to open soon in Paris
Here's to Asian flavor lovers! Paris 4th arrondissement is about to welcome a newcomer in September, 5 Baht, the first restaurant entirely devoted to Thai noodles! [Read more]




Bambou: New Thai restaurant in Paris
It's a magnificent and delicious travel that Bambou offers us to experience. Through this new Thai restaurant, Thomas Delafon and Jean-Pierre Lopes, the two masterminds behind the project, take us to Asia, on the visual level and on the culinary level! [Read more]
With this guide, you are sure to experience great culinary journeys in Paris.