Published by Manon C., My B. · Photos by My B. · Published on 30 June 2022 at 19h41
Keep reading to be sure to land right if you dream to enjoy tasty French dishes on a terrace!
As soon as the warmer weather is back, foodies flock the streets to Italian restaurants and devor some tasty pizzas, while others are heading for fresh sushis… And there are those who run to restaurant and enjoy major French cuisine classics!
Are you one of them? Then, discover fantastic French restaurants to enjoy on their terraces now! Flank steak, veal's kidneys, pâté en croute, leeks and vinaigrette, for small or bigger budgets, there is something for everyone!
French restaurants to enjoy outside in Paris:




Seveste – Montmartre's Théâtre de l'Atelier terrace-restaurant
Seveste is the name of the terrace-restaurant taking over the square of the Théâtre de l'Atelier. Set in Montmartre, within walking distance from the Sacred heart, discover siblings Alexis and Josselin Flocon's lovely bistro cuisine. [Read more]




Grilled food and champagne on the terrace of the Trianon Palace Versailles
Summer is coming to the terrace of the Trianon Palace Versailles! On the menu, grilled food and champagne for foodies! [Read more]




Buckwheat, Hôtel Normandy Le Chantier's newest creperie
Calling all crepe lovers! Head to Buckwheat, a restaurant set within Hôtel Normandy Le Chantier, serving a delicious menu inspired by the western French coast! Wheat or buckwheat pancakes… make your choice! [Read more]




The renewal of Maison Fournaise, Chatou's Ile des Impressionnistes restaurant
Maison Fournaise – the guinguette that inspired Renoir's "Luncheon on the Boating Party" – rises again with a new décor, a new chef and a new menu. Treat yourselves to a bucolic break by the water. [Read more]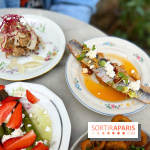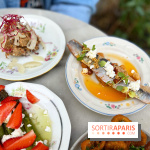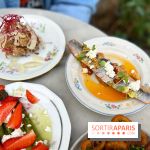 Bichettes, small friendly canteen serving old-fashioned recipes
At Bichettes, on the terrace, let us share old-fashioned recipes with guests, based on local and seasonal ingredients in a very friendly atmosphere. Simple comfort food! [Read more]




The Rôtisserie d'Argent reopens its terrace on Quai de la Tournelle
For the third time, the Rôtisserie d'Argent unveils its summer terrace on Quai de la Tournelle! Enjoy great Parisian classics that made the fame of the House, on white and red checkered tablecloths. [Read more]




Chez Fred: bistro and local cuisine in Western Paris
Genuine institution in the Ternes area in Paris, Chez Fred unveils a brand-new and indulging face thanks to the arrival of chef Benjamin Lavenne behind the stoves. Between major French cuisine classics, served in a vintage fashion, and Lyon specialties, Chez Fred is a reference in Western Paris. Come and enjoy! [Read more]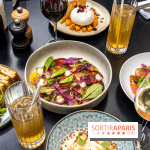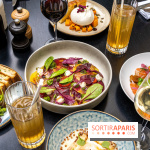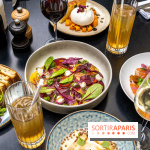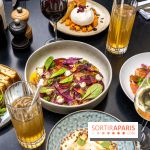 Le Camondo, divine and sustainable cuisine and lush terrace by Parc Monceau
Le Camondo is the restaurant set next to the Musée Nissim de Camondo, ideally located outside Parc Monceau in Paris 8th arrondissement, and is a genuine gem to discover. Between the gorgeous historic spaces, the lush terrace, and fresh cuisine orchestrated by chef Fanny Herpin, here is an indulging break we highly recommend. [Read more]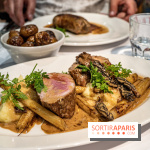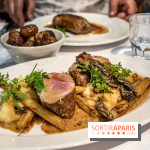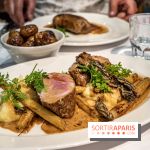 Le Petit Comte, the mouthwatering bistro in Boulogne
Head to Boulogne, just outside Paris, to discover Le Petit Comte, this very French bistro named after the Comte de Gascogne. This place has it all in terms of yummy, laid-back and simple food. [Read more]




Au Pied de Cochon, cheeky cuisine in the Halles area by day and by night
By day and by night, brasserie Au Pied de Cochon delights Parisian and tourists with traditional, very hearty French cuisine. An iconic venue to visit at least once in your life. [Read more]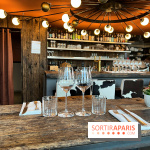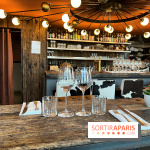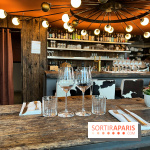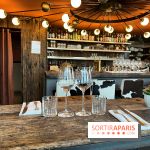 Mordu, biting bistronomy and natural wine at Marché Saint-Germain
Under the arches of Marché Saint-Germain, the Mordu restaurant unveils delicate and honest market's bistronomy gladly paired with a glass of natural wine. [Read more]




Mon Square, our test of Quentin de Fleuriau's first restaurant in Paris 7th arrondissement
Feel like discovering tasty seasonal and ultra-flavorful French cuisine in a chic setting? Head to Mon Square, a restaurant set in the 7th arrondissement of Paris providing you with a unique culinary journey, in a chic setting and terrace. We put it to the test, and here are our thoughts! [Read more]




Le Bon, la Butte: Friendly local bistro in Montmartre
Genuine local bistro, the Le Bon, La Butte invites to indulging feasts with friends over delightful dishes, organic wines and lovely vibe. [Read more]




Diggity, friendly and witty local canteen
Comforting bistro cuisine and a friends' business, that was all it took for us to appreciate Diggity. Oh! The beef stew fritters were incredible, touché! [Read more]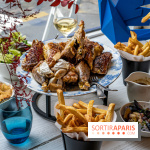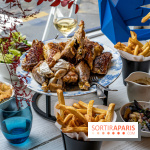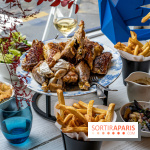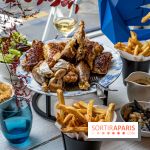 Coq & Fils restaurant serves wonderful poultries
Iconic Montmartre restaurant Le Coq Rico changes its name and is now Coq & Fils. On the menu, a new menu providing bred poultries cooked by three-time Michelin-starred chef Antoine Westermann. [Read more]
Bon appétit!