Published by La rédaction · Photos by My B. · Published on 1 July 2022 at 08h25
Fancying a fantastic gourmet restaurant in Paris? Here are the latest and greatest places to discover if you want to treat yourself.
How about treating ourselves to a gourmet restaurant in Paris? To make sure you hit the nail right on the head and be sure to enjoy gustatory discoveries, here are the greatest places in Paris and around. From the latest spot that is the talk of Paris to the hidden gem, here are our latest discoveries to delight your demanding taste buds. Whether you are looking for a great place for a date, a special event or simply because you love good food, let us help you.




Cléo, Bruno Aubin's lively and affordable restaurant at Le Narcisse Blanc
Come along and discover Cléo, Chef Bruno Aubin's exquisite restaurant at Le Narcisse Blanc serving lively, gourmet and affordable cuisine. [Read more]




Café Mulot, Maison de Victor Hugo's hidden restaurant
Sponsored - How about taking a walk in the Marais? Have a break at Café Multo, the French café-restaurant nestled in the heart of the iconic Place des Vosges! This place is perfect to quench your thirst, have lunch or enjoy homemade pastry, far from the Parisian hustle and bustle and the summer heat. [Read more]




Ernest, the solidarity-driven restaurant financing food aid!
The Ernest charity opened a solidarity-driven restaurant to finance their actions. Set within walking distance from the Porte de Bagnolet, in the 2,000sqm of garden of a new third place called "Le Sample", this restaurant works with residing chefs and is thought as a place of meeting and sharing relying on the charity's values. Come and enjoy their terrace! [Read more]




Chiberta, Guy Savoy's starred restaurant within walking distance from the Champs-Elysées and the Arc de Triomphe
Chiberta is Guy Savoy's excellent starred gourmet restaurant expecting us within walking distance from the Arc de Triomphe and the Champs-Elysées. Here, enjoy updated French cuisine thanks to executive chef Irwin Durand and his team's talent. A great moment of sharing. [Read more]




Shiro restaurant, elegant French and Japanese bistronomy
Sponsored - Set in the Saint-Germain des Prés area in Paris 6th arrondissement, SHIRO gourmet restaurant provides a chic and wide setting serving French-Japanese cuisine by chef USHIRO. [Read more]




Passionné, the latest high-quality gourmet restaurant
French gourmet restaurant Passionné recently opened in Paris 9th arrondissement, within walking distance from Grands Boulevards. At the stove, Japanese chef Satoshi Horiuchi delivers high-quality cuisine. [Read more]




Passionné: the latest gourmet restaurant rocking Paris 9th arrondissement
Sponsored - Managed by talented Japanese chef Satoshi Horiuchi, this brand-new gourmet restaurant in Paris brilliantly and modernly revisits French gastronomy whilst complying with small producers and seasons. [Read more]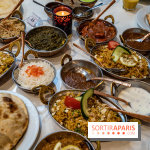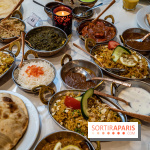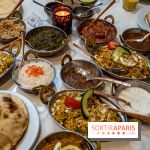 Diwali restaurant for a genuine gustatory journey to India
Sponsored - If you happen to be looking for a genuine gustatory journey in Île-de-France, Diwali's traditional Indian cuisine in Rueil-Malmaison is a go-to! [Read more]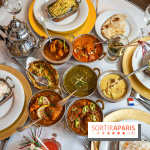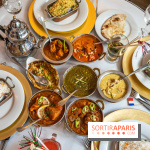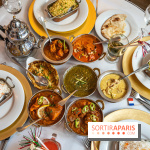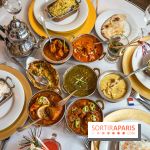 Jaipur Café's all-you-can-eat indulging and original brunch
Sponsored - Craving some tasty and unlimited Indian brunch? We have got you covered with Jaipur Café in Paris 10th arrondissement, set a stone's throw from the Faubourg Poissonnière. On Saturdays and Sundays, enjoy a brunch as tasty as affordable. [Read more]




Tamara, Clément Vergeat's delicate and genius gourmet table
Two years later, here we are, back at Tamara aka Clément Vergeat's delicate and inventive table. A gourmet peregrination that went straight to our hearts. [Read more]




Yakuza, Maison Albar Hôtels – Le Vendôme's Japanese restaurant and its express lunch menu
Japanese food fans, you want to discover Yakuza Paris, aka Maison Albar Hôtels – Le Vendôme restaurant, giving pride of place to Japanese gastronomy with a Mediterranean twist. If you are in a rush, a lunch menu is available for €45 and served in 45 minutes! [Read more]




Orgueil, small enlightened dishes to share and well-hidden gastronomy
On one hand, a bistro serving dishes to share; on the other hand, a bistronomic table across the stove; Orgueil is a multiple restaurant young chef Eloi Spinnler masterfully manages. [Read more]




Le Café de la Paix: the magnificent historic restaurant with a renovated setting in Paris
Le Café de la Paix, this world-famous restaurant listed as Historic Monument, undoubtedly is one of the most beautiful restaurants in Paris. The iconic Parisian restaurant – ideally set on the wonderful Place de l'Opéra – now welcomes you in their two bright and wide rooms, entirely re-designed in 2021 by architect Pierre-Yves Rochon. [Read more]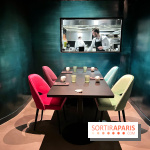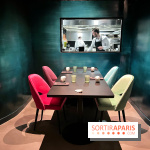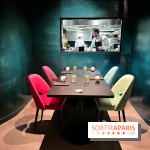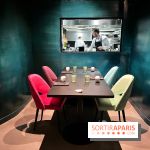 Quelque Part, Top Chef's Florian Barbarot gourmet seafood restaurant
Let us dive into the deep end and dive in the world of abysses alongside chef Florian Barbarot who just opened Quelque Part, his gourmet restaurant giving pride of place to seafood. [Read more]




Acte II (former Au_Top): the hidden rooftop in Paris serving Japanese food
Acte II (formerly known as Au_Top) is a mouthwatering rooftop hidding in the heart of Paris with a surprising 360° view. In this restaurant managed by Jean Philippe de la Perle, discover views on Paris rooftops while enjoying dishes cooked by Masahide Ikuta, serving Japanese gastronomy up in the air. [Read more]




Le Bellefeuille, Saint James Paris Michelin-starred confidential and seafood-inspired restaurant
Le Bellefeuille is the new gourmet restaurant of Saint James Paris. After being open for a few months, chef Julien Dumas is awarded his first Michelin star. Let us go and discover this restaurant making you feel at ease. [Read more]




Adrien Cachot, laid-back and uncommon gastronomy at the Perchoir Ménilmontant
Working in the Perchoir Ménilmontant kitchen until late April, chef Adrien Cachot unveils his idea of gastronomy: laid-back and uncommon cuisine making light of conventions. [Read more]




Ortensia, the latest gourmet restaurant by chef Terumitsu Saito
After Michelin-starred Pilgrim, Japanese chef Terumitsu Saito is setting himself a new gourmet challenge with Ôrtensia. His latest gourmet restaurant is set in lieu of Pascal Barbot's L'Astrance. What a symbol! A place where he serves very high quality gastronomy. [Read more]




Affordable gourmet restaurants in Paris
How about enjoying an affordable gourmet or even Michelin-starred restaurant in Paris? Here we go on the look for good deals in the Paris area for a prestigious lunch or dinner for a great quality-price ratio! [Read more]




Auberge des Saints Pères, the (very) affordable Michelin-starred restaurant near Paris
This is a gem we would love to keep a secret. The Auberge des Saints Pères in Aulnay-sous-Bois, is a relatively affordable Michelin-starred restaurant. In Seine-Saint-Denis, chef Jean-Claude Cahagnet serves sophisticated food and one can dine from 49 euros. [Read more]




La Bauhinia restaurant
La Bauhinia, here is the name of the Shangri-La Paris magnificent restaurant named after a tropical flower. Under the aegis of Chef Christophe Moret and pastry chef Maxence Barbot, one can enjoy a menu inspired by French regions with Asian twists, while seated under the gorgeous glass roof designed by architect Maurice Gras. [Read more]




TÔ Restaurant, for a bistronomic French-Japanese experience in Paris
Sponsored - The Tô restaurant is a French restaurant with Japanese influences set a stone's throw from the Canal Saint-Martin in Paris, carrying you to chef Ryo Miyazaki's bistronomic fusion cuisine. [Read more]




La Halle aux Grains, elegant gastronomy by Michel and Sébastien Bras at the Bourse de Commerce
Michelin-starred chefs Michel and Sébastien Bras have settled in a historic venue, the Bourse de Commerce, to open the La Halle aux Grains, a timeless restaurant where grain lent cachet. [Read more]




Le Charles, the training restaurant serving affordable gourmet cuisine
Nestled in Luxury Hotelschool hotel management school, the Le Charles is a great location for a gourmet and affordable lunch in a trendy setting. In this training restaurant, students take care of the service under the benevolent eyes of patrons. [Read more]
So, shall we go to a gourmet restaurant in Paris?