Published by La rédaction · Photos by Manon C. · Published on 1 June 2022 at 17h36
How about having a bite to eat in a typically Parisian restaurant? Here are the best addresses of traditional bouillons, brasseries and bistros in Paris!
Haaaa, the atmosphere of Parisian bistros… The red and white checkered tablecloths, masters of the house and their frankness, and nice French dishes.
Paris is full of traditional bistros, genuine brasseries, and affordable bouillons fitting tight budgets. Keep reading to discover the culinary gems Paris has in store!




Chez Fred: bistro and local cuisine in Western Paris
Genuine institution in the Ternes area in Paris, Chez Fred unveils a brand-new and indulging face thanks to the arrival of chef Benjamin Lavenne behind the stoves. Between major French cuisine classics, served in a vintage fashion, and Lyon specialties, Chez Fred is a reference in Western Paris. Come and enjoy! [Read more]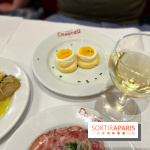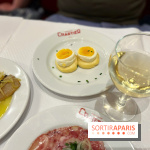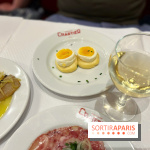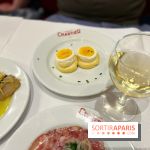 A new Bouillon Chartier across Paris Gare de l'Est
Good news for your budget: a new Bouillon Chartier recently opened across Paris Gare de l'Est. On the menu, as per usual, (very) affordable French bistro classics. [Read more]




Bouillon Pigalle, major French classics for a small cost
From midday to midnight, Bouillon Pigalle serves French bistro classics non-stop for a small cost. The perfect bargain if you are on a budget. [Read more]




Bouillon République, the latest ebullient restaurant
The Bouillon République has finally opened and serves – like its sibling, the Bouillon Pigalle – many French traditional and very affordable dishes. [Read more]




Petit Bouillon Vavin, a new and lively bouillon in Montparnasse
Sticking to the purest tradition of Parisian bouillons, gleefully noisy, Petit Bouillon Vavin opens on boulevard du Montparnasse. On the menu, hearty, invigorating and traditional French recipes fitting all budgets. [Read more]




Gallopin, the restaurant for traditional French dishes
Brasserie Gallopin is an unmissable restaurant in Paris if you love traditional French cuisine. Set by the Place de la Bourse, this iconic address with sumptuous decoration provides us with bourgeoise cuisine made by the book. [Read more]




Le P'tit Canon, the new bistro in Paris 17th arrondissement, reopens
On the checkered tablecloths of P'tit Canon, the new restaurant in Paris 17th arrondissement, one enjoys bistro classics that are hearty and homemade. [Read more]




Café de la Butte: proper bistro cooking
Café de la Butte is the spot where you can enjoy classic bistro dishes. Meet in Paris 18th arrondissement on the Butter Montmartre to treat you to a proper feast. [Read more]




Bistrot de la Gare, the new restaurant at the Gare de Lyon
Bistrot de la Gare is the new restaurant set just across the Gare de Lyon. You can enjoy a simple, homemade bistro food for a reasonable price! [Read more]




Le Petit Bouillon Pharamond: tiny prices, maxi pleasure
Let's meet at Les Halles to discover a new Parisian bouillon, Le Petit Bouillon Pharamond. A place where you can enjoy Parisian bistronomy classics for tiny prices but maxi pleasure! [Read more]




Bouillon 47, the new Parisian 'bouillon' in the 9th arrondissement
A new Parisian 'bouillon' [a cheap restaurant] has just opened in the 9th arrondissement. Its name? Bouillon 47, providing typical Parisian bouillon dishes but in a modern version! [Read more]




Quedubon, Paris 19th arrondissement gourmet bistro
Quedubon is a Parisian bistro like we love them. Tasty French, fresh and seasonal dishes, only natural wines, let's enjoy a meal without fuss. [Read more]




Le Bistrot du Peintre, a traditional brasserie in Paris 11th arrondissement
At Le Bistrot du Peintre, a one-hundred-year old Art Nouveau traditional bistro, we enjoy typically French dishes and we eat very well. [Read more]




Le Vrai Paris: a new typically French bistro in Montmartre
With its huge terrace and pink flowers adorning the façade, Le Vrai Paris side eyes anyone passing by rue des Abbesses. We wen to try this new typically French bistro for you. [Read more]




Le Sully: traditional cuisine and centenarian brasserie in Paris
Traditional and delicious dishes, a family and hearty cuisine: here's the magic recipe of Le Sully, this Parisian brasserie nestled near Bastille since 1917! [Read more]




Brasserie Vaudeville: Traditional and seafood cuisine for the centenary-old Parisian brasserie
There are not many Parisian brasseries that can say they are 100 years old. It's the case of the Le Vaudeville brasserie, a true institution set in Paris 2nd arrondissement, facing the Parisian Stock Exchange. With its classic Parisian brasserie dishes, seafood and crustaceans, Brasserie Vaudeville isn't over fulfilling our taste buds. [Read more]




The Petit Marguery Rive Gauche: generous traditional French cuisine
If you are a lover of traditional French cuisine, you should discover the Petit Marguery Rive Gauche in Paris. Offering generous and homemade dishes, this "Maître Restaurateur" Parisian brasserie manages to shake your fine taste buds up! [Read more]
Bon appétit!